JAMAICA SUMMIT OF EXCELLENCE IN LEADERSHIP & BUSINESS 2020
WEALTH CREATION, GENERATIONAL WEALTH: THE WAY FORWARD FOR NATIONAL TRANSFORMATION - IT IS YOUR TIME FOR LEADERSHIP & BUSINESS SUCCESS!
About this event
Have you ever seen a bird that is complaining about flying in the sky?
What about a fish that is complaining about swimming in the water?
So, why do many people complain about living on earth, basically?
Why are many people unfulfilled in life, career, business or ministry?
It comes down to ability to create wealth, the strategy to generate it consistently, retain and pass it on for generations.
"Success leaves clues," someone once said.
For your blueprint for massive impact, growing influence and consistent income, plan to join me and an exceptional line up of national & international speakers at this event.
The theme for this year's Jamaica Summit of Excellence in Leadership & Business is:
Wealth Creation, Generational Wealth: The Way Forward for National Transformation.
This event is now Jamaica's Most Prestigious Leadership & Business Summit, and guarantee to empower you with global strategies for a breakthrough in leadership psychology and exponential growth in business and ministry.
The keynote speaker for this year's summit is none other than Alex Ihama, the Canadian-based global strategist, professional speaker, executive coach, author of bestselling books and a management consultant to Fortune 500 corporations and arms of government worldwide.
He will be joined by a host of other international and national speakers like Mrs. Marlene Street-Forrest, the Managing Director for the Jamaica Stock Exchange, to empower, educate and equip about 200 national and international delegates with strategies for Wealth Creation.
If you have ever heard Alex Ihama speak in any event around the world, you would know what to expect. But if you haven't, click here to watch an executive recap of his keynote in last year's summit: https://www.youtube.com/watch?v=NZNQ738sJ2c
In his bestselling book, Welcome to Greatness, he wrote:
If there was ever a time to take back the control of your mind, it is now.
If there was ever a time to desire revolutionary changes in your life and society, it is now.
If there was ever a time to be the change you desire to see in the world, it is now.
If there was ever a time to rid yourself of the fear to act, the pride that hinders, and the greed that destroys, it is now.
If there was ever a time to get immunized against the outbreak of complaining about everything, of blaming other people for everything and of making excuses in every situation, it is now.
If there was ever a time the world needs every hand on deck to make it a better place for the younger generations, to pave the way for the downtrodden, the depraved, the discouraged, the depressed, and the dying, it is now.
If there was ever a time, a time when we need to wake up from our spiritual slumber and stand up for the peace, love, unity and harmony that we desire, it is now!
YOU CAN BE MORE, DO MORE, HAVE MORE AND GIVE MORE, BUT YOU MUST FIRST LEARN HOW TO GENERATE WEALTH - SPIRITUALLY & STRATEGICALLY!!!
So, get tickets for yourself, colleagues, staff, congregation, students and associates and get ready for the most exciting event of your life!!
P.S. We only have a few early bird tickets available and the first 21 delegates will receive a one-on-one coaching session directly with Alex Ihama, as well as a door prize.
HURRY!!!!! AND SHARE THIS INVITATION WITH EVERYONE!!!
For info about bank transfer, media and sponsorship opportunities, email jamaicasummitofexcellence@gmail.com or call +1-876-356-0281
For a short video introduction about Alex Ihama, click here: https://www.youtube.com/watch?v=3ruXwjfvM9I
For a recent article about the impact of his work in Jamaica, click here: http://jamaica-gleaner.com/article/business/20191206/honey-bun-profits-surge-after-consultancy-ceo-begins-succession-planning
For his biography as published by the Jamaica Gleaner, click here: http://jamaica-gleaner.com/article/outlook/20190818/alex-ihama-man-purpose
For an executive recap of the keynote at last year's summit, click here: https://www.youtube.com/watch?v=NZNQ738sJ2c
For an overview of our corporate programs, click here: www.schoolofgreatnessinc.com.
For an overview of our programs on personal development, click here: www.schoolofgreatness.ca
ALEX IHAMA EXECUTIVE BIO
Many people consider Alex Ihama as one of the most dynamic and engaging speakers in the world today. He is regularly sought after by executives, pastors and politicians whose desire goes beyond the transformation of their people and organizations to that of their nations.
An executive coach, professional speaker, author and global strategist who has enabled many organizations to save and make millions of dollars, he has taken his revolutionary messages on leadership, business, religion, politics and national transformation agenda across many continents.
He regularly speaks at highly-profiled conferences around the world with other renowned global speakers, captains of industries and even heads of states – from Canada to Cuba, the UK to the USA, Germany to Malawi, Switzerland to South Africa, Belgium to the Bahamas, Nigeria to the Netherlands, and nations like the Dominican Republic, Malawi, Kenya, Ghana, France and Jamaica.
He is a master coach to over 100 other coaches worldwide and effective in renewing the minds of professional athletes like Olympians, media personalities, corporate executives, judges, senators, entrepreneurs and other professionals.
He is also the President/CEO of the School of Greatness, based in Toronto, Canada, which is a unique institution of inspiration that has ignited the spirit of leadership in over a million people in 45 nations. He is also the Managing Director of a Corporate University, which offers a variety of strategic courses to enhance the culture of organizations all over the world by empowering their executives and employees for peak performance at work and in life.
For more information, visit www.schoolofgreatnessinc.com or email registrar@schoolofgreatness.ca.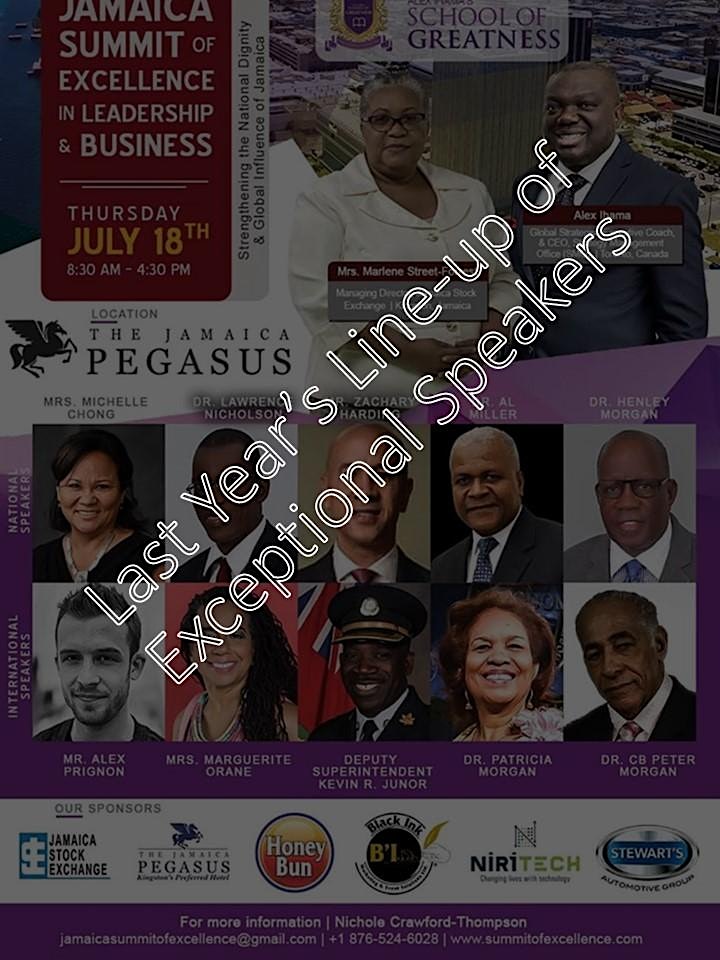 TESTIMONIALS FROM CORPORATE EXECUTIVES WORLDWIDE
"Alex Ihama provides a huge WOW factor in everything he does! He is powerful and provides a tremendous wealth of global knowledge! Unlike traditional ones, Alex's training and online videos offer a new learning experience that stretches you in ways that you didn't know you could grow, and ensures that what you learn becomes an extended part of who you are after the training." – MICHELLE CHONG, CEO, HONEY BUN (1982) LIMITED, JAMAICA
"Alex Ihama's speech could not have been a more poignant reminder that success is a journey. I felt uplifted by Alex's plea that we must keep moving forward, and we must reach greater heights. Few speakers are imbued with an ability to discharge a seemingly weighty message in earnest while, at the same time, delivering levity and laughter with precision." – MARLON REID, VICE PRESIDENT, TORONTO DOMINION (TD) BANK, TORONTO, CANADA
Alex gives all that he has – he is full of life and bursts with enthusiasm. He is passionate and genuinely engaging. You cannot come into his presence without being touched, moved to action or change." – JO-ANN CARDINAL, BUSINESS DEVELOPMENT MANAGER, NATIONAL BANK OF CANADA, MONTREAL, CANADA
"Alex's message of greatness is tied to both civic and individual responsibility. While he motivates others, his life matches his doctrine, as he strives to give to others globally. Alex is a tremendous example of a man that ignores 'human limitations' and works tirelessly to help others do the same." – ROWAN BARRETT, GENERAL MANAGER, CANADA BASKETBALL
"We are impressed by the infusion of the spiritual aspects of leadership. We know that this is not often seen as popular. My view is that humans are spiritual beings, and it is the consideration of the spiritual and the natural, which shapes our morals, attitude and our ability to conquer and succeed." – MARLENE STREET-FORREST, MANAGING DIRECTOR, JAMAICA STOCK EXCHANGE, KINGSTON, JAMAICA
"I was struck by the presence, enthusiasm, and electricity Alex Ihama brought to the room. He walks and manages a fine line of being inspirational, provocative, humourous, passionate and purely entertaining. His experiences and wisdom are evident in his remarks. He compliments you and challenges you in the same sentence. He takes you on a journey of emotions which invokes laughter, deep thinking, reflection, and pride, and leaves you wanting more." – MARK CUMMINGS, CEO, SCOTIABANK LIFE INSURANCE, CANADA
"The delivery style of Alex's speech is extremely engaging, with his tone changing to make people take notice! His messages were clear that we all own our success, and we are accountable. He made relevant references, used himself as an example and asked the listeners for understanding." – JUDY RYELAND, DIRECTOR, CANADIAN IMPERIAL BANK OF COMMERCE (CIBC)), TORONTO, CANADA
"Leadership is a spirit that can only be ignited by purpose, sustained by passion and guided by principles. It is a moral compass, the depth of your vision for humanity, a measurement of how far you are willing to go for your purpose, for what is right, just, fair and honourable." – Alex Ihama, Author, The Mystique of Leadership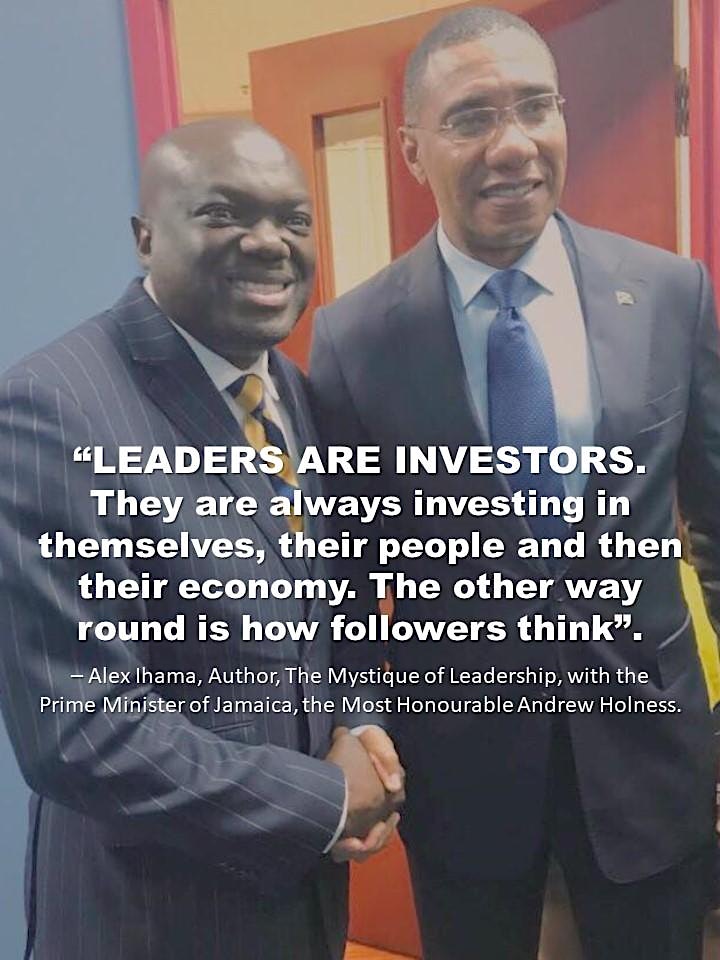 Organizer of JAMAICA SUMMIT OF EXCELLENCE IN LEADERSHIP & BUSINESS 2020