Description
"SUMMER OF THE FESTIVE WALLFLOWER"
NEW WORK BY JANA BRIKE
Opening Night – April 26th 6 p.m. to 9 p.m.
Artist will be in attendance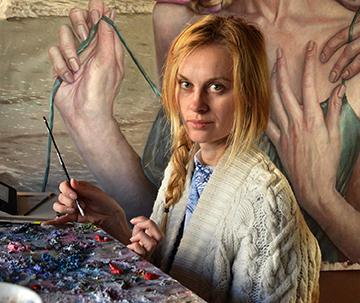 Toronto: April 26, 2018 – June 7, 2018 We are excited to announce a solo show of Jana Brike's colourful, disturbing and bittersweet work. Gallery hours are Thurs – Sat 11:00 – 4:00 pm.
I am so small I can barely be seen.
How can this great love be inside me?
Look at your eyes. They are small,
but they see enormous things.
- Rumi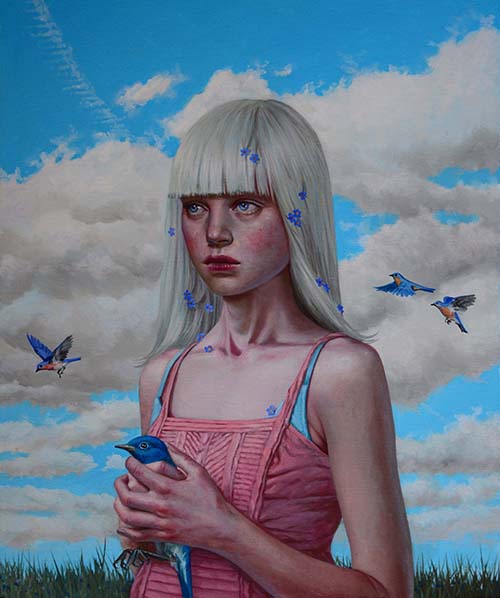 Jana Brike's art, bursting with summer colour light, obsessively documents dreams, loves, longing, pain; the vast range of emotions that the human condition offers and how growing up and self-discovery can transcend them all. Her work, with it's strong narrative and youthful figures, is a poetic visual auto-biography inspired by folklore, fairytales, children book illustrations, imaginative soviet animation films and supernaturally real classical painting. With her work, she creates an eerily forbidden world with secret imagery and mystical, almost religious tones that are grounded in nature and the haunted cloud of soviet brutality.
Brike was born in 1980 in Riga, Latvia. She studied classical painting at the Art Academy of Latvia receiving her M.A. degree in 2005. Her work has been exhibited internationally since 1996 and she has had more than 13 solo exhibitions and nearly 100 other project and group exhibitions. While she paints mainly in oils on canvas, she has also explored drawing, animation, mixed media sculpture, installation and digital art.
"These visual poems blend together the beauty and cruelty of life, its preciousness and
fleetingness, lushness and decay, birth and death and the bittersweetness that comes
through aware witnessing of it all."