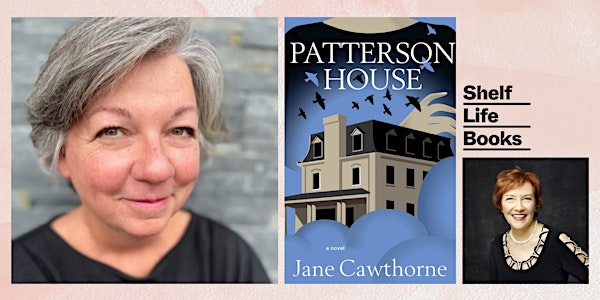 Jane Cawthorne – Patterson House w/ Special Guest Aritha van Herk
Celebrate the launch of Jane Cawthorne's new novel!
When and where
Location
Shelf Life Books 1302 4 Street Southwest Calgary, AB T2R 0X8 Canada
About this event
Join Shelf Life Books and Innana Publications for the launch of Jane Cawthorne's debut novel Patterson House. Jane will be joined by Aritha van Herk.
If you'd like to attend, please register! We have limited capacity, so registration is recommended.
Though wearing masks is not mandatory in our store (it is, however, encouraged!), we will require attendees to wear masks when seated in the event area. This means that any refreshments (coffee, water) should not be consumed while seated. Authors/presenters will be able to take their masks off when up at the podium.
ABOUT THE BOOK
Alden Patterson, the last living member of a once-wealthy Toronto family, is haunted by the legacy of her grandfather, William Patterson, whose suicide taints the family name. She lives in the decaying Patterson House with Constance, a foundling, and John Hunt, an injured war veteran and the family's former gardener. When Alden is reduced to taking in boarders, she thinks she has found a way to survive until the crash of 1929 leaves her truly desperate and one particular boarder threatens to destroy everything she thinks she wants.
ABOUT THE AUTHORS
Jane Cawthorne writes about women in moments of crises and transformation. Her short stories and essays have appeared in newspapers, magazines, literary journals, scholarly journals and anthologies. She has edited two anthologies with E.D. Morin, Impact: Women Writing After Concussion, and Writing Menopause. Her debut novel, Patterson House, is set in Toronto, her birthplace, and a city dear to her even when she lives elsewhere. Jane spent decades active in the pro-choice and reproductive justice movement and is a former Women's Studies instructor as well as a former high school and middle school teacher. Her play, The Abortion Monologues, has been produced many times in Canada and the US and was once performed at the University of Texas, Brownsville as part of a Ford Foundation funded "Difficult Dialogues" initiative. She has an M.Ed. from OISE and an MFA in Creative Writing from the Solstice Program in Boston, MA. She lives in Victoria. BC.
Aritha van Herk is a cultural commentator as well as an award-winning Canadian novelist whose work has been acclaimed throughout North America and Europe. She first rose to international literary prominence with the publication of Judith, which received the Seal First Novel Award and which was published in North America, the United Kingdom and Europe. Her other novels include The Tent Peg; No Fixed Address: An Amorous Journey; Places Far From Ellesmere; Restlessness. In Visible Ink and A Frozen Tongue collect her essays and ficto-criticism. AvH is a member of the Royal Society of Canada, and a Professor who teaches Canadian Literature and Creative Writing in the Department of English at the University of Calgary, but first of all, she is a writer who loves stories.