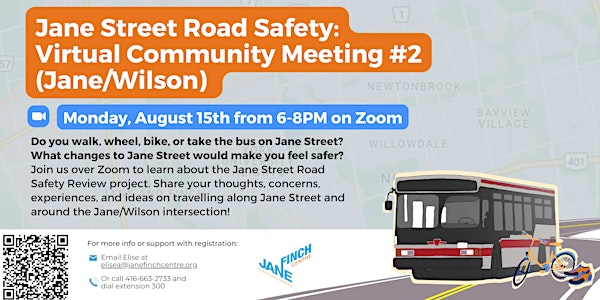 Jane Street Road Safety Review: Virtual Meeting #2 (Jane/Wilson)
This event is a part of Jane/Finch Centre's Jane St Road Safety Review community engagement process, taking place from June-September 2022.
About this event
Help us improve transit and safety on Jane Street!
Join us on Monday, August 15th from 6-8pm over Zoom for a virtual community meeting to learn about the Jane Street Road Safety Review project and to share your thoughts, concerns, experiences, and ideas on travelling along Jane Street.
Facilitated by staff from the Jane/Finch Centre, this virtual meeting will be focused on transit and safety issues at the intersection of Jane Street and Wilson Avenue and the surrounding area.
About the Jane Street Road Safety Review:
The City of Toronto and TTC are currently looking at a variety of design plans to improve public transit, active transportation, and overall transportation safety on Jane Street between Eglinton Avenue West and Steeles Avenue West through RapidTO, Cycling Network Plan, and Vision Zero.
As part of this project, the Jane/Finch Centre and private architecture, engineering, and planning firm IBI Group are working together on an equity-driven community engagement process and In-Service Safety Review to better understand historic and current road safety issues along Jane Street. Street outreach, in-person walking tours, and virtual meetings are taking place from June to September 2022. Community input will inform the City's and TTC's design plans for improving transit and safety safety along Jane Street.
Event details:
- Once registered, participants will receive the details on how to join by Zoom or by phone
- This event will also be livestreamed on Green Change's Facebook page: https://www.facebook.com/OurGreenChange
- Honourariums will be provided to local residents
Meeting Agenda:
Staff from the Jane/Finch Centre will start the meeting with a short presentation on the Jane Street Road Safety Review and the community input collected so far. We will then have a Q&A period followed by breakout rooms for participants to share their thoughts, concerns, experiences, and ideas.
For more information or support with registration, contact Elise at elisea@janefinchcentre.org or 416-663-2733, ext. 300.