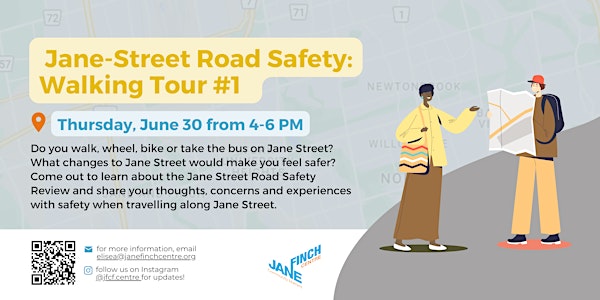 Jane Street Road Safety Review: Walking Tour #1 at Jane and Lawrence
This walking tour is part of Jane/Finch Centre's Jane St Road Safety Review community engagement process, taking place from June-July 2022.
When and where
Location
Merrill Park 5 Merrill Avenue Toronto, ON M9N Canada
About this event
PROJECT DESCRIPTION:
The City of Toronto and TTC are currently looking at a variety of future design options to prioritize public transit and improve Jane Street from Eglinton Avenue West to Steeles Avenue West through RapidTO.
As part of this project, the Jane/Finch Centre (JFC) and private architecture, engineering and planning firm IBI Group are working together on an equity-driven community engagement process and In-Service Safety Review to better understand historic and current road safety issues on Jane Street.
Walking Tour #1 is the first activity in the equity-driven community engagement process. TTC Riders, a transit-justice community organization, will co-facilitate this event alongside JFC.
Please keep in mind that this walking tour is specifically designed to engage residents who live, work or commute in the Jane and Lawrence area only. If this statement does not apply to you, kindly leave space in this event for members of the Jane and Lawrence community.
If you live, work or commute in the Jane and Lawrence area, and want to help inform and refine the City and TTC's design options for improving transit and safety along Jane Street, please sign up and join us Thursday, June 30th at Merill Park for 3:30 pm.
If you do not live, work, commute for frequent the Jane and Lawrence area, please keep an eye out for further community engagement events in your neighbourhood by following our Instagram @jfcf.centre for regular updates updates. You can also email our Community Engagement Coordinator elisea@janefinchcentre.org for more information.
EVENT DETAILS:
We will meet at Merill Park, 5 Merrill Street at 3:30 pm. We will walk together to Jane and Lawrence, our first stop on the tour.
Bring: water, comfortable clothing, sun protection (hat, sunscreen, sunglasses), and shoes you can walk in for long periods of time.