Refund policy
Contact the organizer to request a refund.
Eventbrite's fee is nonrefundable.
Learning the basics of Computer Programing using Java. Join us for a fun, interactive and educational 8 week workshop.
About this event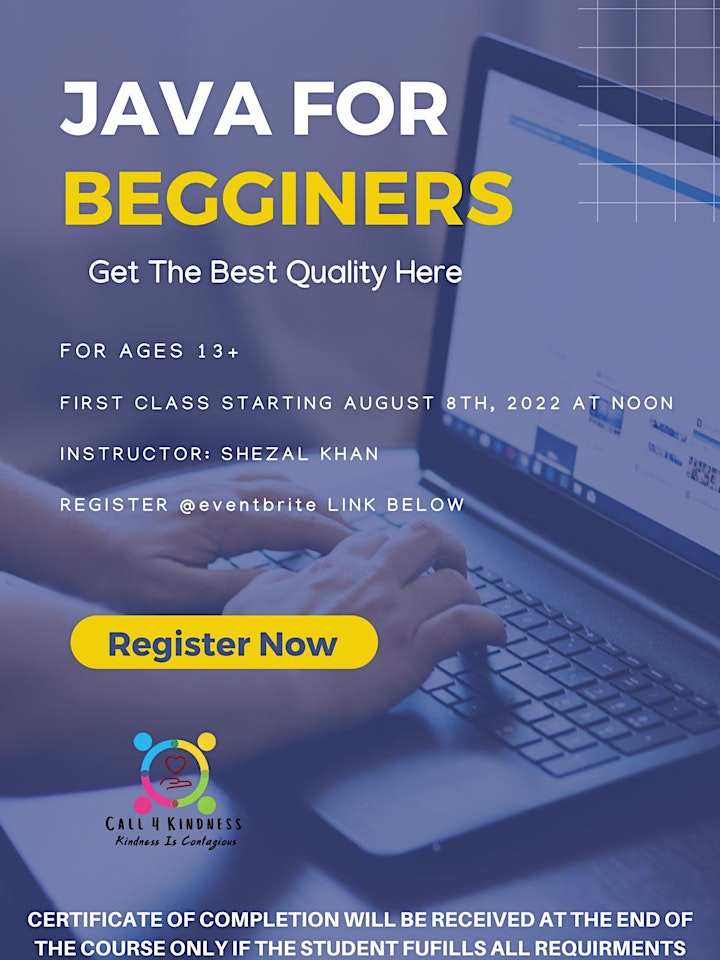 Join us for our upcoming 8-Week Workshop on Java Basics for beginners.🎊
💢Start Date- Monday, August 8th from 12-1:30pm (EST)💢
Summary-
🎯•    This workshop is meant to introduce kids who have no programming experience to the world of computer programming. With the tech industry becoming one of the most trending fields in the job market, learning how to program can be one of the most important and meaningful skills. This workshop will teach the basic, foundation concepts of programming in an easy-to-follow manner.
🎯•    The first part of the workshop will get students acquainted with some basic concepts used in programming and will lay the conceptual groundwork that the rest of the workshop will build upon.  Throughout each session the students will be allowed to practice the terms and concepts hands-on.
🎯•    Students will follow along with basic examples in the programming language of Java . This languages is easy for beginners and the instructor will help every the step of the way. This workshop won't make you an expert programmer, but it will give you an exciting first look at programming and a foundation of basic concepts with which you can start your journey learning computer programming.
Sneak Peak of Workshop Outline👇👇👇
Week 1: Intro to how do computers read code?
Week 2: IDE navigation, Java Skeleton, Commenting
Week 3: Data types and Variables
Week 4: User Input
Week 5: Boolean
Week 6: Else If Statements / If-Else Statments
Week 7: For Loops + While Loops
Week 8: Arrays in Java
Week 9: Summative Project
A certificate will be presented at the end of this course as long as all the qualifiers have been met.
💥Who this workshop is for:💥
⚡•    Anyone with little to no programming experience.
⚡•    Anyone who wants to learn to code.
⚡•    Anyone who wants to learn programming but doesn't know where to start.