Description
While new programming languages emerge in the IT world, Java stands out as a clear winner according to many surveys like baeldung.com and blog.jelastic.com. To answer the question why, having programmed 1 million lines of code in Java, you are not going to change it that easily and jump on every new programming language that comes along.
In combination to Java, we have Spring framework which has an 81% of usage along with a 48.3% popularity of MySQL. You can see that our Programs are designed in a way where are these popular technologies come together to make you Job Ready.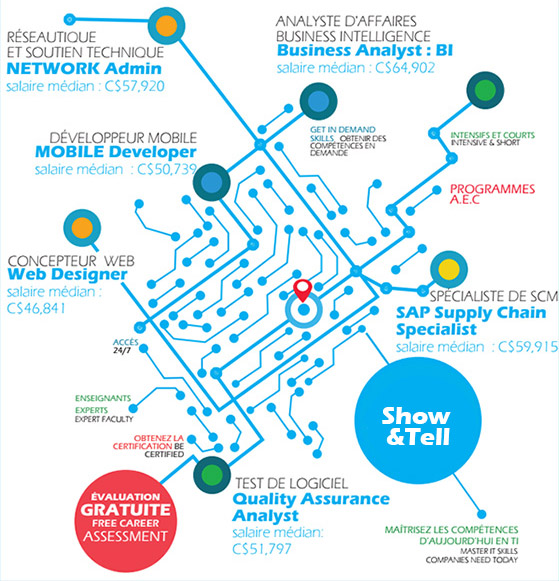 Check out our Programs and Courses to see what we have to offer.
You can also meet our Industry-expert Instructors and know more about pipelines, processes and Industry standard workflows. Our dedicated staff have you covered in case you have questions about Loans and Scholarships. Code your way at Montreal College!
Event Details
Venue : Montreal College of Information Technology
Time : 05:30 PM
Date : 21st March, 2018

Event Schedule

Introduction to Instructors and Programs

Why most companies afoot Java language

Java by example

Prerequisites

Enrollment & Finance options

Question time

Career advice

Refreshments

Instructors

Toufik Lazri | Scott Porco | Haythem Rehouma


Click the "Register for the Event" button to register. Please note that you can only sign up for one per morning.
This is where you can meet experts and get an instant opinion about your career.


FAQs
Is this the event for me?
Anyone looking to have a career in Programming requires knowledge and skills from an extremely diverse set of fields. With this workshop, our intent is to show you how working in Software development looks like and give you all the information you need in order to pursue your career and training in the industry.
How do I get there?
MCIT can be reached easily by public transportation. The institute is located few steps away from:
By Metro: stop to McGill metro station, exit from the Promenades Cathédrale, and Cross Rue Sainte-Catherine;
By Bus: Bus 61/168/420 at Boul. Robert-Bourassa; Bus 15 at Rue Sainte-Catherine
How can I contact the organizer with any questions?
If you have any question you can contact the organizer anytime:
By phone: From Monday to Friday from 9.00am to 4.30pm at (514) 312-2383;
By email: info@montrealcollege.ca
In person: you can request an appointment with a member of our team. They'll be happy to meet you and answer all your questions. Or you can come and visit at MCIT 1255 Boulevard Robert-Bourassa Suite 502 from Monday to Friday from 9.00am to 4.30pm.