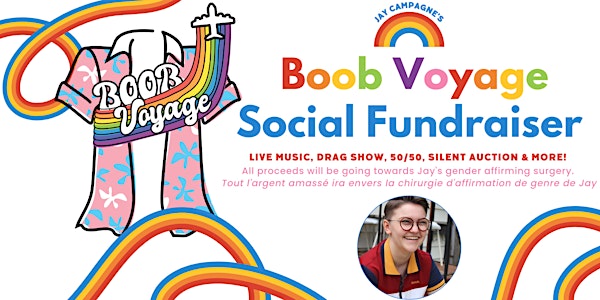 Jay's 'Boob Voyage' Social Fundraiser
Help Jay Campagne get their gender affirming surgery! Join them for their Social Fundraiser 'Boob Voyage'.
When and where
Location
Théâtre Cercle Molière 340 Provencher Boulevard Winnipeg, MB R2H 0G7 Canada
Refund Policy
Contact the organizer to request a refund.
Eventbrite's fee is nonrefundable.
About this event
Help Jay Campagne get the gender affirming surgery they need! Join them for their Social Fundraiser 'Boob Voyage' at Théâtre Cercle Molière, in the heart of Saint-Boniface. All money raised will be going towards their top surgery and post-operative care.
What can you expect? A night filled with live music, a drag show, a 50/50 raffle, a silent auction, and more!
Let's help them reach their goal and support them to say 'Boob Voyage'!
---
Aidez Jay Campagne à obtenir la chirurgie d'affirmation de genre dont iel a besoin ! Joignez-vous à iel pour leur collecte de fonds sociale « Boob Voyage » au Théâtre Cercle Molière, au cœur de Saint-Boniface. Tout l'argent récolté ira à leur torsoplastie et à leurs soins postopératoires.
À quoi pouvez-vous vous attendre ? Une soirée remplie de musique live, un spectacle de drag, un tirage 50/50, un encan silencieux et encore plus !
Appuyons Jay à atteindre leur objectif et aidons-les à dire "Boob Voyage" !
---
Who is Jay Campagne? Jay Campagne, originally from Saint-Boniface, has been an activist for the 2SLGBTQ* and French communities since a young age. A young individual committed to the franco-queer community, they became in 2019 the Youth Pride Marshall for Pride Winnipeg.
Jay founded L'arc-en-ciel with Janelle in late 2018. They decided to start this organization out of a desire to serve their Franco-Manitoban community and the French-speaking 2SLGBTQ* community in Manitoba because they have always held these two communities at heart.
Jay Campagne is currently studying at the Université de Saint-Boniface to obtain a bachelor's degree in Social Work, as well as a future specialty in gender and sexuality.
What is gender-affirming surgery? Gender affirmation surgery refers to procedures that help people transition to their self-identified gender. Gender-affirming options may include facial surgery, top surgery or bottom surgery. People who choose gender affirmation surgeries often report improved mental health and quality of life. That being said, the cost of Jay's surgery and post-operative care is approximately $15,000.
Is the surgery not covered by Manitoba Health? Our current healthcare system in Canada limits trans* patients to choose within surgeons of their own province, regardless of their experience in the field of practice. Additionally, there is currently a six-year wait list, that is getting longer due to a pandemic-related backlog. Private medical care will allow Jay to have their surgery promptly and with a surgeon who is an expert in this surgical field. Dr. Hugh McLean has more than 25 years of experience in gender affirming care and recognizes that gender affirmation procedures vitally improve self-esteem and has a lasting impact on a person's body, quality of life and well-being. He has also prioritized educating himself and his staff to provide the best quality of care for their trans* patients. Jay's surgery is scheduled with him at the McLean Clinic for December 14, 2022, in Mississauga, Ontario.
---
Qui est Jay ? Jay Campagne, originaire de Saint-Boniface, est un.e activiste miliant.e pour la communauté 2SLGBTQ* et la langue française depuis un jeune âge. Un.e jeune engagé.e pour la cause franco-queer, iel devient en 2019, l'ambassadeur.trice jeunesse du Défilé de la Fierté Gaie du Manitoba pour Fierté Winnipeg.
Jay a fondé L'arc-en-ciel avec Janelle en fin 2018. Iel a décidé de commencer cette organisation par le désir de servir sa communauté franco-manitobaine et la communauté 2SLGBTQ* d'expression française au Manitoba car iel a toujours tenu ces deux communautés à cœur.
Jay Campagne étudie présentement à l'Université de Saint-Boniface pour obtenir un baccalauréat en Travail Social, ainsi qu'une future spécialité en genre et en sexualité.
Qu'est-ce qu'une chirurgie d'affirmation de genre? Une chirurgie d'affirmation de genre fait référence aux procédures qui aident les personnes à faire leur transition pour mieux correspondre avec leur identité de genre. Les personnes qui choisissent d'avoir des chirurgies d'affirmation de genre signalent souvent une amélioration de leur santé mentale et de leur qualité de vie. Cela étant dit, le coût de ma chirurgie et de mes soins postopératoires est d'environ 15 000 $.
La chirurgie n'est-elle pas couverte par Santé Manitoba? Notre système de santé actuel au Canada limite les patients trans* à choisir parmi les chirurgiens de leur propre province, quelle que soit leur expérience dans le domaine de pratique. De plus, il y a actuellement une attente de six ans, qui continue à s'allonger en raison d'un arriéré lié à la pandémie. Les soins médicaux privés me permettront de me faire opérer dans un délai raisonnable et avec un chirurgien qui est un expert dans ce domaine chirurgical. Le Dr. Hugh McLean a plus de 25 ans d'expérience dans les procédures et les soins d'affirmation de genre et reconnaît que ces soins améliorent de manière vitale l'estime de soi et ont un impact durable sur le corps, la qualité de vie et le bien-être d'une personne. Une formation éducative a été une priorité pour lui et son personnel afin d'offrir la meilleure qualité de soins envers leurs patients trans*. Ma chirurgie est prévue avec lui à la clinique McLean Clinic pour le 14 décembre 2022, à Mississauga, Ontario.