About this Event
Sat-Jun-29: CRUZAO LATIN-JAZZ TRIO
:: Brownman Ali - trumpet (Trinidad)
:: Paco Luviano - bass (Mexico)
:: Joaquin Nunez - drums (Cuba)
JAZZ AFTER DARK is proud to again welcome back a stripped down trio version of the Montreal Jazz Fest's "Grand Prix du Jazz" winners -- CRUZAO, lead by National Jazz Award winner Brownman Ali, delivering energized Cuban and Brazilian Latin-jazz! They dazzled us in May -- don't miss them again in June!
The CRUZAO LATIN-JAZZ TRIO are 3 members of Trinidadian-born NYC-schooled, iconic Toronto-based trumpet player Brownman's latin-jazz supergroup CRUZAO. They are the winners of the Montreal Jazz Fest's coveted "Grand Prix du Jazz" award, the CBC Galaxie Rising Star award, a 4-time nominee at the National Jazz Awards, and a 3-time Independent Music Award nominee. This group, in it's full 5-man configuration, has been called "Canada's premiere latin-jazz ensemble" by the Toronto Star. The CRUZAO LATIN-JAZZ TRIO is a compact, stripped down version of that award-winning ensemble at 3-man large. The amalgamation of authentic latin rhythm, jazz harmony and modern urban groove, this trio sports a modified repertoire written specifically for this smaller permutation. The trio features the talents of 2 of the most in demand Latin musicians in the country -- Paco Luviano on bass (from Mexico) and Joaquin Nunez on drums (from Cuba), under the leadership of trumpet player Brownman Ali (from Trinidad) heralded as "Canada's preeminent jazz trumpet player" by New York City's Village Voice magazine.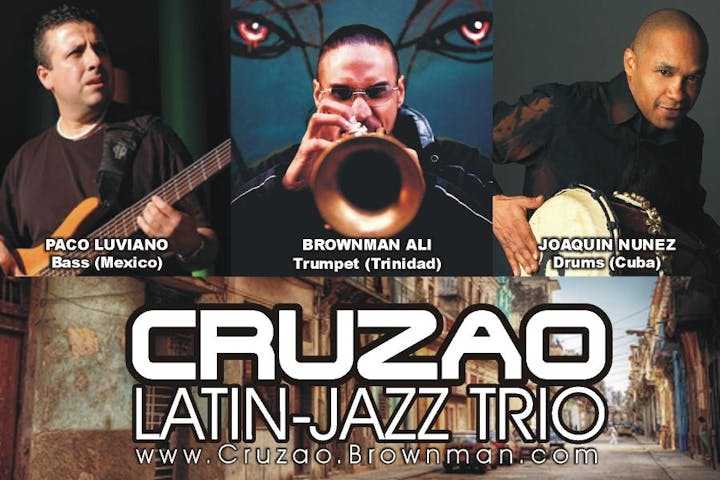 About CRUZAO:
The group, in it's full 5-man format (featuring Brownman's alto saxophone playing brother Marcus Ali) began it's career as a musical experiment for Brownman in the tonal qualities of latin music composed in a chordless setting (no piano, no guitar). Since the late '50s jazz musicians have richly explored this unique musical texture creating a 5 decade chordless jazz tradition, however this texture had never been explored in Latin America, due to the dominance and omni-presence of the piano "montuno" or equivalent guitar structures. The result of this musical experiment - Brownman & CRUZAO- the first chordless latin-jazz-urban unit in history.
About BROWNMAN ALI:
Rarely in Canada amidst a frenetic global touring schedule with the likes of everyone from Grammy-winning jazz-hip-hop legends GURU's JAZZMATAZZ (for whom he was the featured soloist from 2006 to 2010), to PAUL SIMON, to QUINCY JONES, to IRAKERE (whom he toured with after CRUZAO headlined the Havana Jazz Festival), to his own National Jazz Award winning group BROWNMAN ELECTRYC TRIO -- his bombastic and eclectic improvising style has brought him much respect with international artists across multiple diverse genres, and is now widely considered a vanguard for the evolution of jazz in Canada. A highly decorated player, his awards & accolades include 2 National Jazz Awards (with 11 nominations over the years), Montreal Jazz Fest's "Grand Prix Du Jazz" award, a CBC Galaxie Rising Star award, a SOCAN composers award, an International Independent Music Award for "Album of the Year", 3 Toronto Independent Music Awards for "Jazz Artist Of The Year" (9 nominations), a Black Canadian Award nomination for "Jazz Musician of the Year", an induction into the WHO'S WHO IN BLACK CANADA, a Caribbean Music Award nomination, a BRAVO! channel documentary on his life, NOW magazine naming him "Toronto's Best Jazz Musician", CBC Radio Canada named him "one of the most recorded trumpet players in Canadian history", NPR in New York calls him "the new standard in electric jazz", the Trinidad & Tobago Consulate General awarded him with a citation for being a "Distinguished National of Trinidad" and he has been listed by Air Canada as one of the "Top 10 reasons to visit Toronto".
"Awards are nice, naturally, but to dig what Brownman is doing, you've got to see him live. I had a chance to do just that over the summer when Brownman fronted a killer trio ... I came away with a blown mind. This guy's got chops galore, soul to match, and a sense of phrasing that recalls many of the greats, but suggests itself to be his own."
- Buffalo News
"Canada's preeminent jazz trumpet player"
- New York Village Voice
"... virtuostic, energized and in the spirit of Miles Davis"
- Toronto's NOW Magazine
"One of the next great voices in the new generation of jazz improvisers"
- Randy Brecker, multi-grammy winning legendary trumpeter