Location
TWH Social
1 King Street West
Kitchener, ON N2G 1A3
Canada
Refund policy
Contact the organizer to request a refund.
Eventbrite's fee is nonrefundable.
Waterloo Jazz Fest After-party w/ the funkified sounds of SNAGGLE! 10pm start, after the main stage closes, we'll keep the jazz party going!
About this event
Sat-Jul-20: SNAGGLE feat. Brownman Ali (Waterloo Jazz Fest After-Party)
:: Nick Maclean - synthesizers / compositions
:: Brownman Ali - electric trumpet
:: Graeme Wallace - tenor sax
:: Jay Yoo - electric guitar
:: Brad Cheeseman - 6-string electric bass
:: Tyler Goertzen - drums
10pm to 1am @ Jazz After Dark
$20 online (limited tickets at the door)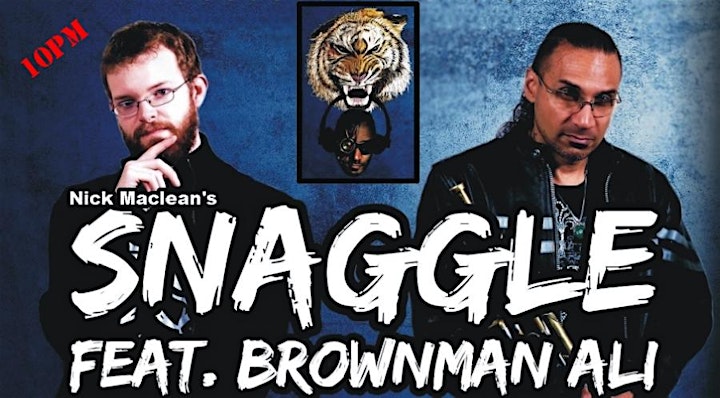 TWH Social is proud to host an after-party to the Waterloo Jazz Fest! The funkified electric-jazz juggernaut SNAGGLE will perform a short 45-min set on the mainstage at 7:30pm, but when the main stage closes at 10:00pm, but we'll keep the party going here at JAZZ AFTER DARK. SNAGGLE will start at 10pm and play all night! Come on over and keep the jazz party going!
About SNAGGLE: Based in Toronto, SNAGGLE is an award-winning 6-piece electric-jazz-funk ensemble often described by media as "Canada's answer to Snarky Puppy". Sporting an all-original repertoire the group has a fearless and muscular yet introspective sound likened to a cross between electric-era Miles Davis and Rage Against the Machine. Taking elements from a wide variety of musical sources including jazz, funk, rock, and metal, Snaggle contextualizes them within the improvisational and spontaneous elements of the jazz ideology. Their uniquely brash and infectious brand of jazzfunk is a melodically driven sound which incorporates primal groove qualities more commonly associated with pop and rock, swinging their live show from quietly contemplative all the way to explosively fierce - sometimes all within the same tune. Joining internationally acclaimed jazz trumpet iconoclast Brownman Ali's Browntasauras Records roster in June 2015, Snaggle released their second full-length studio album 'The Long Slog' on the label. The album was produced by Brownman, released in Canada in October 2016, and features him guesting on 2 tracks. In December of 2016 the group released a Holiday Single entitled 'Christmas Tune', also on Browntasauras Records, which was featured on CBC Radio. Most recently the band was honoured to have won 3 Gold Medals at the Global Music Awards in the 'Album', 'Band', and 'Originality' categories, a Toronto Independent Music Award for 'Best Jazz Instrumental', and a nomination for an International Independent Music Award in the Jazz/Jam/Funk category.
SNAGGLE's AWARDS & ACCOLADES:
-- 2018 Global Music Awards "Top 5 Albums of Spring 2018"
-- 2018 Jazz Weekly's "Ringer Of The Week" (Feb)
-- 2017 Toronto Independent Music Award for "Best Jazz Instrumental"
-- 2016 Global Music Award winner: 3 Gold Medals
-- 2016 "The Long Slog" receives a 4-star rating at AllAboutJazz.com
-- 2016 "Snaggle #7" becomes AllAboutJazz.com's 'download of the day' (Nov 2016)
-- 2016 "The Long Slog" hits No.1 on the jazz charts in Kamloops, BC, CANADA (Nov 2016)
Click here to read acclaimed music journalist and scene-shaper Alayne McGregor at OttawaJazzScene.ca and her exclusive interview with Nick Maclean discussing Snaggle and the Nick Maclean Quartet.
About bandleader NICK MACLEAN:
Born in Ottawa in 1991, 26-year old Nick Maclean is "a fast rising star in the Toronto jazz community" (BlogTO) and has quickly become one of the most in demand 20-something piano players in that city's bustling jazz scene. SNAGGLE is his groove-based all-original eclectic electric-jazz project, sporting a 6-man lineup, compositional odysseys and often compared by media to Snarky Puppy. Nick received his Bachelors of Music from Humber College in 2013, having studied with Dave Restivo (who graciously wrote this album's liners), Bernie Senensky and Nancy Walker. He then went on to do a Masters in Jazz Performance at the University of Toronto researching synthesizer pedagogy while studying under David Occhipinti, Andrew Downing, Chris Donnelly and David Braid. Braid in particular had an enormous influence on how Maclean approaches playing, composing and teaching. Additional musical influences include the likes of the aforementioned Snarky Puppy, Weather Report, Brecker Brothers, Miles Davis (electric), Brownman Electryc Trio, Jason Lindner, Avishai Cohen (bass), Kneebody, Metalwood, Rage Against the Machine, Tool, Hiromi Uehara & Brad Mehldau. Aside from SNAGGLE, Maclean also leads a more straight-ahead hard-swinging quartet featuring Brownman Ali on trumpet. The NICK MACLEAN QUARTET's spirit is centered heavily around Herbie Hancock's primordial group from the 60's and their latest release 'Rites of Ascension' which was nominated for CJSF's '2018 Julian Award of Excellence', it won 3 Gold Medals at the Global Music Award in the 'jazz', 'band', and 'album' categories, and was featured as one of the Global Music Awards' 'Top 5 Albums of Spring 2018'. The future is bright for this young visionary as he continues his upward ascent in jazz artforms of all shapes and sizes.
About BROWNMAN ALI & BROWNTASAURAS RECORDS: Trinidadian-born, NYC-schooled & heralded as "Canada's preeminent Jazz trumpeter" by NYC's Village Voice, multiaward winning trumpet player Brownman Ali stands at the forefront of innovation in the Canadian jazz community. A protégé to his teacher, Grammy-winning trumpet legend, Randy Brecker, he tirelessly leads 8 unique ensembles of his own including the internationally acclaimed, Miles Davis influenced, BROWNMAN ELECTRYC TRIO. In 2009 he launched his own record label: Browntasauras Records, which saw the Electryc Trio's two now celebrated recordings garner substantial accolades and press. The label is now a home to all his ensembles as well as the newly signed NICK MACLEAN QUARTET, SNAGGLE, MODUS FACTOR, JASON WILSON & DIVISION ONE and CHELSEA MCBRIDE'S SOCIALIST NIGHT. Now, using the label as a breeding ground for new and visionary talent in the modern jazz realm, Browntasauras and Brownman himself are widely regarded as vanguards for the evolution of Jazz in Canada.
www.Brownman.com | www.Browntasauras.com
QUOTES:
"... this is music without borders, music that is at once sophisticated and inclusive, bristling with infectious funk grooves, rock riffs, and jazz-based improvisations woven into a tapestry of an ambitious yet accessible compositional palette."
- David Restivo, Canadian jazz piano icon
"... SNAGGLE is most impressive! The music on Long Slog is very, very challenging, yet groovy, soulful & exploratory at the same time.... Extremely well performed, written and executed. Reminds me of a band I used to play in!"
- Randy Brecker, multi-Grammy winning trumpet legend
"The Long Slog inherited the same power and straightforwardness of Snaggle's members who were capable of rendering a burnin' hot fusion inclined to explore an infinity of possibilities within the same composition. In a certain moment they're confronting Miles Davis with Medeski Martin & Wood; in the other, you may find the Red Hot Chili Peppers colliding with Incognito or Mahavishnu Orchestra."
- Jazz Trail, NYC jazz magazine
"Funk/jazz fans, the next generation is in the house… A bunch of hard charging lads that probably can't do anything but deliver the goods, this is what you have to play when you need to get the blood flowing. Smoking stuff throughout."
- Chris Spector, The Midwest Record (Illinois, USA)
Visit www.SnaggleMusic.com for more info!