About this Event
Sat-Jul-06: The COLE PORTER SONGBOOK w/ Brownman Akoustic Trio
:: Brownman Ali - trumpet
:: Ben Duff - upright bass
:: Ben Green - drums
8pm to 11pm @ Jazz After Dark
$20 online (limited tickets at the door)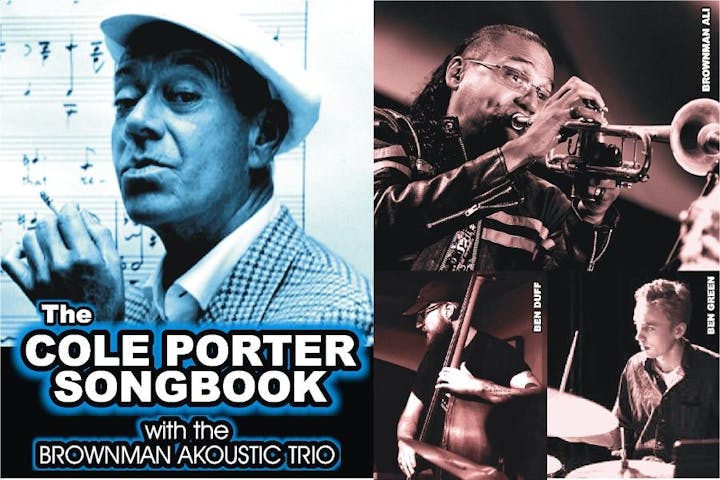 SONGBOOK WEEK 1 -- TWH Social is proud to present the first in a 2-part Songbook Series with 2x National Jazz Award winner BROWNMAN ALI. He and the award-winning BROWNMAN AKOUSTIC TRIO will investigate & interpret the music of legendary composer Cole Porter. Imagine "Love for Sale" swinging hard, "Night & Day" as a samba, or "What Is This Thing Called Love" with a backbeat! Next week, on July 13th the series continues with The Gershwin Songbook.
ABOUT COLE PORTER: An American composer and songwriter, many of Cole Porter's songs became standards noted for their witty, urbane lyrics, and many of his scores found success on Broadway and in film. Born to a wealthy family in Indiana, Porter defied his grandfather's wishes and took up music as a profession. Classically trained, he was drawn to musical theatre. After a slow start, he began to achieve success in the 1920s, and by the 1930s he was one of the major songwriters for the Broadway musical stage.
ABOUT BROWNMAN AKOUSTIC TRIO: Performing organic jazz in the classic chordless trio setting of trumpet, bass and drums, they strive to embody the jazz improvising spirit of the 50's and 60's -- communication. Whether playing standards linked together in one organic mish-mash of sonic goodness, or pushing the envelope with original material, this unit brings classic jazz themes to a new generation. The trio is steeped in the sounds of the Blue Note era of jazz, Miles Davis' profound influence on them being clear.
ABOUT BROWNMAN ALI: Heralded as "Canada's preeminent Jazz trumpeter" by NYC's Village Voice, Brownman Ali - born on the small Caribbean island of Trinidad, & schooled in NYC - is a multiple award-winning NYC-schooled protégé to his teacher, Grammy-winning trumpet legend, Randy Brecker. He tirelessly leads 7 unique ensembles of his own including the internationally acclaimed Miles Davis influenced BROWNMAN ELECTRYC TRIO, and the award-winning CRUZAO latin-jazz quintet. All these ensembles record under Brownman's own much lauded BROWNTASAURAS RECORDS label, established in 2009. In high demand in the studio world with over 300 CD appearances to date, Brownman delivers stylistically authentic horn playing over a wide range of styles from bebop to hiphop having worked with the likes of Guru's Jazzmatazz (replacing Donald Byrd in that primordial ensemble), Mos Def, KRS-1, Quincy Jones, Paul Simon, Jay-z, Missy Elliot, Mingus Dynasty Big Band, Gary Bartz, Chucho Valdes & far too many more to name here. He is considered to be one of the most unique and provocative improvising trumpet players in the nation today and is widely regarded as a vanguard for the evolution of Jazz in Canada.
A highly decorated player, his awards & accolades include 2 National Jazz Awards (with 11 nominations over the years), Montreal Jazz Fest's "Grand Prix Du Jazz" award, a CBC Galaxie Rising Star award, a SOCAN composers award, an International Independent Music Award for "Album of the Year", 3 Toronto Independent Music Awards for "Jazz Artist Of The Year" (9 nominations), a Black Canadian Award nomination for "Jazz Musician of the Year", an induction into the WHO'S WHO IN BLACK CANADA, a Caribbean Music Award nomination, a BRAVO! channel documentary on his life, NOW magazine naming him "Toronto's Best Jazz Musician", CBC Radio Canada named him "one of the most recorded trumpet players in Canadian history", NPR in New York calls him "the new standard in electric jazz", the Trinidad & Tobago Consulate General awarded him with a citation for being a "Distinguished National of Trinidad" and he has been listed by Air Canada as one of the "Top 10 reasons to visit Toronto".
"Awards are nice, naturally, but to dig what Brownman is doing, you've got to see him live. I had a chance to do just that over the summer when Brownman fronted a killer trio ... I came away with a blown mind. This guy's got chops galore, soul to match, and a sense of phrasing that recalls many of the greats, but suggests itself to be his own."
- Buffalo News
"Canada's preeminent jazz trumpet player"
- New York Village Voice
"... virtuostic, energized and in the spirit of Miles Davis"
- Toronto's NOW Magazine
"One of the next great voices in the new generation of jazz improvisers"
- Randy Brecker, multi-grammy winning legendary trumpeter