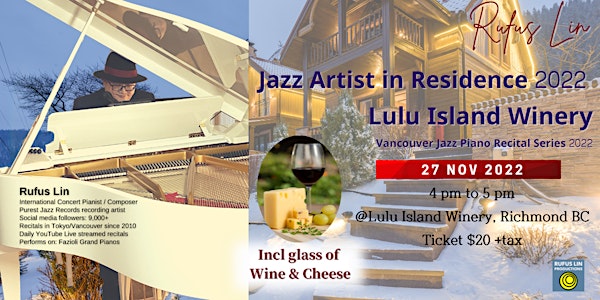 Jazz Artist-in-Residence 2022, Lulu Island Winery
International jazz concert pianist Rufus Lin performs as Jazz Artist in Residence at the Lulu Island Winery on Nov 27th.
When and where
Location
Lulu Island Winery 16880 Westminster Highway Richmond, BC V6V 1A8 Canada
About this event
Sun 27 November 4pm to 5pm
R E C I T A L  P R O G R A M
I love Paris
Falling in love again
The best things in life are free
I got it bad and that ain't good
How long has this been going on?
Chopin improvisation
I can't get started with you
Don't get around much any more
Feel like making love
Movie medley
==
Canadian jazz pianist Rufus Lin is widely known in Tokyo, having given over 100 solo jazz recitals there over 11years. Most of his fans live in Japan and South Korea. He has been a resident of Richmond BC for over 20 years.
Rufus' decade-long concert series in Tokyo ended when the Covid-19 pandemic began, so instead he has been live streaming his concerts on the Clubhouse, YouTube, Facebook and Instagram Live streaming platforms. He has a social media following of over 9,000 people worldwide.
For 2022, Rufus will be giving a solo jazz piano recital every month at two locations: the Lulu Island Winery and the Shaw tower lobby in Vancouver.
At all his concerts, including this one, Rufus will perform on one of the world's most exclusive pianos, a Fazioli grand piano. Fazioli was the instrument played by this year's International Chopin Piano Competition winner Bruce Liu, of Canada.
Including glass of wine & cheese
We welcome 19 years of age or older.