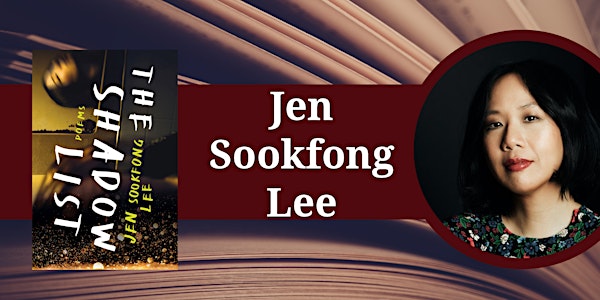 Jen Sookfong Lee The Shadow List
"Jen Sookfong Lee's debut poetry collection is vivid and sophisticated...an addictive read from start to finish"– Zoe Whittall
About this event
Join us for a conversation between Ellen Chang-Richardson, the founder of Little Birds Poetry and the co-founder of Riverbed Reading Series, and Jen Sookfong Lee about her acclaimed debut poetry collection, The Shadow List. "Jen Sookfong Lee's debut poetry collection is vivid and sophisticated, a whirlwind of tender, anxious lines and a balm for any broken-hearted reader. Whether her subject is moth murder, Harry Styles, parenthood or the man who 'never yelled / as if that makes a difference,' The Shadow List is an addictive read from start to finish." – Zoe Whittall
The Shadow List is a book filled with desire, where we question the politics of who gets to choose and who doesn't and where the narrator creates hidden lists of what she really wants. With a novelist's way with character, she builds a deep connection with the narrator of the poems, yet each individual poem creates a vivid snapshot of moments many will recognize. The slick of black ice, the killing light of day, the cheap, plastic diamonds–they are all pieces of a life we gather and put in our pockets to remember with.
This program is offered by the Ottawa Public Library in partnership with the Ottawa International Writers Festival
Register for a Zoom link and for reminders.
You will also be able to attend on Ottawa Public Library's Facebook (no account needed).
-------------
Jen Sookfong Lee was born and raised in Vancouver's East Side, and she now lives with her son in North Burnaby. Her books include The Conjoined, nominated for International Dublin Literary Award and a finalist for the Ethel Wilson Fiction Prize, The Better Mother, a finalist for the City of Vancouver Book Award, The End of East, Gentlemen of the Shade, and Chinese New Year. Jen teaches at The Writers' Studio Online with Simon Fraser University, edits fiction for ECW, and co-hosts the literary podcast, Can't Lit.