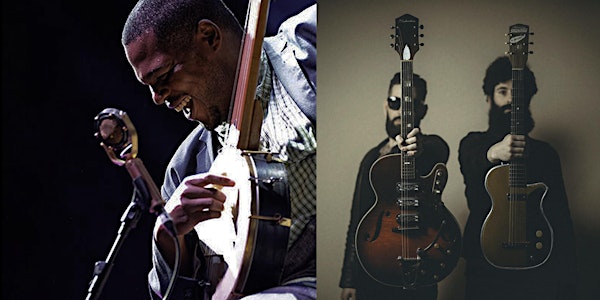 Jerron "Blind Boy" Paxton and GA-20 - 2023 Saskatoon Blues Festival
Jerron "Blind Boy" Paxton and GA-20. From country blues to a modern take on traditional electric blues
By Saskatoon Blues Society
When and where
Date and time
Fri, Mar 3, 2023 8:30 PM - 11:30 PM CST
Location
The Bassment B3 - 202 Fourth Avenue North Saskatoon, SK S7K 0K1 Canada
About this event
Jerron "Blind Boy" Paxton has been legally blind since his teens, his ability to tap into traditional American music reveals a perceptiveness and focus that few others are able to achieve. A gifted multi-instrumentalist who specializes in traditional, pre-World War II music, Paxton plays the fiddle, banjo, guitar, harmonica, and piano, and his performances are filled with ballads (both sung and played), blues tunes, banjo tunes, fiddle tunes, rags, and more. TheCountryBlues.com declares that, "A fabulous new country blues talent as impressive as Jerron Paxton is not just rare, his extraordinary talent is almost surreal." Ask this self-proclaimed "thorough musician" what he does, though, and he'll tell you that "All I do is play music; I'm too lazy to work." Jerron has been in Saskatoon before, another fan favourite at this years festival.
GA-20 clearly is on to something big. It's a movement, a new traditional blues revival. The dynamic, throwback blues trio are disciples of the place where traditional blues, country and rock 'n' roll intersect. "We make records that we would want to listen to," says guitarist Matt Stubbs. "It's our take on the song-based traditional electric blues we love." Stubbs, guitarist/vocalist Pat Faherty, and drummer Tim Carman have been at the forefront of this traditional blues revival since they first formed in 2018. It's no wonder they skyrocketed to the top of the Billboard Blues Chart.
According to Stubbs, "Since we started the band we've focused on the story, the melody, and on creating a mood. Playing live as much as we do, we're finding more and more that people are discovering how cool it all is. Traditional country, soul and funk music have all had these massive recent revivals, but traditional blues so far has not." With their new Colemine album, Crackdown, and an intensive tour schedule, that's all about to change.
In 2022 they were nominated for their first Blues Music Award for Best Emerging Artist.
About the organizer
The Saskatoon Blues Society promotes, fosters, supports and celebrates blues music. We organize an annual mid-winter blues festival, create additional performance opportunities for blues musicians.