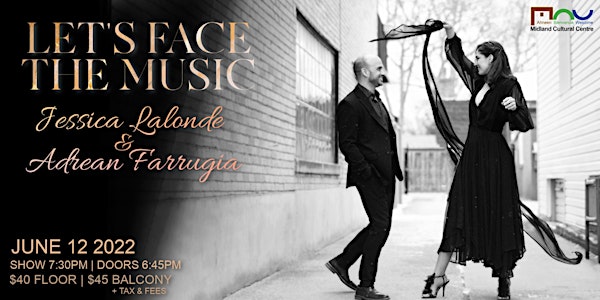 Jessica Lalonde and Adrean Farrugia: Let's Face The Music...
Location
Midland Cultural Centre - Rotary Hall
333 King St.
Midland, ON L4R 3M7
Canada
Jessica Lalonde partners with Juno award winning pianist Adrean Farrugia.
About this event
Jessica Lalonde partners with Juno award winning pianist Adrean Farrugia to bring a magnetic approach to classic jazz and fresh twists on popular modern day classics.
Recently listed by Jazz FM91 as one of "8 Canadian Women in Jazz You Need to Know", Jessica Lalonde has spent her life exploring music in all its shades and facets. Her unique and powerful vocal sound blends diverse and eclectic influences transcending genres. Since her early days as a young singer performing around Midland/Penetanguishene, she's enjoyed lending her voice to a diverse array of projects ranging from Operatic roles in Vancouver and Italy, to Indie-Rock backing vocals, to New Music, to every major Jazz festival in Southern Ontario.
Multiple Award winning pianist and composer Adrean Farrugia is a first call pianist nationwide, having performed with a who's who of Canadian and International Jazz. He's performed from Paris to Tokyo, and New York City to Tel-Aviv, bringing his uniquely lyrical piano stylings to more than 50 recordings to date, garnering 8 Juno award nominations and 2 Juno Awards.
Together, this duo mesmerizes audiences with music that is at times hypnotizing, heartfelt, virtuosic, and ultimately moving for listeners.
They will be joined by an all-star Canadian rhythm section comprised of Grammy Award winning violinist Drew Jurecka, B.C. native bassist Michael Herring, and first call Canadian drummer Ethan Ardelli.