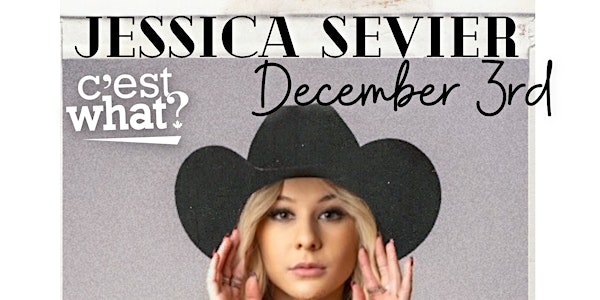 Jessica Sevier LIVE at C'est What Feat. Paige Rutledge and Justin Maki!
Jessica Sevier LIVE at C'est what! Joined by Paige Rutledge and Justin Maki , this is one night of music you don't want to miss!
When and where
Location
C'est What? 67 Front Street East Toronto, ON M5E 1B5 Canada
Refund Policy
Contact the organizer to request a refund.
Eventbrite's fee is nonrefundable.
About this event
Join us on December 3rd for a great night of LIVE MUSIC!
Jessica Sevier | Paige Rutledge | Justin Maki
7:30pm Doors | 8pm Showtime
$15 in advance | $20 at the door
About the artists:
J E S S I C A S E V I E R :
Toronto born vocalist and multi-instrumentalist Jessica Sevier is an up and coming country music artist with lots of accomplishments under her belt already.
Sevier has released many singles since her debut "Ghost of Tom" in 2019, with her music being collectively streamed over half a million times.
 Sevier's success has gained the attention of some of Sony/Atv and Liz Rose Music's most talented writers, landing her single "Confetti". Recorded down in Nashville with Grady Saxman (Luke Combs, Tenille Arts) this record has been nothing but a success with gaining regular rotation on Canadian country radio as well as SiriusXM, and surpassing 400k streams since its release in March 2022.
As well, "Confetti" reached the #1 spot on the Canadian Indie Country Radio Charts.
Sevier's next single "See You There" was also one recorded in Nashville with Grady Saxman, it is a upbeat heartbreak tune bound to resonate with young hearts.
 The integrity of Jessica's song writing has not gone unnoticed, as her original music gained her a spot to compete on the TV show The Shot: Remastered. As well, Sevier was a 2021 CMW (Canadian Music Week) Featured Artist/Performer, an Indie Week 2021 exhibitor and was chosen as one of the top 12 in the CNE Rising Star Competition 2020. Sevier has spent most of her career touring around Ontario playing notable downtown Toronto venues and music festivals. Most recently Sevier has signed with manager Jordyn Elliott (Meghan Patrick, Eric Ethridge
Follow along:
www.jessicasevier.com | FB: @jessicaseviermusic | IG: @jessicasevier
P A I G E R U T L E D G E :
Paige was introduced to country music at a very young age. It was through the loss of her grandfather in 2007, that Paige realized music connects people after singing at the funeral
Paige introduced herself to the Canadian country music scene with her debut single, "Take Me Back to Tiki", in October 2020. "Take Me Back to Tiki" resonated with her listeners and led into her second release, "Broken Record" in May 2021, gaining success with CBC Country on Sirius XM.
Paige's most recent release, "Drinking Alone", landed her the playlist cover for Breakthrough Country on Amazon Music and a spot on Spotify's RADAR editorial playlist along with other editorial playlists on both Amazon Music and Spotify. Paige's newest single, "Ain't That Bad", was released on Friday November 11th, 2022 and landed her a spot on Amazon Music's Brand New Music playlist.
Paige values authenticity in country music and through her catchy lyrics and pop-country melodies, Paige has crafted a unique sound that will immediately have you singing along. Her captivating stage presence has audiences engaged start to finish when Paige is performing.
Paige has been recognized as one of Ontario's most exciting upcoming Canadian country artists. Paige was recognized in the number two spot of "21 Artists to Watch in 2022" by Sound Check Entertainment.
With a fully booked 2022, Paige has toured all across Ontario, and made her Nashville debut at "Layla's Honky Tonk" in February and her Western Canada debut in Calgary this September at the Canadian Country Music Awards in Nicole Rayy's "All Women Music Showcase".
Follow along:
www.paigerutledge.com | FB: paigerutledgemusic | IG: @paigerutledge
J U S T I N M A K I :
Justin Maki is a "Flirtatious Jazz-Pop" artist out of London, ON. He is the FCLMA's 2021 "Pop Artist of the Year" and 2022 "Contemporary Singer-Songwriter of the Year". Japan born and Canada bred, Justin's music carefully draws influence from R&B, Soul, Funk, and Jazz and packages it in an accessible Pop format: imagine blending Allen Stone, John Mayer, Bruno Mars, and Robin Thicke. He hopes that his music facilitates a joyful escape for all who choose to listen.
          Justin has played over 1,000 gigs from Halifax to Prince George and has shared the stage with the likes of The Sheepdogs, Measha Brueggergosman, Neon Dreams, and Monster Truck. From bars to concert halls, backyard parties, weddings, and festivals, Justin has been entertaining 100,000s of patrons for the last 17 years. He has had the pleasure of working with such accomplished producers as Matthew Johnston (produced for Shad, Saveria, and Chad Price) and Mark Howard (produced Bob Dylan, Willie Nelson, U2, and Neil Young) and he also won Western University's Battle of the Bands in 2015, as well as Western Voice in 2016.
          Justin's latest release is his debut album, "New Flame". This is a diverse concept album that traverses the different stages of a romantic relationship from first spark to last billow of smoke. The young artist has 1 more album set to drop in 2022, "Good Vibes", as well as a play called "New Flame: The Musical" coming out in 2023. If this doesn't keep him busy enough, Justin hopes to visit America this year to explore production, performance, and networking opportunities. As always, he will continue to spread joy through music and expand his audience in the process.
Follow along:
www.justinmakimusic.ca | IG/FB: @justinmakimusic