A weekend of mindfulness training & exploration from an expert teacher in both Mindfulness & Buddhist traditions & practical applications
About this Event
A Personal Note From Jetsunma Tenzin Palmo
Dear Friends,
In light of these uncertain and unprecedented times, we have been advised to cancel my upcoming 2020 Dharma tour in the United States and the surrounding countries. We regret this necessity, especially given the efforts of so many to create the opportunity to share the Dharma in this way and meet once again with so many friends.
At this time of a worldwide pandemic, it is important to keep a sense of perspective and to act sensibly. In particular, be sure to stock up on essential commodities such as equanimity, empathy and a good sense of humour!
This is a time for courage and common sense.
While the media works hard to stir up more paranoia, we can be grateful for the Dharma and cultivate the antidotes to fear and self-grasping – including compassion, tonglen practice and loving awareness – that often arise at times like these.
We can be kind – to ourselves and to others. Slow down and take time to be. What a unique opportunity to reflect on just how much the Dharma is genuinely in our heart and actions!
May you, your loved ones and all beings be well and happy.
A MESSAGE FROM THE ORGANIZER:
REFUNDS WILL BE ISSUED ONE BY ONE , EVENTBRITE HAS INFORMED ME THAT THE FUNDS WILL BE RELEASED 5 DAYS AFTER EVENT DATE AS NOT TO FLOOD THE SYSTEM WITH CANCELLATIONS DUE TO THE VIRUS. I WILL START SENDING THEM ASAP. IF YOU WISH TO DONATE ANYTHING TO OFFSET THE COST OF FEES AND CANCELLATIONS THIS WOULD BE MOST APPRECIATED, THERE IS A CATEGORY FOR THAT IN THE TICKET SECTION CALLED SPONSORS AND PATRONS....OR ELSE LET ME KNOW BY E-MAIL...IN THE EVENT OF RE-SCHEDULING AND/OR ONLINE OFFERING I WILL NOTIFY ALL REGISTRANTS 1ST HAND. I TRULY APPRECIATE YOUR PATIENCE IN THESE DIFFICULT TIMES AND APOLOGIZE FOR ANY INCONVENIENCE OR DISAPOINTMENT THIS MAY HAVE CAUSED YOU.
FEEL FREE TO CONTACT ME IF YOU HAVE CONCERNS QUESTIONS OR JUST PLAIN WANT TO CONNECT, YOUR SUPPORT OF VENERABLE JETSUNMA TENZIN PALMO AND THE NUN'S OF DONGYAL GATSAL LING ARE MOST APPRECIATED:
TSUNMA JAMYANG DONMA: YULOKOD.STUDIOS@GMAIL.COM
DEEP BOWS OF APPRECIATION, AND GRATITUDE, BE WELL, STAY WELL & SAFE
An Intimate Interview and Conversation with Jetsunmma Tenzin Palmo & Tsunma Jamyang Donma: Meeting Jetsunmma, inquiring about her life, her vision, the importance of women, ethics, practice and pure aspiration, discussing Mindfulness in the 21st Century, the challenges, the pros & cons.
Questions welcome from the audience as time permits.
Friday July 31st: 5:30PM to 8:00PM: Multi-Faith Centre Auditorium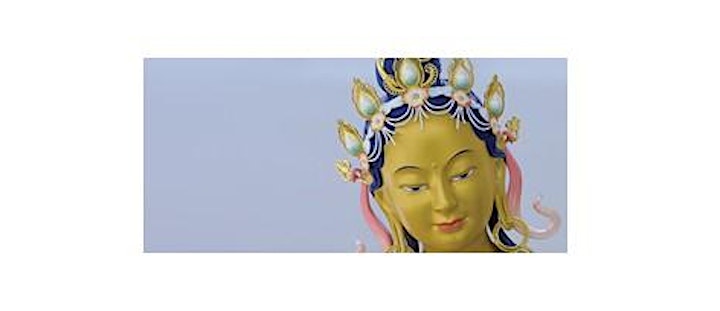 The 8 Verses of Mind Training by Langri Thangpa: A traditional Buddhist teaching applicable to 21st century secular and Buddhist practitioners. The root text was written by the eleventh-century meditator Geshe Langri Tangpa's (Langritangpa). A poem known as "Mind Training in Eight Verses" is one of the most important texts from a genre of Tibetan spiritual writings known as Lojong, or Mind Training. A form of Mahayana Buddhist practice common to both the Sutra and Tantra traditions. Its principal aim is to develop and strengthen Bodhichitta, the wish to achieve enlightenment in order to help all living beings.
Venerable Jetsunmma Tenzin Palmo will teach the traditional way but also break it down to 21st century applications and show how each of these 8 verses is valuable to all practitioners of mindfulness meditation, moment to moment self-awareness.Venerable Jetsunma Tenzin Palmo's humorous and warm-hearted oral teaching style makes the meaning of these verses come alive to the modern mind. His Holiness the Dalai Lama refers to this work as one of the main sources of his own inspiration and includes it in his daily meditations.
"The Eight Verses for Training the Mind contains the entire essence of the Buddha's teachings in a distinct form."
H.H. the Dalai Lama
Saturday August 1st: 9AM till 4PM Multi-Faith Auditorium & Contemplation Room
Shamatha Retreat & 4 Immeasurable Contemplations: A Calm Abiding Mindfulness Meditation Retreat Day with Contemplations on the Four Immeasurables.
The Buddhist tradition offers two central paths to disestablish our over developed habitual sense of self: enlightened love (bodhicitta) and enlightening wisdom (jnana).
The Four Boundless Qualities, presented in the Mettanisamsa Sutta (SN 46.54) as the "Four Brahma Dwellings," further both of them. These four boundless qualities, which literally have "no measure" (apramana)- Immeasurables, are: Equanimity (upekkha), Love (metta), Compassion (karuna), and Sympathetic Joy (mudita). Each boundless quality supports the balance of equanimity.
These are the signposts that indicate development in Mindfulness Meditation and application and are aspirations for the mindfulness practitioner. By dissolving the boundaries that constrain us, these four qualities expand our capacity for experience.
Sunday August 2nd: 9AM till 4PM U of T Multi-Faith Centre
*no one will be turned away due to lack of funding.
Funds raised will go to support nuns at Dongyu Gatsal Ling and around the world.

In 1963, at the age of 20, Jetsunma Tenzin Palmo went to India. In Dharamshala, India, in 1964, she became one of the first westerners to be ordained a Tibetan Buddhist nun. She remained with her teacher, H.E. Khamtrul Rinpoche and his community for six years where she eventually entered a monastery. Being the only woman amongst hundreds of monks, she began her battle against the prejudice that has excluded women from enlightenment for thousands of years. Then in northern India under the direction of her teacher H.E. Khamtrul Rinpoche, Jetsunma Tenzin Palmo lived in a cave at 10,000 feet. In 1976 she secluded herself in this remote cave 13,000 feet up in the Himalayas, where she stayed for 12 years between the ages of 33 and 45. In this mountain hideaway she faced unimaginable cold, wild animals, floods, snow and rock falls, grew her own food and slept in a traditional wooden meditation box, three feet square, Following the strict traditional retreat instructions and guidelines she never lay down. In 1988 she emerged from the cave with a determination to build a nunnery in northern India to support the spiritual life of women practitioners, the nun's, and revive the Togdenma lineage, a long-forgotten female spiritual elite.
She then began the work of establishing a nunnery in Himachal Pradesh, India: Dongyu Gatsal Ling. Here is a link to the website: https://dgli.org/ for more information on Venerable Jetsunma Tenzin Palmo and her work as the founder of Dongyu Gatsal Ling Nunnery in India and champion for the rights of women to attain spiritual enlightenment.
See also: tenzinpalmo.com/dongyu-gatsal-ling-nunnery/visiting-dgl-nunnery/