jhr & CMHR Rights Media Doc Fest 2012 Tickets will be available online soon through Cinema du Parc. Stay posted for more information!

Friday, March 2, 2012 at 6:00 PM

-

Saturday, March 3, 2012 at 11:00 PM (EST)
Event Details
jhr (Journalists for Human Rights) has partnered with the Canadian Museum for Human Rights (CMHR) to bring you the third annual Rights Media Doc Fest, a film festival featuring the most outstanding documentaries that focus on human rights issues around the globe. With an incredible lineup of films this year will sure to be yet another success! 

From March 2nd to March 3rd at the Cinéma du Parc in Montreal, DocFest will bring together socially conscious media lovers to celebrate some of this year`s best documentary films! Grab your tickets soon and join us for what will surely be a fantastic festival! 
If you`ll be at the event, tweet us @jhrnews or use the hashtag #docfest! 

For more information about the films, please visit www.docfest2012.wordpress.com.
-----
JDH (Journalistes pour les droits humains) a établi un partenariat avec le Musée canadien des droits de la personne (MCDP) pour vous offrir la troisième édition annuelle du DocuFest des Droits des Médias, un festival qui met en vedette les plus remarquables documentaires de cette année au sujet des questions des droits de l'homme  dans le monde. Avec une variété incroyable de documentaires, cette édition promet d'être un nouveau succès !
Le DocuFest aura lieu du 2 mars au 3 mars dans le Cinéma du Parc à Montréal,  et réunira tous ceux qui s'intéressent des médias et des droits de l'homme pour célébrer certains de meilleurs documentaires de cette année ! Faîtes vite, achetez vos billets en avance et rejoignez-nous dans cet évènement qui ne manquera pas de vous surprendre !
Si vous allez nous joindre, envoyez-nous un tweet sur @jhrnews ou utilisez le hashtag #docfest !
Pour plus d'informations sur les documentaires, veuillez visiter www.docfest2012.wordpress.com

Screening:
March 2nd 7:00 pm
A Dream Deferred - Robin Pierro 
Alongside a team of ten Ghanaian journalism students, Robin Pierro visits the Krisan refugee camp in Ghana where they explore refugee rights, or, in this case, the lack of them. Following the stories of Gaga, Beatrice, Justine, Kudjoe, and Angela, A Dream Deferred shows the difficulties many refugees face especially when it comes to attaining education. Following the completion of the film, the UNHCR-Ghana used it in their campaign to raise awareness and funds for refugee youth in Ghana.
   Beyond Gay: The Politics of Pride - Bob Christie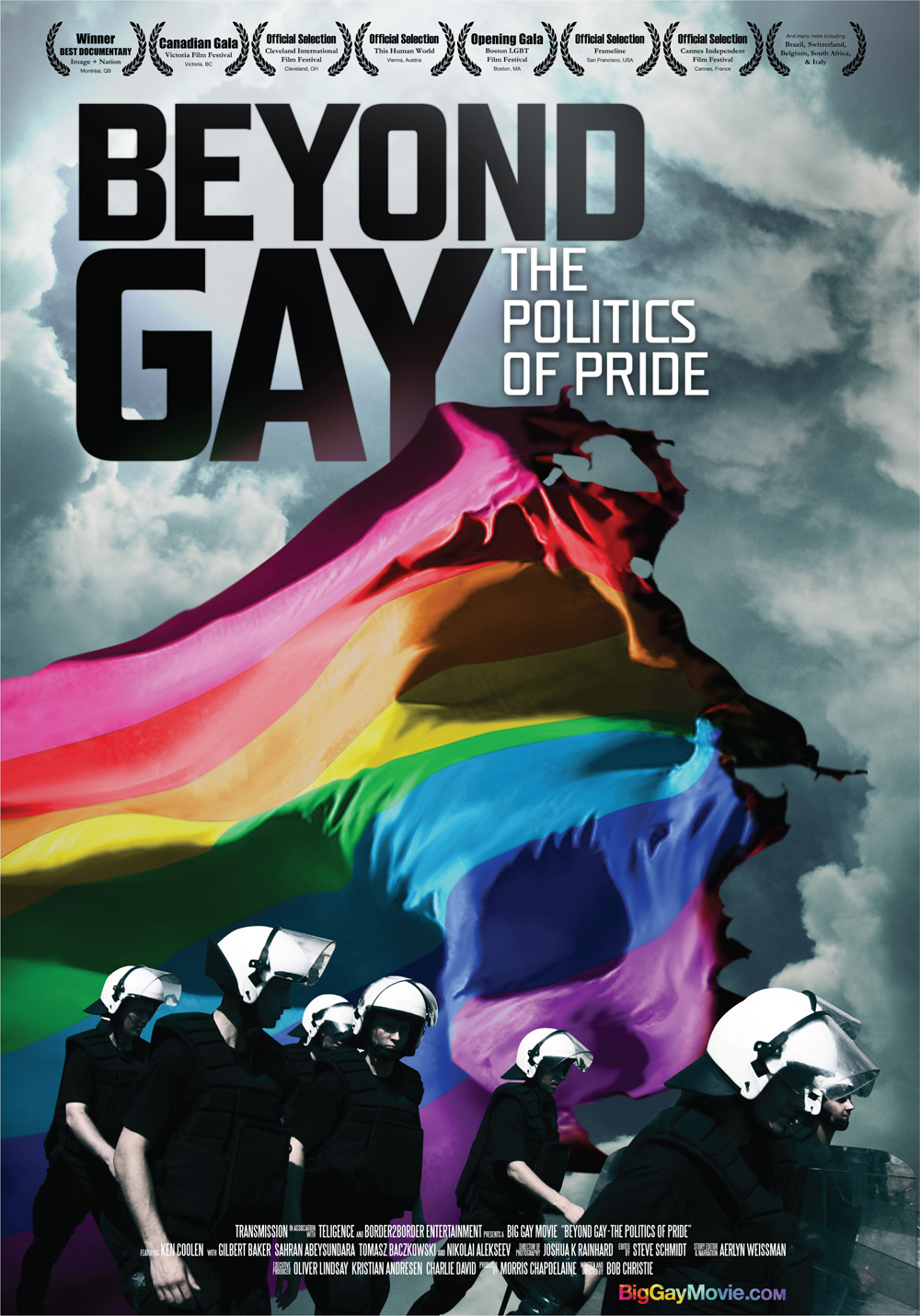 Gay Pride marches and festivals are happening all over the                   world - sometimes under heavy opposition and violence.      Beyond Gay – The Politics of Pride is the most comprehensive look at the role of these events ever undertaken. This feature length documentary follows the Vancouver Pride Society's (VPS) Parade Director Ken Coolen and his VPS colleagues as they travel to places where Pride is still steeped in protest to personally experience the rampant homophobia that still exists.  They also travel to Sao Paulo Brazil for the world's largest gay parade and New York City, the birthplace of the modern gay liberation movement.
Increasingly the Pride movement is globalizing. Coolen and many Pride organizers in North America and Europe, where celebration has overtaken political action, endeavor to remind their communities that Pride is at its heart a global fight for human rights.
Despite the hundreds of thousands of people cheering in the streets, Pride is much, much more than a parade and a party.  It is a giant step on the road to true equality. The GLBT community during Pride is an entertaining and engaging multi-ethnic group than can bring attention to the issue of human rights with diversity, insight, and of course plenty of fabulousness.  Come join us!
March 2nd 9:00 pm

Remembering the Ashes: Incendies Through their Eyes - Anais Barbeau-Lavalette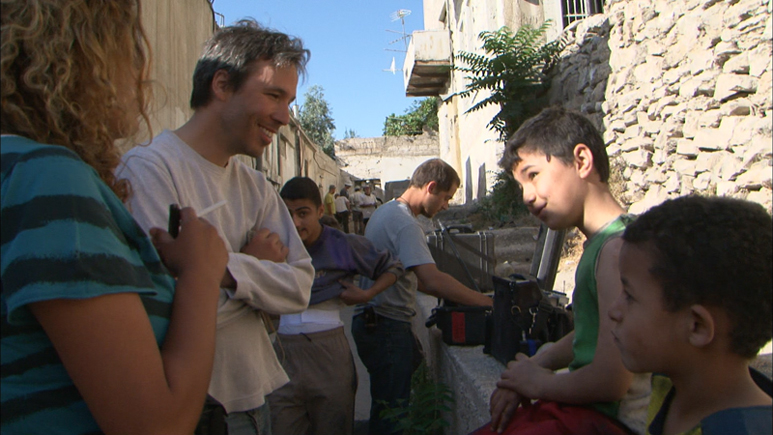 In Jordan, in the heart of the Middle East, Iraqi, Palestinian and Lebanese refugees are working on the filming of Incendies, an adaptation of Wajdi Mooawad`s play. Whether extras or onlookers, these exiles once experienced scenes very similar to the ones depicted in Denis Villeneuve`s Genie-winning and Oscar-nominated film. Se souvenir des cendres explores their views on the vicious war and cycle of violence being recreated before their eyes, and by their own efforts.
Tin City Voices - Elijah Marchand 
Tin City Voices is the story of survival in a third world slum. Filmmaker, Elijah Marchand, explores a shantytown in Georgetown, Guyana. We discover an abused woman, a pregnant mother, and a man struggling to find redemption for his violent life. Their lives do not intersect but run parallel. Through a stirring story about rebirth and forgiveness amongst despair and violence, we uncover the psychological environment that confines those in the ghetto.
March 3rd 3:00 pm

Burgundy: La petite bourgogne - Adam Bemma
The Negro Community Centre (NCC) in Montreal's Little Burgundy (La Petite-Bourgogne) was founded in 1927 by Reverend Charles H. Este from Union United Church. The NCC has always been a beacon in the city's black community, but this landmark has been left to deteriorate for over 20 years, leaving a generation of youth without a place to learn about the importance of black art, history and culture.
The Team - Patrick Reed
Kenya has long been considered Africa's success story—relatively stable and ethnically harmonious. But following their December 2007 Presidential election, everything changed. Voting controversy split the country along ethnic lines, pushing Kenya to civil war.
The international community intervened, a fragile peace was brokered, and a Truth and Reconciliation framework put in place. But as ethnic suspicion and violence continue to paralyze the country, many dismiss these actions as hollow political theatre. An alternative local response is the creation of a taboo-breaking TV soap opera, "The Team," following the struggles of a co-ed multi-ethnic soccer squad to overcome their differences, both on and off the pitch.
The Team has been screened at Full Frame Documentary Film Festival, the Amsterdam International Documentary Film Festival, the AFI / Discovery Channel Silverdocs Festival, the Human Rights Watch Film Festival, and at HotDocs.
For more information about the films, please visit www.docfest2012.wordpress.com. 
------------------------------------------------------------------------------------------------------------------------------------------------
Mars 2nd 7:00 pm
A Dream Deferred - Robin Pierro
Accompagné d'une équipe de dix étudiants en journalisme ghanéens, Robin Pierro visite le camp de réfugiés de Krisan, au Ghana, où ils explorent les droits des réfugiés, ou, dans le cas présent, l'absence de droit. En suivant les histoires de Gaga, de Béatrice, de Justine, de Kudjoe et d'Angela, ce film montre les difficultés auxquelles sont confrontés de nombreux réfugiés, en particulier lorsqu'il s'agit d'accéder à l'éducation. Une fois le film terminé, le Haut-Commissariat des Nations Unies pour les réfugiés au Ghana l'a utilisé dans sa campagne de sensibilisation visant à recueillir des fonds pour les jeunes réfugiés du Ghana.
Beyond Gay: The Politics of Pride – Bob Christie
Des défilés et des festivals de la Fierté gaie se tiennent partout sur la planète, mais se 
parfois à une vive opposition et à la violence. Beyond Gay – The Politics of Pride est le regard le plus complet jamais offert sur le rôle joué par ces évènements. Ce long métrage documentaire suit le directeur du défilé de Vancouver, Ken Coolen, et ses collègues de la Société de la Fierté de Vancouver dans leurs déplacements dans divers pays où la Fierté gaie est encore imprégnée de ce besoin de protester contre l'homophobie endémique qui y sévit toujours. Ils se rendent aussi à Sao Paulo, au Brésil, pour assister au plus grand défilé homosexuel du monde et à New York, le lieu de naissance du mouvement moderne de libération des homosexuels.
De plus en plus, le mouvement de la Fierté gaie se mondialise. Coolen et de nombreux autres organisateurs de défilés de la Fierté gaie en Amérique du Nord et en Europe, où la célébration a dépassé l'action politique, s'efforcent de rappeler à leur communauté que la Fierté gaie est au cœur d'un combat mondial pour les droits de l'homme.
Malgré les centaines de milliers de personnes célébrant dans les rues, la Fierté gaie signifie beaucoup plus qu'un simple défilé ou une fête. C'est un véritable pas de géant sur la voie qui mène à une véritable égalité. Durant les festivités de la Fierté gaie, la communauté LGBT forme un groupe multiethnique divertissant et engagé qui attire l'attention sur la question des droits de la personne avec diversité, perspicacité et, naturellement, plein d'imagination. Joignez-vous à nous!
Mars 2nd 9:00 pm
Se souvenir des cendres : Regards sur Incendies- Anaïs Barbeau-Lavalette 
En Jordanie, au cœur du Moyen-Orient, des réfugiés irakiens, palestiniens et libanais travaillent sur le plateau du film Incendies, une adaptation de la pièce de théâtre de Wajdi Mouawad. Figurants ou simples témoins, ces exilés ont vécu de très près des scènes similaires à celles mises en scène par Denis Villeneuve, dans ce film gagnant de huit Prix Génie et sélectionné aux Oscars. Se souvenir des cendres s'intéresse à leur point de vue sur la guerre et le cycle de la violence infernale, qui est recréé sous leurs yeux, et par leurs propres efforts.
Tin City Voices – Elijah Marchand
KINOPHI motion pictures présente l'histoire de trois personnages uniques dans un petit bidonville de Georgetown, en Guyane. Dans un contexte de pauvreté et de violence surgit une histoire qui parle d'espoir et de survie.
Mars 3rd 3:00 pm
Burgundy : La petite bourgogne - Adam Bemma
Le Negro Community Centre (NCC) dans la Petite‑Bourgogne à Montréal a été fondé en 1927 par le révérend Charles H. Este de l'Église Unie Union (Union United Church). Le NCC a toujours été un phare dans la communauté noire de la ville, mais ce point de repère a été laissé à l'abandon pendant plus de 20 ans, laissant toute une génération de jeunes sans lieu pour en apprendre davantage sur l'importance de l'art, de l'histoire et de la culture des Noirs.
L'Équipe (The Team) - Patrick Reed
Le Kenya a longtemps été considéré comme un succès en Afrique, comme étant un pays relativement stable et harmonieux sur le plan ethnique. Toutefois, à la suite des élections présidentielles de décembre 2007, tout a chaviré. Des controverses entourant le vote ont laissé le pays divisé selon des clivages ethniques, poussant le Kenya à la guerre civile.
La communauté internationale est intervenue, une paix fragile a été négociée et un cadre basé sur la vérité et la réconciliation a été mis en place. Néanmoins, la méfiance ethnique et la violence continuent de paralyser le pays, beaucoup de Kényans rejettent ces actions en les qualifiant de mises en scène politiques. Une réponse alternative locale est la création d'un feuilleton télévisé pour briser les tabous. Ce film suit les luttes d'une équipe de soccer multiethnique qui tente de surmonter leurs différences, à la fois sur le terrain et hors du terrain.
Le film a été présenté au Full Frame Documentary Film Festival, au Festival international du documentaire d'Amsterdam, au AFI / Discovery Channel Silverdocs Festival, au Human Rights Watch Film Festival, et au HotDocs.
Pour plus d'informations sur les documentaires, veuillez visiter www.docfest2012.wordpress.com
When & Where

Cinéma du Parc
3575, Park Ave.
Montreal, Quebec H2X 3P9
Canada

Friday, March 2, 2012 at 6:00 PM

-

Saturday, March 3, 2012 at 11:00 PM (EST)
Add to my calendar
Organizer
Journalists for Human Rights' goal is to make everyone in the world fully aware of their rights. Creating rights awareness is the first and most necessary step to ending rights abuses.
By mobilizing the media to spread human rights awareness, JHR informs people about human rights, empowering marginalized communities to stand up, speak out and protect themselves.
Find more information about JHR at www.jhr.ca