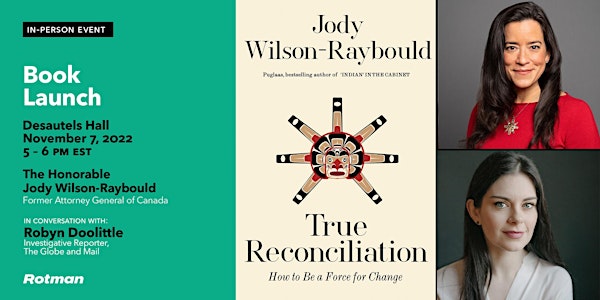 Jody Wilson-Raybould on True Reconciliation
Jody Wilson-Raybould discusses her new book 'True Reconciliation: How to Be a Force for Change' (McLelland & Stewart) with Robyn Doolittle.
When and where
Location
Rotman School of Management 105 St. George Street Toronto, ON M5S 3E6 Canada
Refund Policy
Refunds up to 1 day before event
About this event
Topic: True Reconciliation: How to Be a Force for Change (McLelland & Stewart)
Speakers:
The Honourable Jody Wilson-Raybould, Former Minister of Justice and Attorney General of Canada; Principal, JWR Group; best-selling author
In Conversation with: Robyn Doolittle, Investigative Reporter, The Globe and Mail
Book Synopsis:
From the #1 bestselling author of 'Indian'' in the Cabinet, a groundbreaking and accessible roadmap to advancing true reconciliation across Canada.
There is one question Canadians have asked Jody Wilson-Raybould more than any other: What can I do to help advance reconciliation? This has been true from her time as a leader of British Columbia's First Nations, as a Member of Parliament, as Minister of Justice and Attorney General, within the business communities she interacts, and when having conversations with people around their kitchen tables. Whether speaking as individuals, communities, organizations, or governments, people want to take concrete and tangible action that will make real change. They just need to know how to get started, or to take the next step. For Wilson-Raybould, what individuals and organizations need to do to advance true reconciliation is self-evident, accessible, and achievable.
True Reconciliation is broken down into three core practices—Learn, Understand, and Act—that can be applied by individuals, communities, organizations, and governments. They are based on the historical and contemporary experience of Indigenous peoples in their relentless efforts to effect transformative change and decolonization; and deep understanding and expertise about what has been effective in the past, what we are doing right, and wrong, today, and what our collective future requires. True Reconciliation, ultimately, is about building transformed patterns of just and harmonious relations between Indigenous and non-Indigenous peoples at all levels of society.
Throughout the book, the author shares her voice and experience with others who tell their stories, illustrated with helpful sidebars and infographics, as well as historical timelines. To help with the practices of learning, understanding, and acting, there is a planning guide at the end of the book—to help the reader translate words into action for themselves as individuals, for their communities, organizations, and governments at all levels. The ultimate and achievable goal of True Reconciliation is to break down the silos we've created that prevent meaningful change, to be empowered to increasingly act as 'inbetweeners,' and to take full advantage of this moment in our history to positively transform the country into a place we can all be proud of.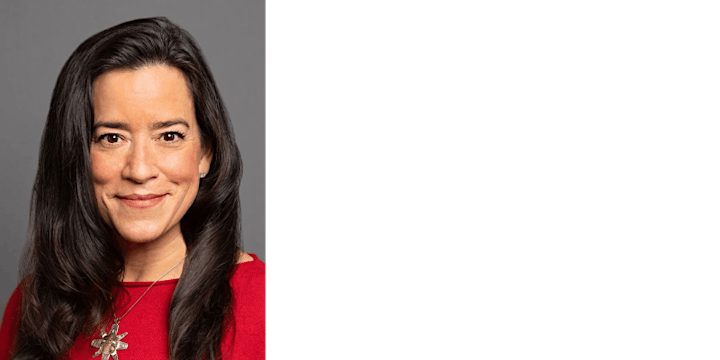 The Honourable Jody Wilson-Raybould, P.C., Q.C., served as the Independent Member of Parliament for Vancouver Granville, Minister of Justice and Attorney General of Canada, the Minister of Veterans Affairs and the Associate Minister of National Defence until her resignation in 2019 following the SNC-Lavalin affair.
Wilson-Raybould is a Principal of JWR Group, a lawyer, an advocate and and leader among Canada's Indigenous Peoples with a strong reputation as a bridge builder between communities, and a champion of good governance and accountability. She has been a provincial crown prosecutor, a councillor for the We Wai Kai Nation, a chair of the First Nations Finance Authority and has served as regional chief of the BC Assembly of First Nations. Wilson-Raybould has written two bestselling books, 'Indian' in the Cabinet: Speaking Truth to Power (2021) and From Where I Stand: Rebuilding Indigenous Nations for a Stronger Canada (2019).
She and her husband live in Vancouver. Wilson-Raybould is a descendant of the Musgamagw Tsawataineuk and Laich-Kwil-Tach peoples, which are part of the Kwakwaka'wakw and also known as the Kwak'wala-speaking peoples. She is a member of the We Wai Kai Nation. Her traditional name, Puglaas, means "woman born to noble people."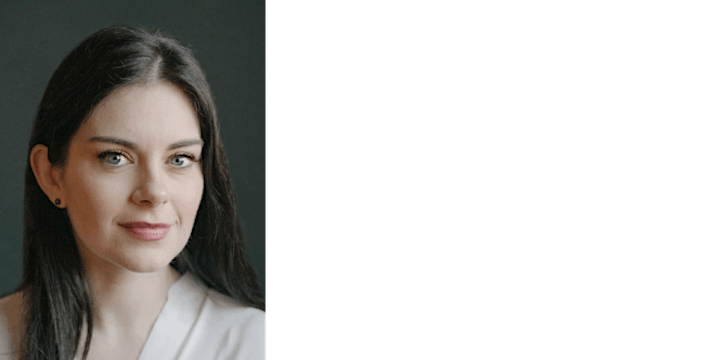 Robyn Doolittle is a Globe and Mail investigative journalist. Her reporting on Mayor Rob Ford for the Toronto Star made headlines around the world, won the Michener Award for public service journalism, and her number-one bestselling book on the topic, Crazy Town: The Rob Ford Story, earned her the Kobo Emerging Writer Prize. Her Unfounded series, which investigated how police services handle sexual assault cases, was one of the most viewed and read stories in the Globe's modern history. She was named Journalist of the Year in 2017 by the Canadian Centre for Journalism. She lives in Toronto.
Event Logistics:
This event is available to attend IN-PERSON only.
Rotman Events is committed to accessibility for all people. If you have any access needs or if there are any ways we can support your full participation in this session, please email Mandi Gosling [events@rotman.utoronto.ca] no later than 2 weeks in advance of the event and we will be glad to work with you to make the appropriate arrangements.
General Admission: In-Person Ticket Details
The event will be hosted in the Desautels Hall at the Rotman School of Management (105 St. George St., Toronto, ON M5S 3E6). Your registration fee includes a seat at the session and a copy of the book.
Cancellation & Refund Policy
Refunds will only be issued for cancellations received in writing NO LATER than 24 hours prior to the event. Please email events@rotman.utoronto.ca for processing.
Questions: events@rotman.utoronto.ca, Mandi Gosling