Location
Almonte Old Town Hall
14 Bridge
Mississippi Mills, ON K0A 1A0
Canada
Description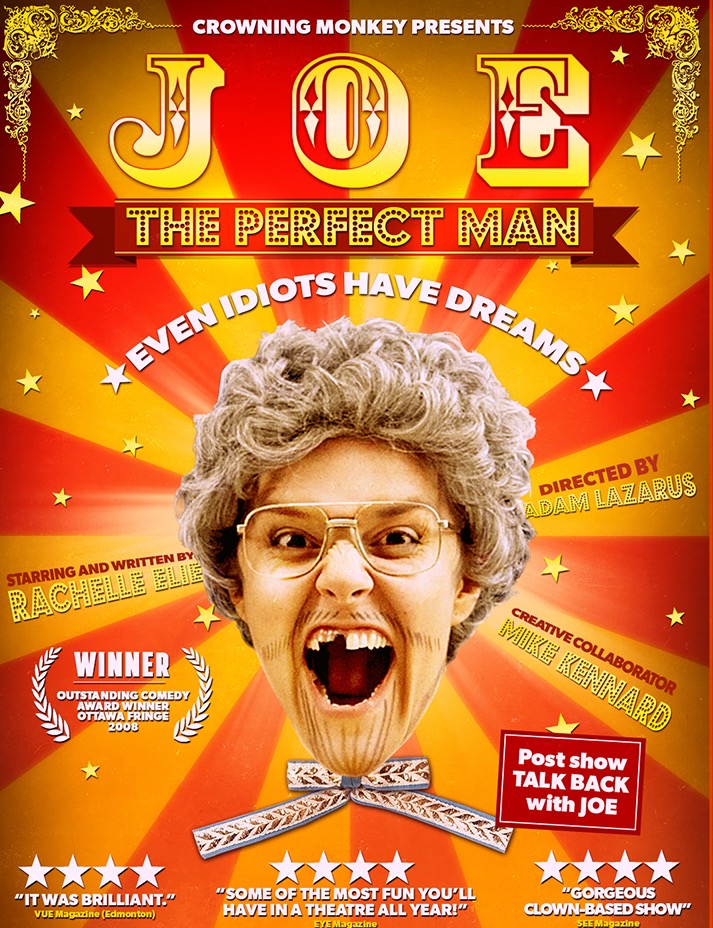 Joe is coming to Almonte in May!
Tickets are $20.00 here and at MILL STREET BOOKS in Almonte Snoozers pay 25 at the door
After losing his job, Joe's passion to play all the lead roles in "THE SCOTTISH PLAY" explodes to the surface. Soon after he stumbles upon a "MACBETH Audition" and sees it as his one chance to fulfill his destiny. Through ridiculous failures and absurd attempts at BRILLIANCE he stumbles through the opportunity of a lifetime.
An absurd comedy directed by Adam Lazarus (Creator of Toronto Festival of Clowns) and in creative collaboration with Mike Kennard of Award winning clown duo Mump & Smoot. This original comedy is created by and starring award winning Toronto comedienne Rachelle Elie. This character was created with Philiipe Gaulier (Ali G).
2008 Ottawa Fringe Festival OUTSTANDING COMEDY AWARD Winner.
(4 STARS) "… some of the most fun you'll have in a theatre all year." Eye Magazine, Toronto.
(4 STARS) "ELIE has created a classic character, one who's as funny and memorable as the best SCTV or Saturday Night Live creations." -Times Columnist, Victoria.
(4 STARS) "You'll laugh. You'll cry." -Edmonton Sun, Edmonton
(4 STARS) "… this gorgeous clown-based show packs huge rewards…"-SEE Magazine, Edmonton.
(4 STARS) " …there was pure anarchy unfolding right there on stage, and it was brilliant." -VUE weekly, Edmonton.
(4 STARS) "A delightful absurdist comedy with hilarious audience participation." -Uptown Magazine, Winnipeg.
(4 STARS) "..a smart and satisfying one-woman show ... "-The Edmonton Journal, Edmonton.
Jerry's Top 10 to see at the Fringe The Province,Vancouver.
SEE Magazine's Top 10 List to see at Edmonton Fringe.