Description
Johann Hinnemann Clinic
Date: March 29th, 30th, 31st


Dressage BC Members and High Point Club Members Discount- PROMO CODE: DressageBC
*****Choose promo code when selecting tickets (this option is only available in the ticket selection box at the top right corner)
For questions regarding PROMO CODE please contact Kim BEFORE purchase- admin@highpointec.ca
Lunch will be available for online pre purchase only!

Catering By: Sheila's Bistro & Lounge
Menu:
Lunch will be sandwich, salad and small dessert square
Sandwich Choices:
~ West Coast Turkey Club, oven roasted turkey breast, aged cheddar cheese, hickory smoked bacon, tomato, avocado, smoked paprika aioli on sourdough bread
~ Chicken Salad Wrap, grilled chicken breast, mayo, Dijon, lemon, celery, onion, lettuce, tomato
~ Muffaletta, salami, Iberian chorizo, capicolla, aged cheddar cheese, mayo, Kalamata olive tapenade, lettuce, tomato on flat bread
~ Steak Sandwich, grilled bistro filet, horseradish cream, red onion spread, lettuce, tomato on baguette
~ Veggie Wrap, lettuce, tomato, cucumber, avocado, hummus, zucchini, tzatziki
Salad Choices:
~ Pesto Pasta Salad with diced tomato, shaved parmesan and arugula
~ Mixed Green Salad with tomato, carrot, cucumber and balsamic vinaigrette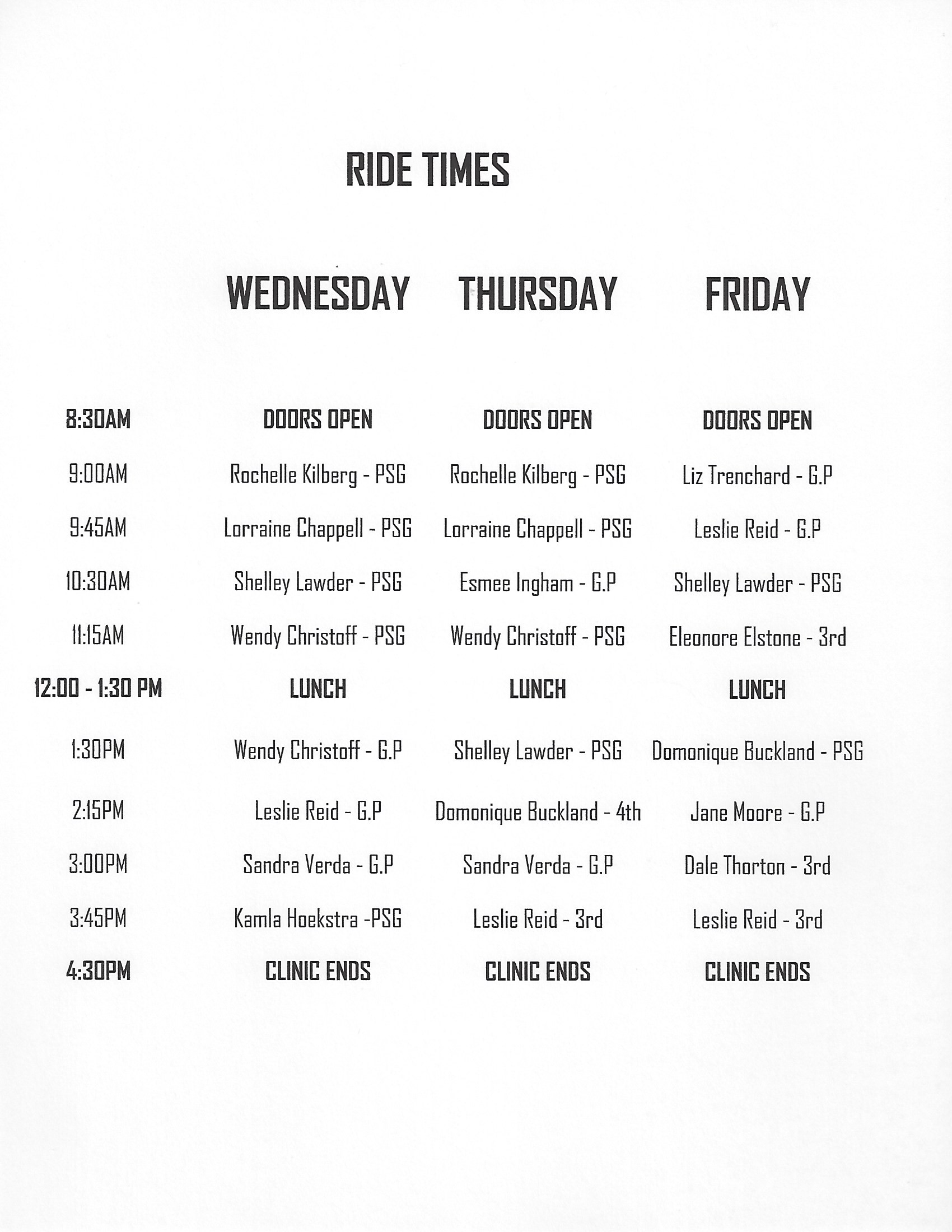 Johann Hinnemann
Johann Hinnemann is one of the best known and sought after trainers in the world. As a rider, he earned the rarely bestowed title Reitmeister (Master Rider) with many successes such as team gold and individual bronze medals at the 1986 World Championships in Cedar Valley Ontario and team gold/individual bronze medals at the 1987 European Championships at Goodwood in the U.K. His partner in winning these medals was the Dutch bred horse, Ideaal.
He was the stallion trainer for the Nordrhein-Westfalisches Landgestut, the National Stud Farm in Warendorf and he has otherwise been extensively involved with breeding horses.
For many years, Hinnemann was the team trainer for Canada. In 1997 and 1998, he was the national coach for the German team, togetherwith Klaus Balkenhol.
He has had many world class dressage students. Judy Reynolds and Vancouver K, from Irleland, won the $75,000 at the horse show in New York City!Some of our top BC riders have had the privilege to train with Mr. Hinnemann in California during recent Winters. He is pure genius, they report.