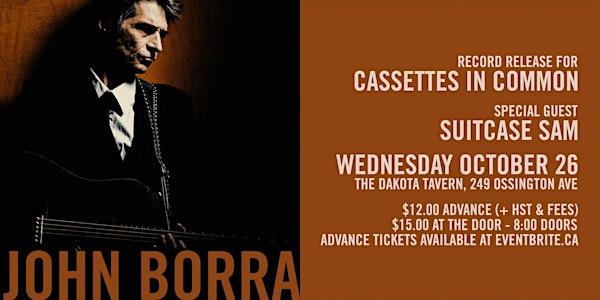 John Borra with Suitcase Sam
John Borra record release for Cassettes In Common, with special guest Suitcase Sam (DOORS 8PM)
When and where
Location
The Dakota Tavern 249 Ossington Avenue Toronto, ON M6J 3A1 Canada
Refund Policy
Contact the organizer to request a refund.
Eventbrite's fee is nonrefundable.
About this event
*PLEASE READ GUIDELINES BEFORE PURCHASING YOUR TICKETS*
- Masks recommended.
- This event is General Admission.
- Social distancing is no longer in effect.
- This event is 19+
- No refunds.
JOHN BORRA:
It's fair to say that John Borra has seen and done it all within the Toronto alternative music scene, from witnessing the first stirrings of punk as a kid in the late 1970s, to joining his first bands at the dawn of the alt-rock movement in the 1980s, and forging a solo career during the roots music renaissance that followed.
His new album, Cassettes In Common, pays tribute to virtually all of those eras by presenting Borra's new interpretations of 10 songs by fellow singer/songwriters who helped build the scene, such as Ron Sexsmith, Kyp Harness, Bob Snider, Sam Larkin and Frank Nevada. Assisting Borra in the studio was another group of Toronto underground legends including Michael Timmins of Cowboy Junkies, Blue Rodeo keyboardist Mike Boguski, original Blue Rodeo drummer Cleave Anderson, Doughboys/Rusty guitarist Scott McCullough, fiddler extraordinaire Miranda Mulholland, Handsome Ned guitarist Steve Koch, and Borra's longtime friends and collaborators Sam Ferrara and Johnny MacLeod.
"These are songs by people I know or have known, which gives it an extra specialness for me," Borra says. "Some of them have never had a commercial release and some others are pretty obscure—or at least not in the popular consciousness. I think all of the songs and artists here are top notch and deserve recognition. It's also how we keep songs alive. By doing them. It's part of the folk tradition."
Moreoever, the first focus track from Cassettes In Common pays tribute to Vancouver legend Art Bergmann. "Sleep," from Bergmann's acclaimed 1990 album Sexual Roulette is, like much of Bergmann's work, a pull-no-punches observation of a dysfunctional relationship, which Borra treats with heartbreaking empathy.
"Sleep" sets a high bar for the rest of the album, but the personal connection Borra has with all of these songs is its greatest strength. "I suppose the song with deepest personal connection is 'October Night' by Frank Nevada," he says. "In 1991, Frank and I went to Europe to try our hands at playing music on the streets and hopefully have a fun summer in a far off land. We'd heard that Europeans had a greater respect for street musicians and you could make decent money playing music for the public at large. This turned out to be true and we had a wonderful adventure that lasted six months for me and turned into four years for Frank. At some point we acquired a benefactor/patron of the arts who bought us each a little cassette recorder. After I got home there was a period where we would send each other audio letters we'd record on our little cassette players. Frank sent me a recording of this song he'd written after I'd left and I've always loved it. It addresses our time together, the seasons changing, and expresses a loneliness of being on his own with an uncertain future ahead. Or at least that's my take on it. He's never recorded it and I'm glad that I was finally able to."
As well, Borra is paying tribute to his own past in a way by simultaneously giving his first solo release, the 1997 self-titled John Borra cassette, its first CD/digital reissue. Featuring his longtime live staples, "Last Sexy City On Earth," "Who's Pickin' On You" and "In The Afternoon," it's a collection that still holds up as prime example of Canadian alt-country.
Both new releases follow Borra's last solo album, 2020's Blue Wine, which Exclaim! called, "A fine collection of songs from an artist meriting more attention," and UK blogger The Rocking Magpie described as, "equal parts poetic Honky Tonk and revved up Punkish barn burners."
Blending those two sounds has been Borra's mission for the past several decades, and now with Cassettes In Common, he's pulled back the curtain in a sense on what's helped him achieve that seamless balance.
"I'm inspired by every one of the artists on this record," he says. "That's why I've wanted to do a record like this for a long time now. When I first started playing in bands, my heroes were the likes of Iggy Pop, Lou Reed, Patti Smith, and MC5. All of those artists put out music they believed in and stuck to their guns despite a lack of commercial success at the time. I've always tried to use that approach as my barometer and it's served me well over the years. I have very few regrets from a lifetime of doing this and I see no reason to change at this point."
SUITCASE SAM:
Of Sam's birth and formative years, very little is surely known. According to legend, Suitcase Sam was born Leon Stanislaus Czologosz on 8 September 1988. It is believed that he is the great great grandson of the anarchist Leon Czologosz, who, on the sixth of September 1901, shot and killed President William McKinley in Buffalo, New York. The circumstances and lineage of his mother remain shrouded in mystery.
Sam's father, Alexander Berkman Czologosz, was a railroad engineer with the Central Pacific, operating out of Newcastle, California. From 1985 to 1998, Sam lapped up the miles, and licked the valleys up—he peered into shanties by the sides of the roads and there seemed to stand before the world as it has always been.
It is believed that it was there on the train line that Sam drank up the great American musical traditions—his grizzled protectors on the engine yard filling him brim-full with religious awe, laying him reverently down at the feet of the old masters: Mississippi John Hurt, Emmett Miller and the great Jimmie Rodgers. Young Sam distinguished himself, though still a child, by his unique guitar and vocal stylings, and by a genteel demeanor that seemed beyond his years. Loved though he was on the Central Pacific, when he was just fourteen he struck out on his own.
His professional career began with the Hell-Bound Fiddle Band, working out of a bar room near Pontoon Crossing on the Pecos River. There he studied the great traditions of American fiddle, Cowboy poetry, Swiss yodeling, and the Hokum blues. He became a connoisseur of ragtime string, the Lomax collection and the very best of Memphis jug; he drank from the fountainhead of the muses: the Mississippi Sheiks, the Ascension Choir, Sonny Boy Terry and Brownie McGhee.
In 2010, Sam moved north, to Toronto, Ontario and released his first record under his own name: Get It To Go on PLEASENCE Records. The sound of the Get It To Go EP was inspired by 1920's traditional Jazz and drew comparisons to Leon Redbone and Mose Scarlett. The release was followed by a short tour of Canada in support of the record.
In 2012, the song The Sweetest Hippopotamus, from the Get It To Go EP, was adapted into the BravoFACT short-film by the same name. Suitcase Sam, who appeared as himself, composed the music for the film and went on to win the Best Soundtrack Short award at the AOF International Film Festival.
In late 2014, Suitcase Sam released his second EP: Waiting on a Train; a small collection of songs inspired by 1930's country music, particularly the music of Jimmie Rodgers. The Following eighteen months were spent performing live concerts in support of the EP. During this time, Sam opened up for Courtney Barnett, Benjamin Booker, Bloodshot BIll, John Cragie, Mikal Cronin, CATL and Elliot Brood. This period culminated with a short tour of New York City in late 2016.
Suitcase Sam joined Curve Music in 2019 with the release of (a repackaged) Get It To Go EP which includes bonus tracks from the award-winning soundtrack for The Sweetest Hippopotamus. At the end of 2019, Suitcase released his first LP: Goodnight Riverdale Park on Curve Music.