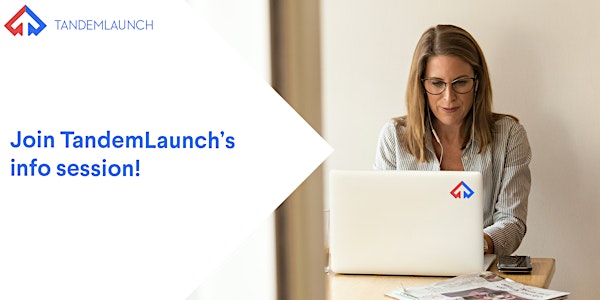 Join TandemLaunch's info session!
Join us to learn more about TandemLaunch and the Entrepreneur-in-Residence program!
About this event
Veuillez trouver la version française plus bas.
We would like to invite you to join TandemLaunch's info session where you will hear about our program & meet our recruitment team!
If you're a PhD or Master's student with a track record in STEM and an interest in building your own tech start-up, our program is for you!
Who is this program for?
Doctorate in electrical / computer engineering, physics, computer science or similar fields.
or MS in the above subjects with industry and/or project experience
Excellent communication skills and passion for entrepreneurship and building things from scratch.
Previous experience leading a team is a plus.
What's in it for you?
Low-risk path to becoming a co-founder.
Equity with life-changing potential.
Annual salary and healthcare/dental benefits.
Practical mentoring and coaching from our experienced business team (Marketing, HR, Finance, Engineering, and more!).
Rent-free office space and operational support.
Access to our expansive network of tech giants.
The TandemLaunch Entrepreneur-in-Residence program is designed to provide aspiring entrepreneurs with a unique low-risk path to build a high-tech start-up around leading university technology.
The event will take place on August 29, 2022, from 10-11 a.m. EST via Zoom. Upon registration, a confirmation and a link will be sent to you to attend the event.
For any questions or more information, please contact Noel Simpson at noel.simpson@tandemlaunch.com
Looking forward to seeing you virtually!
********************français********************
Joignez-vous à nous pour en savoir plus sur TandemLaunch et le programme Entrepreneur en résidence!
À propos de cet événement :
Nous aimerions vous inviter à rejoindre la session d'information de TandemLaunch où vous découvrirez notre programme et rencontrerez notre équipe de recrutement !
Si vous êtes étudiant au doctorat ou à la maîtrise en STEM et créer votre propre start-up en technologie vous intéresse, notre programme est fait pour vous !
A qui s'adresse ce programme ?
Doctorat en génie électrique/informatique, la physique, informatique ou dans des domaines similaires.
ou MS dans les matières ci-dessus avec expérience dans l'industrie et / ou dans des projets
Excellentes compétences en communication et passion pour l'entrepreneuriat et bâtir des choses à partir de zéro.
Une première expérience à la tête d'une équipe est un atout.
Qu'y a-t-il pour vous ?
Cheminement à faible risque pour devenir co-fondateur.
Équité avec un potentiel de changement la vie.
Salaire annuel et assurance soins de santé / dentaires.
Mentorat et coaching pratiques de notre équipe expérimentée (Marketing, RH, Finance, Ingénierie, et plus!).
Espace de bureau gratuit et soutien opérationnel.
Accès à notre vaste réseau de géants de la technologie.
Le programme TandemLaunch Entrepreneurs en résidence est conçu pour offrir aux entrepreneurs une voie unique à faible risque pour créer un start-up autour d'une technologie universitaire de pointe.
L'événement aura lieu le 29 août 2022, de 10 h à 11 h HNE via Zoom. Lors de votre inscription, une confirmation et un lien vous seront envoyés pour assister à l'événement.
Pour toute question ou plus d'informations, veuillez contacter Noel Simpson à noel.simpson@tandemlaunch.com
Au plaisir de vous voir virtuellement!