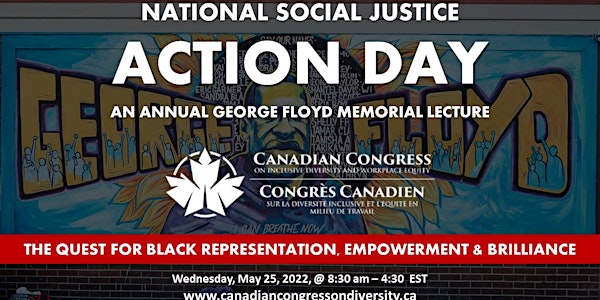 Join the 2nd Second Annual George Floyd Memorial Lecture 2022
Refund policy
Contact the organizer to request a refund.
Eventbrite's fee is nonrefundable.
An Empowering Platform for Strategies to Remove Systemic Barriers to the Personal, Professional and Economic Development of Black People.
About this event
The George Floyd Memorial Lecture is a program that offers the government, corporations, institutions and communities an annual platform to share and discuss their respective action plans to remove the systemic barriers to the personal, professional and economic development of People of African descent.
In addition to remembering the passing of George Floyd and other victims of police brutality, delegates join their families and other social justice advocates to inspire hope, share their struggles and progress and empower each other with strategic tips, tools, tact and techniques to confront racism & discrimination and to never be silent again whenever people are being racialized, oppressed or their life is being taken.
To balance the emotional atmosphere at the event, we also include a series of inspiring entertainers like African drummers, spoken word artists, musical artists, and other performers in between the speeches, using their talents and skills to deliver the same message – creatively, inspiringly and impactfully.
Speakers include dignitaries, celebrities, athletes, mayors, senators, government officials and other professionals to deliver a pep talk on the theme for 9 minutes and 29 seconds, the duration that George Floyd was held down until death. They will be delivering their messages in line with the three pillars of the International Decade of People of African descent – Recognition, Justice and Development.
Previous speakers at the Canadian Congress include the Hon. Jean Augustine (first Black woman in the Canadian Parliament), retired Senator Don Oliver (first Black Canadian Senator), Tonya Williams (Celebrity actress on the hit TV show, The Young & Restless), retired Police Chief Mark Saunders (first Black Police Chief in Canada, Senator Jane McCallum (Indigenous Senator and survival of the Residential School System), Dr. Wendy Cukier (Founder of Diversity Institute at the Toronto Metropolitan University, formerly Ryerson University), Courtney Betty (Lead Advocate for the billion-dollar Class Action lawsuit against the Canadian government on behalf of Black people), Rowan Barrett (Olympian), Pauline Christian and a host of political dignitaries, celebrities, athletes, and global experts.
In addition to Nekimah Levy Armstrong, the Executive Director of The Wayfinder Foundation and Former Minneapolis President of the NAACP who Oprah Winfrey indicated was the voice that turned the gruesome murder of George Floyd into a global conversation, we also had the honour of hosting retired Police Captain Charles Alpine Sr., Former Director, Martin Luther King Center for Nonviolent Social Change, Inc. Atlanta, who came to represent Dr. Bernice King, the daughter of Dr. Martin Luther King Jr.
For a recap of last year's George Floyd Memorial Lecture, click on https://www.youtube.com/watch?v=C2ksiV2o7GY
Here are some of this year's topics that will all be aligned with the three pillars of the UN Declaration: Recognition, Justice & Development
1. Igniting the Quest for Balanced Representation & Social Justice
2. Why Black Lives Matter: The Truth, Our Reality
3. The Quest for Black Representation in Power
4. Black Canadian History: Our Pains, Plights & Potential
5. The Inclusive Path to Equitable Academic Brilliance
6. Creating Inclusive Municipalities for Black Brilliance
7. Eliminating Anti-Black Racism: A Progress Report 2 Years Later
8. Reparative Justice for Colonialism, Slavery & Genocide
9. Suppliers' Diversity for Economic Empowerment
10. Maximizing Strategic Resources for Economic Empowerment
11. Impact of Mental Health on Anti-Black Racism & Discrimination
12. The Strategy for Healthier Community Policing & Relationships
13. Building Allyship in Anti-Black Racism & Discrimination
This year's event is scheduled for Wednesday, May 25, 2022, exactly on the death anniversary of George Floyd, from 8:30 am to 4:30 pm, EST.
With a lineup of over 21 speakers, the compelling program will be recorded and access granted to those who registered but were unable to attend or missed some sessions.
Speakers were carefully selected to ensure their personal experiences and remarkable ability to communicate deep thoughts with brevity, impact and grace would inspire delegates to find comfort, renew their minds and advance the cause for social justice in this country and around the world.
The topics to be discussed are focused on empowering delegates with strategic tips, tools, techniques, tact, training and technology to become proficient in the quest for Black Representation and economic empowerment of Black people.
They are bound to inspire delegates from all over the world to rise above their fears, discomfort and anxieties to become a voice in their generation for social justice in their communities.
WHAT PARTICIPANTS SAID LAST YEAR
"The speakers were very thought-provoking and all heralded a call to action instead of complacency in their way. I also was very impressed at how well the organizers and MCs kept things on schedule. I learned more about what's taking place, how it's affecting the Black communities, and what else needs to be done. I appreciated the variety of voices and experiences, as well as the calls to action. I am looking forward to continuing on my learning journey and hope to attend more sessions in future. Huge congratulations to the planning and event teams, and the speakers." – Kirsten Frankish, Program Manager, Ontario Trillium Foundation
"The event was very informative. Hearing the insights of top leaders in the Black community. It was a good opportunity to check-in and keep the momentum going as we fight to dismantle systemic racism. Also, a time to reflect and pay tribute to George Floyd. I learned in summary that there is a long way to go; however, we are moving in the right direction. We have resilient leaders and with this virtual platform to will continue to strive to share and support each other as a collective. – Jacqueline Jeffers, HR Advisor, Employment and Social Development Canada (ESDC)
For more information, media interviews, sponsorship opportunities or the request for help with your corporate training and strategic framework for Equity, Diversity & Inclusion, please contact Chrissy Benz at chrissy@canadiancongressondiversity.ca. You may also call +1-604-992-3835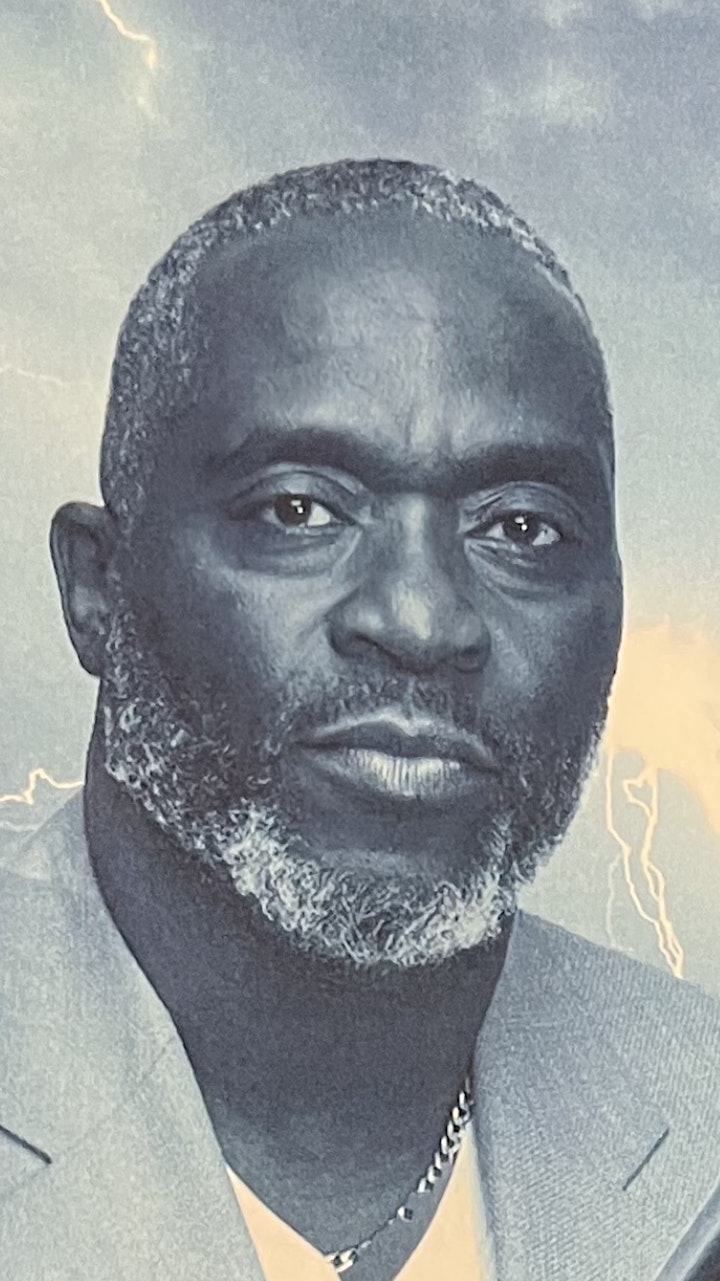 Farley Flex is a partner at Urban Rez Solutions - Social Enterprise, an integrated community and social service company specializing in the fulfillment of the untapped potential of racialized and marginalized communities and individuals everywhere. As an innovator and trailblazer in community capacity building, the entertainment industry and media, Flex has devised and contributed to the establishment of several groundbreaking initiatives including REAL School, Take Back Ur World, Just Think 1st, Say It Loud and MentorME.
As part of the founding team, Flex's roles as VP of Business Development and Music Director were instrumental in launching Canada's first Black owned and operated commercial radio station FLOW 93.5, which is largely responsible for the commercial success of scores of Black musical artists in Canada including Drake, Jully Black, K-os and Kardinal Offishall. As an artist manager and media consultant, he was selected as a perennial judge on Canadian Idol from 2003 to 2008.
Along with his business partner Roderick Brereton, Flex has developed a pedagogy that infuses pop culture and its ubiquitous appeal with youth engagement strategies. The model has been tremendously impactful amongst the hardest to reach youth in Black and Indigenous communities across Canada.
Flex is a recipient of many community and entertainment industry awards of recognition and achievement including induction into the Scarborough Walk of Fame, the Harry Jerome Award for Entertainment and Community Service, two Juno Awards as Manager of Maestro Fresh-Wes, the Queen Elizabeth Diamond Jubilee Award for Protecting the World's Most Vulnerable Children, two Bob Marley Awards, the Canadian Urban Music Association Lifetime Achievement Award, an Honorary Diploma in Broadcasting from Fanshawe College, the BBPA, Men of Excellence Award for Community Service, Entertainment and Business and more.
Flex defines himself as being at one with his interests, Entertainment, Sports and People or ESP. His ability to balance business with social responsibility has rendered him highly influential in both circles. Most recently Flex was contracted as Talent Director, Creative Director and Executive Producer of the province's New Year's Eve television production "From Ontario with Love", championed by the Hon. Lisa MacLeod Minister of Heritage, Sports, Culture and Tourism.
Always seeking opportunities to create positive change, Flex is currently producing and executive producing a social commentary-laden, hip hop-based comedy-drama that he co-created for CBC and scheduled for broadcast later this year.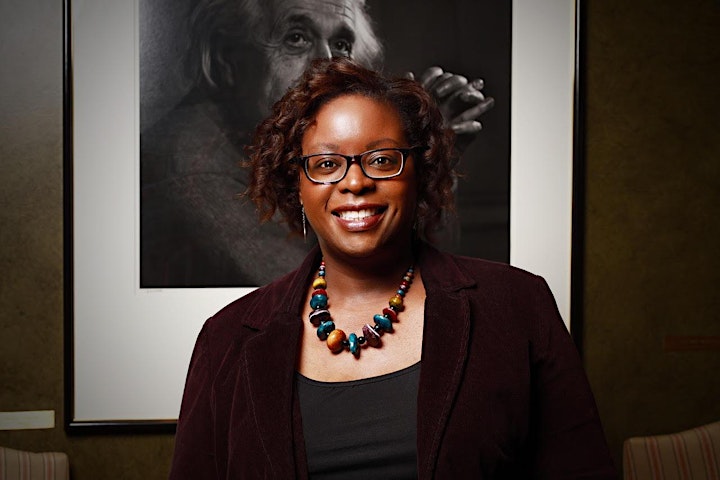 Dr. Helen Ofosu has been practicing Industrial / Organizational Psychology (also known as Work or Business Psychology) in the public and private sectors for almost 20 years. In addition to Career and Executive Coaching, her specialties include the assessment and development of leadership skills, and navigating the complex issues of workplace bullying, harassment, diversity and inclusion.
Dr. Ofosu has always been interested in business and entrepreneurship. This aligns with her choice to study Work or Business Psychology. Consequently, she's excited about her new role as a Board member with the Canadian Black Chamber of Commerce. She's also thrilled to be one of the founding officers of the Section on Black Psychology, Canadian Psychological Association.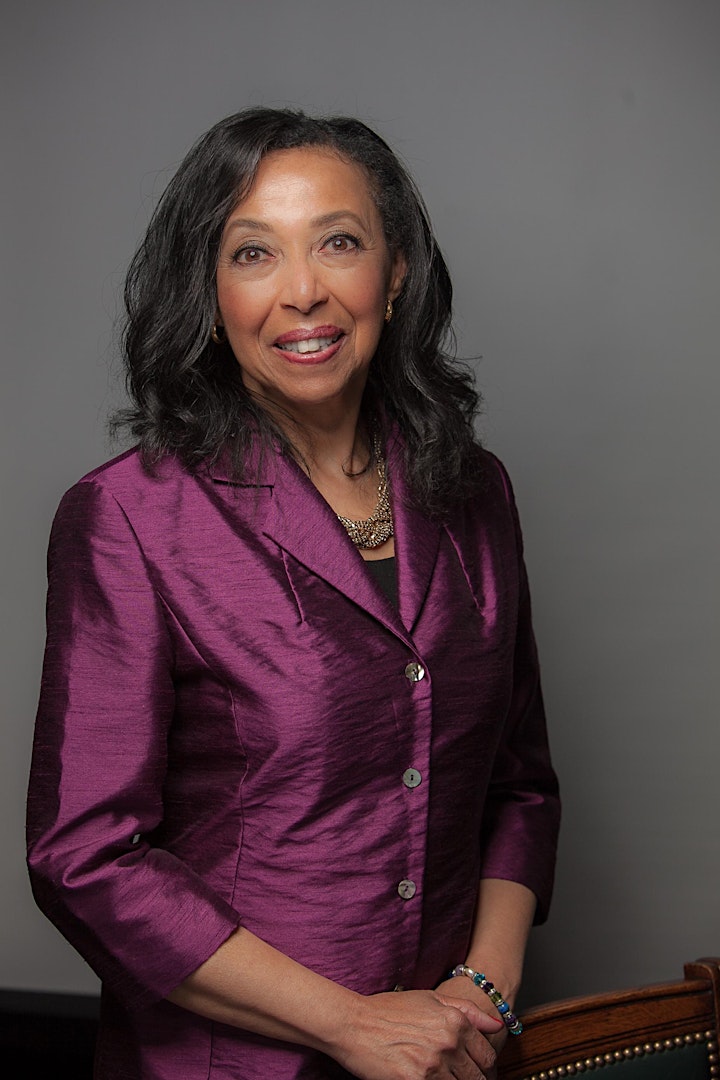 Rosemary Sadlier OOnt (Order of Ontario) is a social justice advocate, researcher, writer, consultant, and, international speaker on Black History, anti-racism and women's issues. She is the past President, serving for 22 years as the unpaid leader of the Ontario Black History Society.
She was the driving force of the secured commemoration of February as Black History Month at all levels of government; she secured August 1st as Emancipation Day municipally in 1995 and provincially in 2008 with a national declaration recently passed now making this a national commemoration in Canada.
She saw to the creation of the national day for the Hon. Lincoln Alexander. She has given deputations to the UN Rapporteur on Race Relations, the Federal and Provincial Governments and on consultative work with the Royal Ontario Muse-um, the CMHR, The Ward Heritage Interpretative Group, the Bi-National Study of the Underground Railroad and heritage conferences
Previously she served on the final selection committee of the national Mathieu Da Costa Challenge for Canadian Heritage and the Canada Post Stamp Advisory Committee. An educator, she has developed or contributed to the African Canadian curriculum, national exhibits and publications. She was an appointed member of the College of Early Childhood Educators.
An author, Sadlier has written 7 books on African Canadian history. A consult-ant, she affects diversity, equity and inclusion projects, and, recently was appointed Equality Lead for the Americas and the Caribbean with the Royal Commonwealth Society. Sadlier is dedicated to social justice and, using the frame of Black History, seeks to educate and empower others.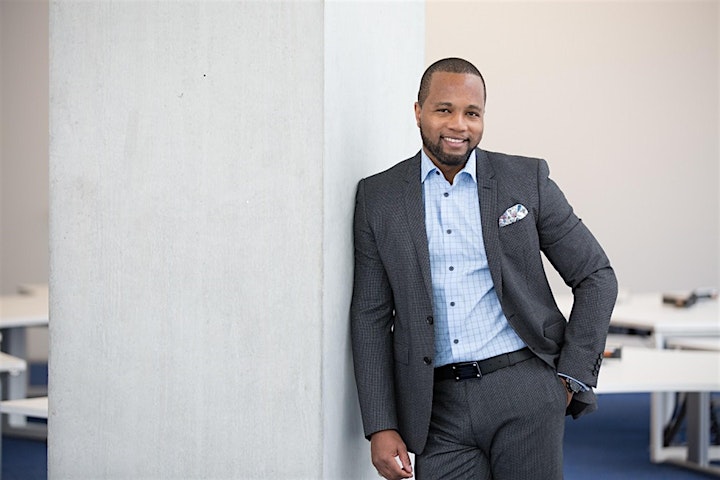 Isaac Olowolafe Jr. is an award-winning real estate entrepreneur, angel investor and philanthropist. Isaac's corporation, Dream Maker Inc., successfully operates multiple divisions including brokerage, real estate development, venture and insurance. The Development division celebrated the completion of the first major mixed-use development (condos, townhomes, retail) called Dream Residences at Yorkdale, located directly across from Yorkdale Mall, and has more developments underway across the GTA, including the launch of Dream Suites @ YYZ boutique Hotel by Pearson Airport. Through his love of sports, Dream Developments became the jersey sponsor of Canada's Men and Women National Basketball Team.
Isaac received a Bachelor's in Economics from the University of Toronto. He has received numerous awards and recognition, including a Harry Jerome Business Award, an Enterprise Business Award by Planet Africa, an Arbor Award from the University of Toronto, a Business Leadership Award by Leadership and Governance Canada Inc. and a Public Service Award from the Transformation Institute for Leadership & Innovation and Toronto Board of Trade Award.
In addition to his membership in the Ryerson Innovation Circle, Isaac made a generous donation which was named the Isaac Olowolafe Jr. Digital Media Experience Lab in Ryerson's iconic Student Learning Centre. Recently Isaac Olowolafe Jr. Funded the launch of the 1st Black Tech Incubator out of Ryerson DMZ, alongside the co-launch of Black Innovation Capital the 1st Institutionally backed Fund for Black Entrepreneurs in Canada. As Chair of the Housing Committee of Black North, he was involved in the launch of the Homeownership Bridge Program a Federally Funded program in partnership with Dream Legacy and Habitat.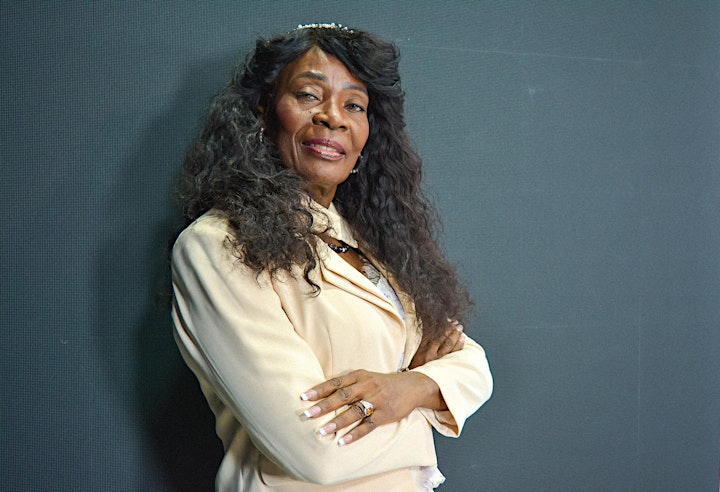 Patricia DeGuire is a Woman-of-colour who pushes boundaries to ensure access to justice, equality and equity. She has a passion for the rule of law, and a commitment to public service, mentoring, coaching and legal education.
A member of the Ontario bar since February 1993, she is a professional adjudicator/arbitrator/mediator/coach, and was a Deputy Judge with the Ontario Superior Court of Justice – SCC Division. For over 25 years, she has served on provincial and federal tribunals, including Vice-Chair at the Human Rights Tribunal of Ontario, the Immigration Appeal Division/IRB, and the OLRB/Pay Equity Hearings Tribunal.
She has also held senior leadership roles with JusticeNet, Legal Aid Ontario, the Ontario and Canadian Bar Associations, and the WLAO. Patricia was a member of the CABL, OBA, LSUC and WLAO mentorship programs and is an avid mentor and coach for many youths and adults in the legal and other professions. She is a constitutional law scholar; holds a Fellow of Chartered Insurance Professionals of Canada – Claims Major; and is co-author and co-editor of the first Canadian Insurance Dictionary.
Patricia served in leading roles with Black North Initiative and is a founder of the Canadian Association of Black Lawyers and the Black Law Student Association Canada. She also was a frequent lecturer at the Organization of Commonwealth Caribbean Bars Association International Law Forum, and with the Faculty of Society of Ontario Adjudicators and Regulators.
She is the founder of the Forum for Education for At-Risk Youths, and speaks often to students at all levels of schools. Patricia's many career honours include the BLSA-C 2021 Impact Award, Canadian Bar Association 2020 Touchstone Award, CBA Rare-Find in April 2012, and the OBA's Distinguished Service Award in 2020. She also received Legal Aid Ontario's 2007 GEM Award for outstanding public service for providing access to justice access for low-income individuals and communities, the 2006 Law Society of Upper Canada Lincoln Alexander Award, and the BLSAC named the cup for the Julius Alexander Diversity Moot in her honour – the Patricia DeGuire Diversity Moot Cup.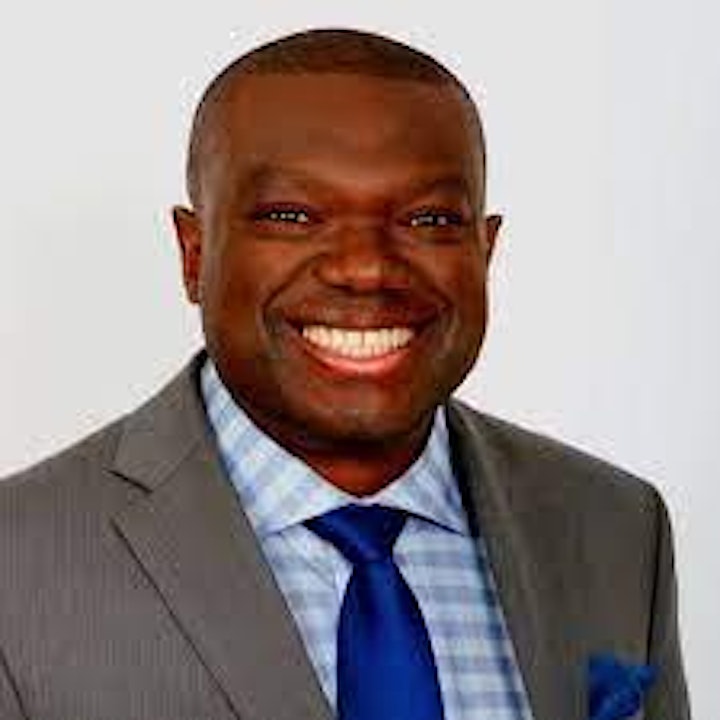 Since 1999, Alex Ihama has gradually worked his way through many industries and arms of the governments to become one of Canada's foremost speakers, executive coach, and consultants on innovation leadership, strategic management and the transformation of culture and strengthening of competitive advantage through an inclusive diversity and workplace equity framework.
As the Executive Director of the Canadian Congress on Inclusive Diversity & Workplace Equity, he works with and through many seasoned experts, researchers, and trainers worldwide to offer a variety of strategic services that organizations, institutions, and the government require to develop their leaders, equitable policies and build a cohesive and inclusive corporate culture.
With over two decades of corporate experience working for and with Fortune 500 companies to execute projects and programs valued at over a billion US dollars, he has developed a set of quantitative and qualitative methodologies that have educated, equipped and empowered staff and management to transform the corporate culture in their organizations, institutions, and the government.
After watching the live stream of George Floyd's killing by a police officer on May 25, 2020, he decided to leverage this significant experience to create a transformational diversity strategy. This framework is now being used in major organizations to initiate and sustain paradigm shifts in the mindset and culture.
Alex strongly believes that eliminating systemic racism from a corporate or community culture requires a well-thought-out strategy than sporadic training and activities to celebrate diversity. It requires all hands on deck to ensure the cues and clues of discrimination and inequities are identified and eliminated.
This, he said, is his life's work.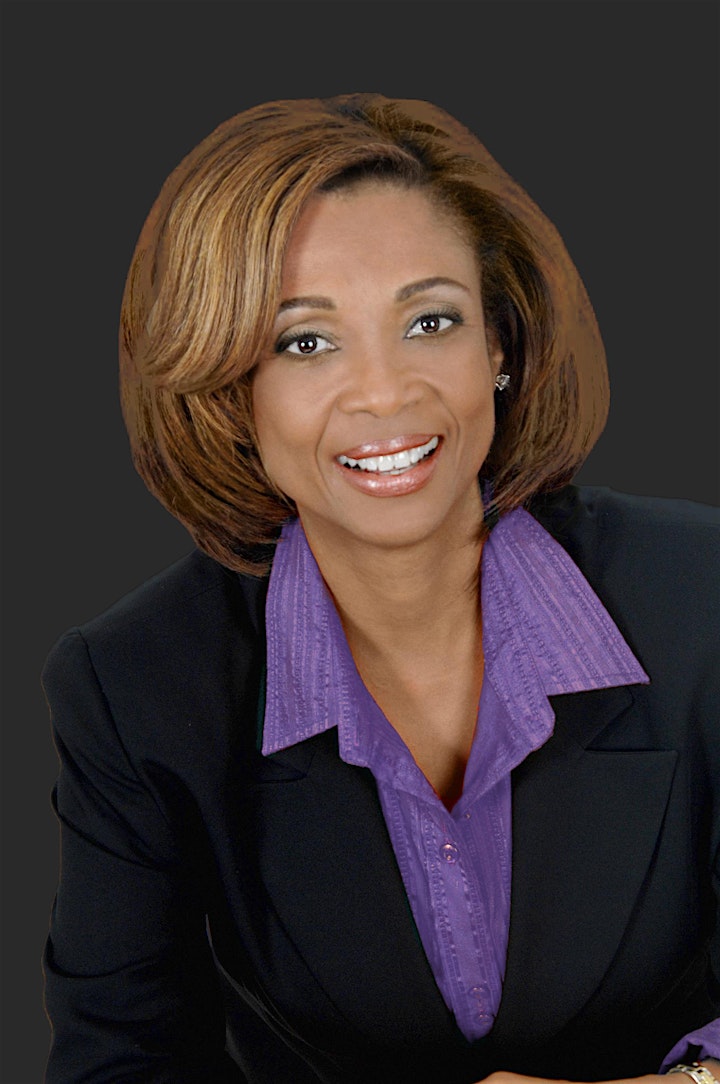 Dr. Pat is a global Transformation Speaker, Pastor, Author, and Business Consultant. She travels the world sharing the gospel of the Glory of Christ that is transforming lives and helping people to discover their potential glory for greater achievements.
The various innovative and dynamic programs run by her charities are helping families and providing solutions for at-risk children and youth. Dr. Pat has been honored with several awards both in Canada and America for the success of the programs.
In January 2008, she was appointed as a United Nations Representative (NGO) with influence as a transformation activist to deal with humanitarian issues and poverty in partnership with world leaders. She served as a member of the Women Presidents Organization, an international network of women with million-dollar companies.
She is a graduate of the University of West Indies in the medical field of Radiography, as well as California State Christian University where she graduated with a doctoral degree in Philosophy, Religious Education and Psychology.
Dr. Pat possesses a unique ability and gift to engage with all people regardless of their age, status or station in life. She resides in Greater Toronto, Canada.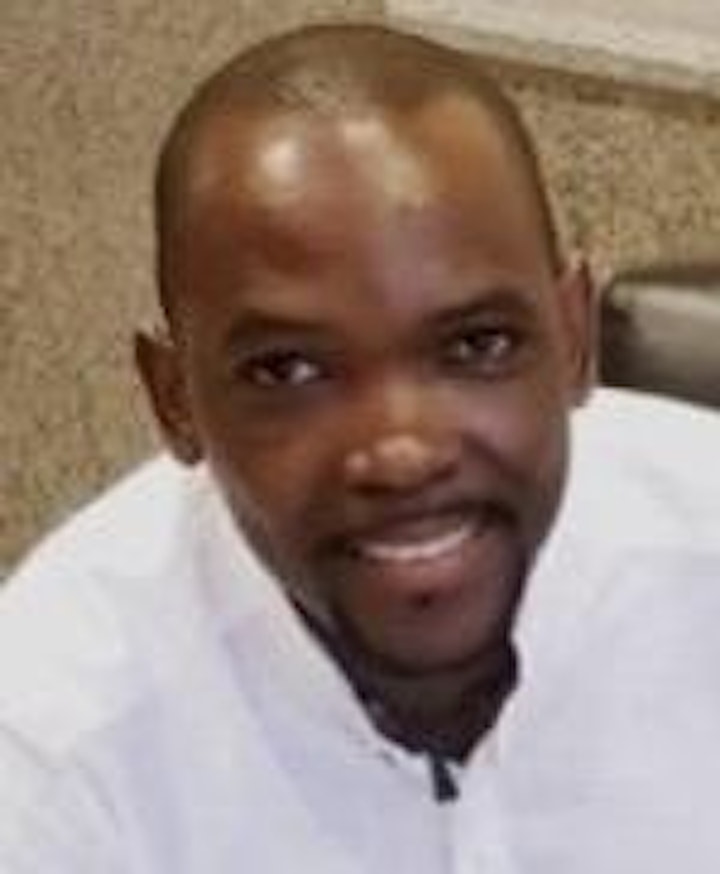 Henry Luyombya is a mental health consultant, the Director for Administration and Head of Atlantic Region, with a passion to help organizations better manage and maximize the mental health of the employees through the ongoing work evolution.
Henry has almost two decades of community service, immigration advocacy, program development, and research experience in the areas of immigrant health, empowerment education, research, non-violent communication, and mental health and wellness within corporate environments.
Henry believes that responsible organizations are intentional about protecting the mental health of their people. They recognize the significance of a sound mind in building a cohesive corporate culture and profitable growth, and therefore, allocated resources from training, coaching and mentoring.
A speaker, trainer and life coach, Henry continues to advocate for social justice through the Canadian Congress and other community, and corporate platforms, using his remarkable ability to inspire and empower people to achieve greater heights and advance the quest for balanced representation and equitable justice and healthcare.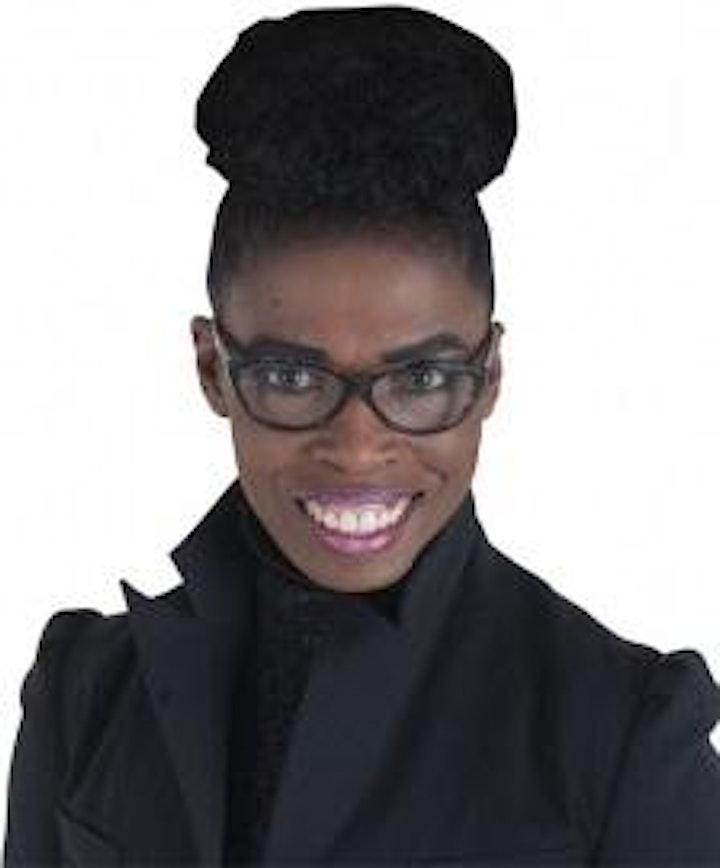 Pauline Christian is a multi-award-winning entrepreneur and community advocate. She truly believes in investing self, resources, talents and gifts back into our community.
Pauline is known for her "Call to Action Vision" during her first year of leadership at the BBPA where she initiated the Inaugural National Black Business and Professional Convention (NBBPC), amongst other new initiatives. It is not surprising that she was recently honoured as one of Canada's Top 20 Women for 2010 by Women's Post Canada, as well as one of Canada's Amazing Women in 2010 by Women Alive and Maranatha News.
Her awards stretch across various lines of disciplines within the community, i.e. 2010 Bob Marley Day Award for outstanding contribution to the City of Toronto as a leader and visionary; 2009 African Canadian Achievement Award for Business and community work; 2008 Black History Month Celebration Police and Community Award of Excellence for being a positive role model, enriching the lives of those in need; and one of Bell Canada's 5 heroes in 2004, to name a few.
She is the executive producer of the Annual Martin Luther King Celebration and the Annual Choirfest which raise funds for Black scholarships. Finally, she believes that we should seek ways of doing more with less, especially in a not-for-profit/charity community.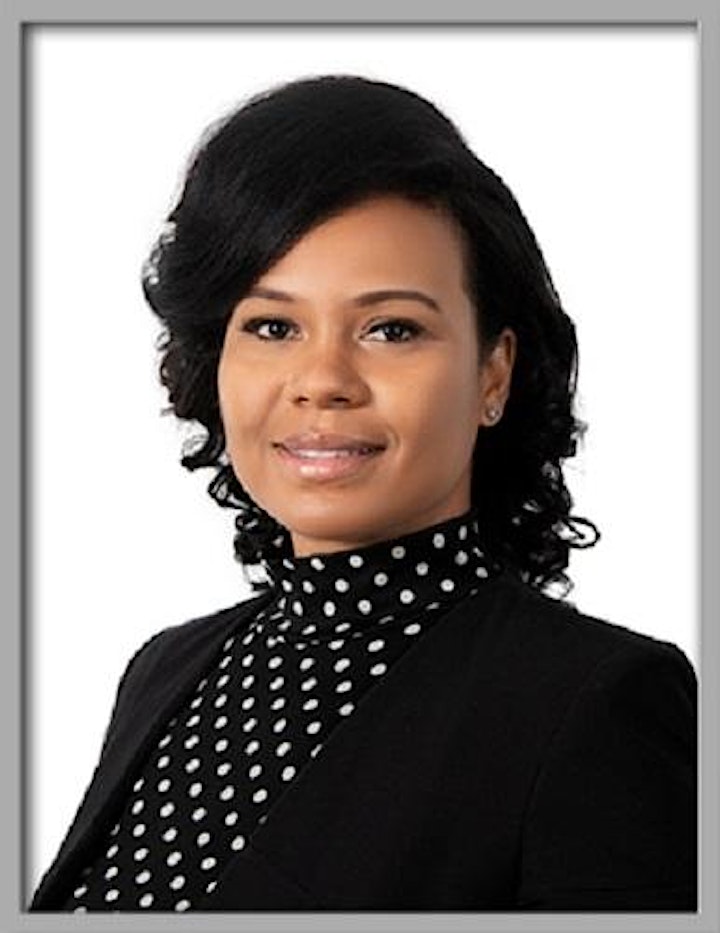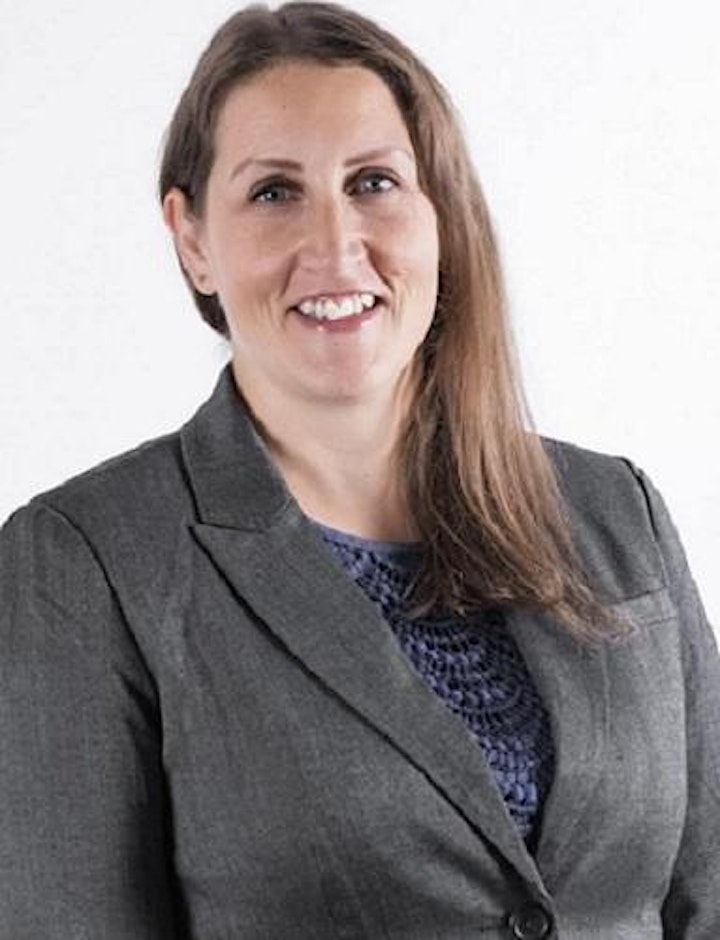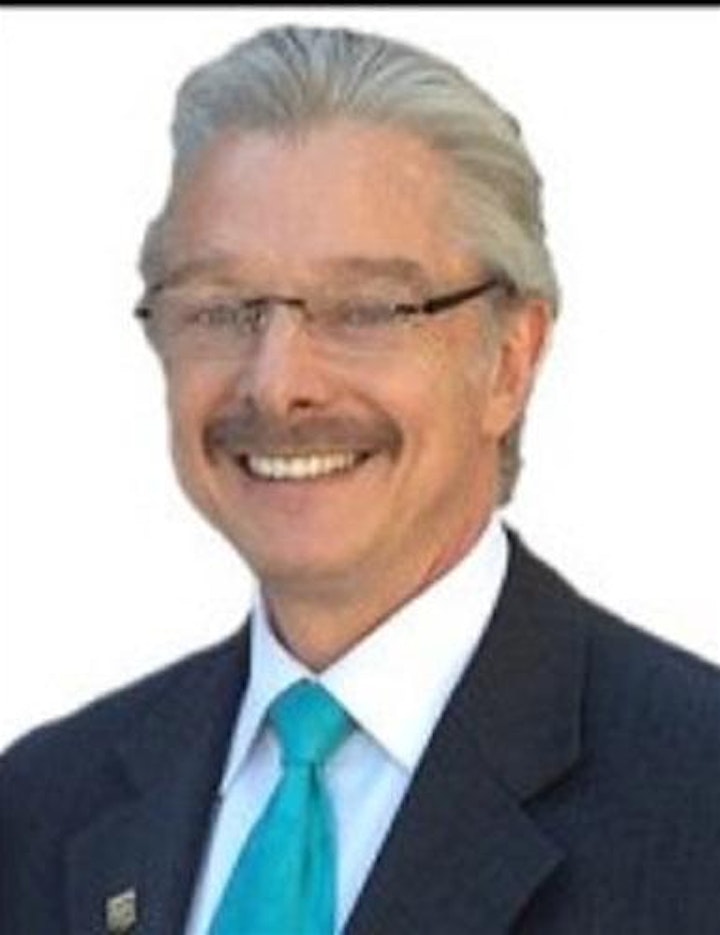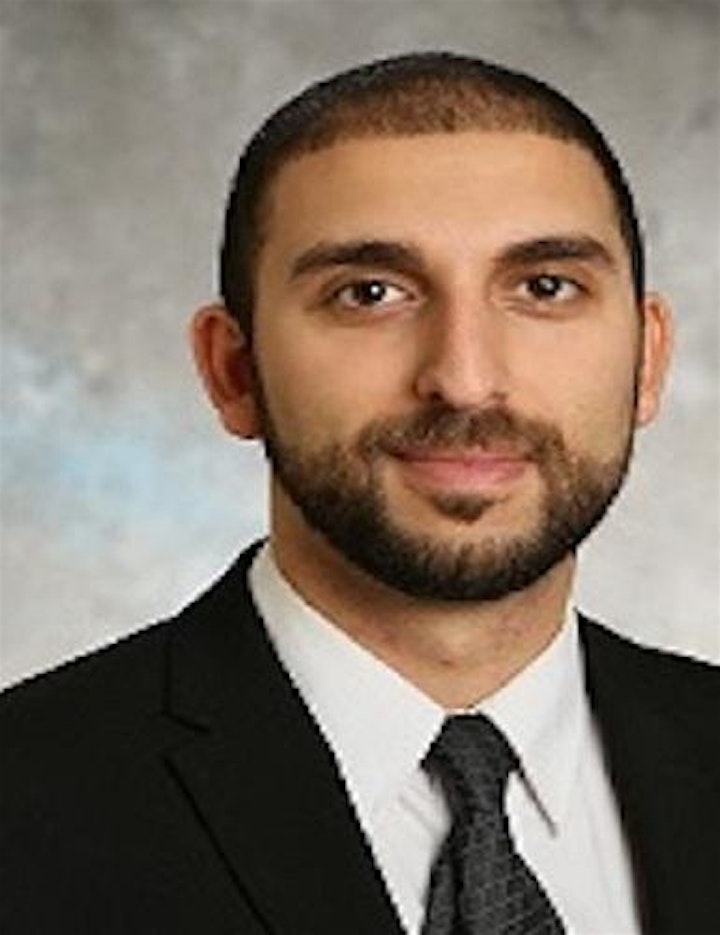 Ardavan Eizadirad (@DrEizadirad) is Assistant Professor in the Faculty of Education at Wilfrid Laurier University in Waterloo, Ontario, Canada.
He is the author of Decolonizing Educational Assessment: Ontario Elementary Students and the EQAO (2019), and co-editor of Equity as Praxis in Early Childhood Education and Care (2021), and Counternarratives of Pain and Suffering as Critical Pedagogy: Disrupting Oppression in Educational Contexts (2022 with Drs. Andrew Campbell & Steve Sider).
His research interests include equity, standardized testing, oral culture, community engagement, youth violence, anti-oppressive practices, critical pedagogy, social justice education, resistance, and decolonization.
Dr. Eizadirad is also the founder and Director of EDIcation Consulting (www.edication.org) offering equity, diversity, and inclusion training to organizations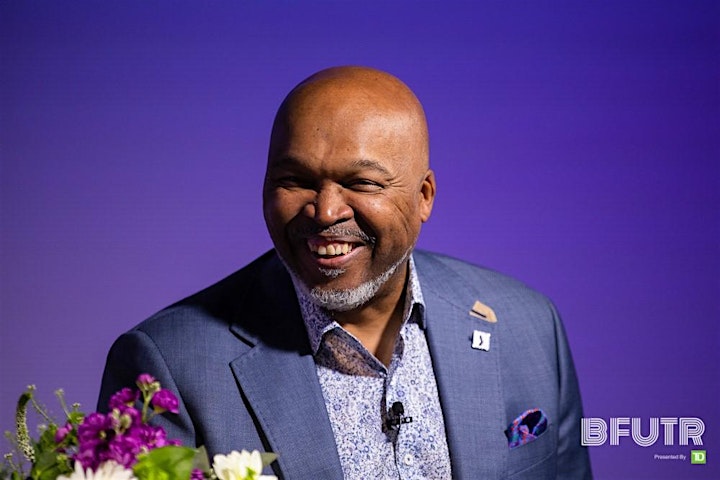 Ray Williams is a financial services executive with more than 35 years of experience in Global Capital Markets. His expertise is in debt capital markets and has held leadership roles in marketing, trading, risk advisory & execution as well as securitization.
Mr. Williams currently holds the position of Managing Director & Vice Chairman, Financial Markets at National Bank Financial, one of the top six investment dealers in Canada
Mr. Williams is also committed to community engagement, in particular in the area of diversity and inclusion efforts. He serves on leadership boards for various organizations, including 100Strong Foundation.
He is an outspoken champion of workplace diversity and is a Past & Founding President (2000) and continuing member of The Canadian Association of Urban Financial Professionals (CAUFP) the pre-eminent professional trade organization for minorities in the financial services industry.
Mr. Williams is also a member of Centennial College's Financial Services Program Advisory Committee and has been a past Guest Lecturer at both Centennial and McMaster University De Groote School of Business and currently sits on the Pension Investment Management Committee (PIMC) of the Chartered Professional Accountants (CPA) of Canada.
Mr. Williams holds undergraduate and post-graduate degrees from North Staffs University (BA (Hons) Economics) and Coventry University (Master of Arts) in the United Kingdom.
He is an avid cook having received his Culinary Certification from Toronto's George Brown College Continuing Education programme in 2011.
Mr. Williams also completed and obtained his ICD.D designation (Institute of Corporate Directors certification) from the Institute of Corporate Directors in conjunction with The Rotman School of Management in March 2012. He was co-valedictorian for his class, #DEP 36 with Bill Robson, The President & CEO of the C.D. Howe Institute.
He was also the recipient of the Planet Africa Award for Professional Excellence in Dec 2012.
In 2018 Mr. Williams was awarded The Ontario Black History Society (OBHS) Rev Addie Aylestock Award – "Paving the way for others to follow" as the organization celebrated its 40th year.
In 2019 he was presented with the President's Award at the Annual Harry Jerome Awards.
Mr. Williams is also a Co-Founder of the Black Opportunity Fund, established in 2020 and designed to be the largest fund in Canada addressing anti-black racism through social & economic empowerment.
He is also an Executive-in-Residence (EiR) at Rotman School of Management at the University of Toronto and sits on the George Brown College Foundation (GBCF) as a Board member.
In June 2021 He was nominated as a Champion of Change by Women in Capital markets (WCM).
Mr. Williams is married to Georgina, his wife of 32 years, and has two adult children.
He resides in Oakville, Ontario.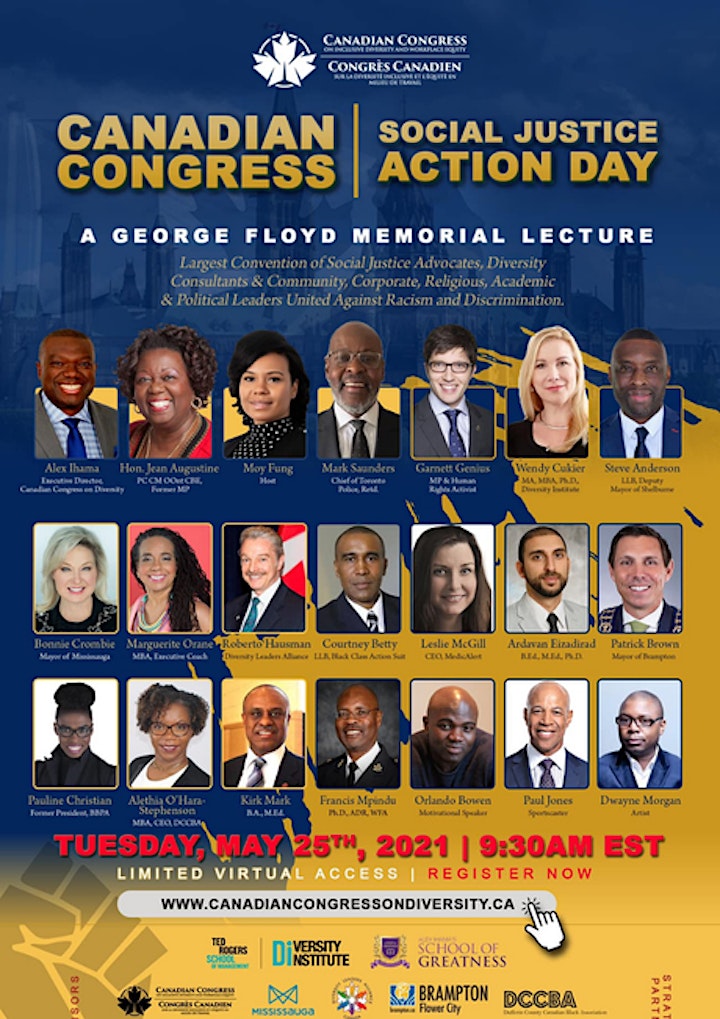 Dr. Francis (Munangi) Mpindu
Ph.D., ADR, Life Coach, Workplace Fairness Analyst
Dr. Mpindu is a ZBC (Zimbabwean-born Canadian) who grew up in (Rhodesia) a "legally and racially segregated" country. He has first-hand experiential knowledge about overt racial discrimination and police brutality.
He is a specially trained alternative dispute and conflict resolution, conflict management, certified workplace fairness analyst, certified life coach and practitioner who wears (or has worn) many hats including … university lecturer, a lead pastor in various multicultural contexts in Canada, serving on various boards in the community, and chaplain with York Regional Police Service for the past 16 years. He is also a consultant in various communities and police services as a Community & Police Relations facilitator. His book, Community Policing: the Path to Healthier Relationships… a Police Chaplain's Perspective (2020) is a great resource that invites the Community & the Police into learning conversations toward healthier relationships.
Dr. Mpindu is the Executive Director and Founder of Niigon Abin Resolutions Services – an independent consultancy that specializes in alternative dispute and conflict management systems, workplace fairness assessments, mental and emotional wellness, and life coaching in various contexts, including First Nations communities.
He is a sought-after guest speaker, marriage officiant, life coach, and trainer at conferences and special events who draws from his life, broad education, and extensive work experience in senior management and community work. He is an insightful communicator who adapts to the diverse needs of his audience.
Dr. Mpindu is a graduate of Harare Theological College (Zimbabwe), Daystar University College (Kenya), Prairie College (Alberta), Trinity Western University (British Columbia), University of Ottawa (Ontario), York University (Ontario), Workplace Fairness Institute (Toronto), Certified Coaches Federation (Ontario), and University of Pretoria (South Africa) where he earned a Ph.D. in Humanities (Philosophy & Ethics).
He has been honoured to serve as a visiting lecturer/presenter in The Philippines, Jamaica, Uganda, South Africa, Botswana, Zimbabwe, and India. In his spare time, he enjoys reading, watching wildlife, soccer (football), and listening to "new" country music. He thinks there are only two types of music in the world – 'country' and 'western.' Given his appreciation for cultural diversity and inclusivity, he enjoys learning about different cultures, and languages, and trying out different foods. He says, "eating is natural, what you eat is cultural."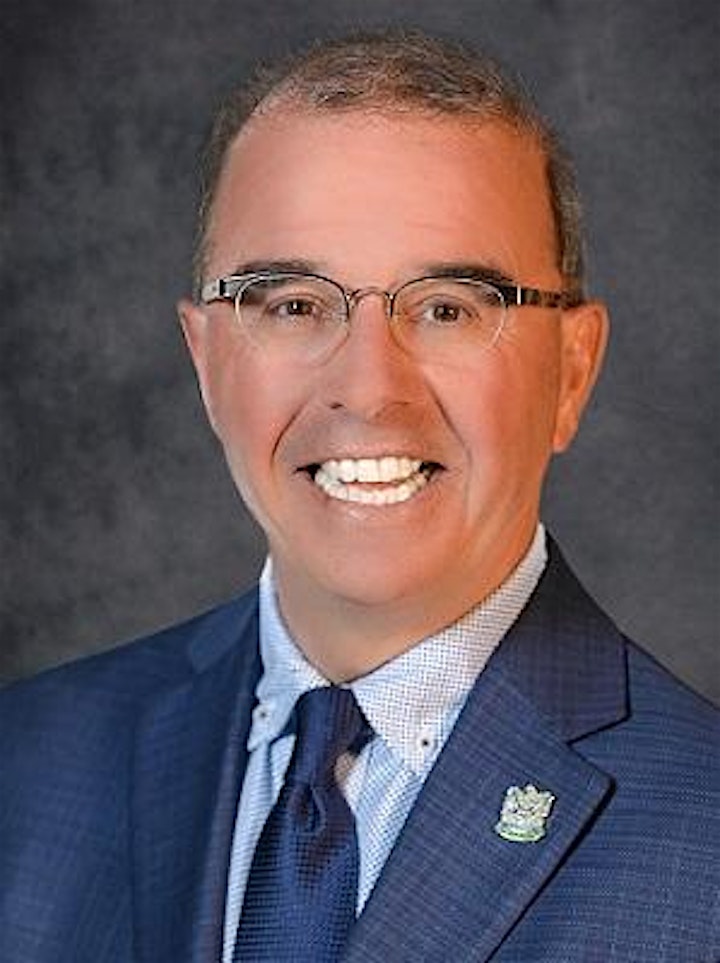 Mayor Philip Brown was born and raised in Charlottetown, one of nine children of Eddy and Babe Brown who operated Eddie Brown's Transport & Crane Service. He graduated from the University of Prince Edward Island in 1981 with a Bachelor of Arts in History, followed that with two years in Quebec studying French, and completed his Bachelor of Education in 1987. He taught for 28 years at the elementary level and works with the family business as a business accountant and public relations officer.
Mayor Brown has volunteered on many boards and committees through the years, including the Charlottetown Minor Hockey Association, UPEI Board of Governors, and the Charlottetown Legion Executive.
He served two terms on Charlottetown City Council from 2001-2006. One of the highlights during his term as Councillor was the development and construction of the Bell Aliant Centre.
Philip is married to Lori Devine and they have two children, Emma Louise and Alec. They love calling Charlottetown their hometown.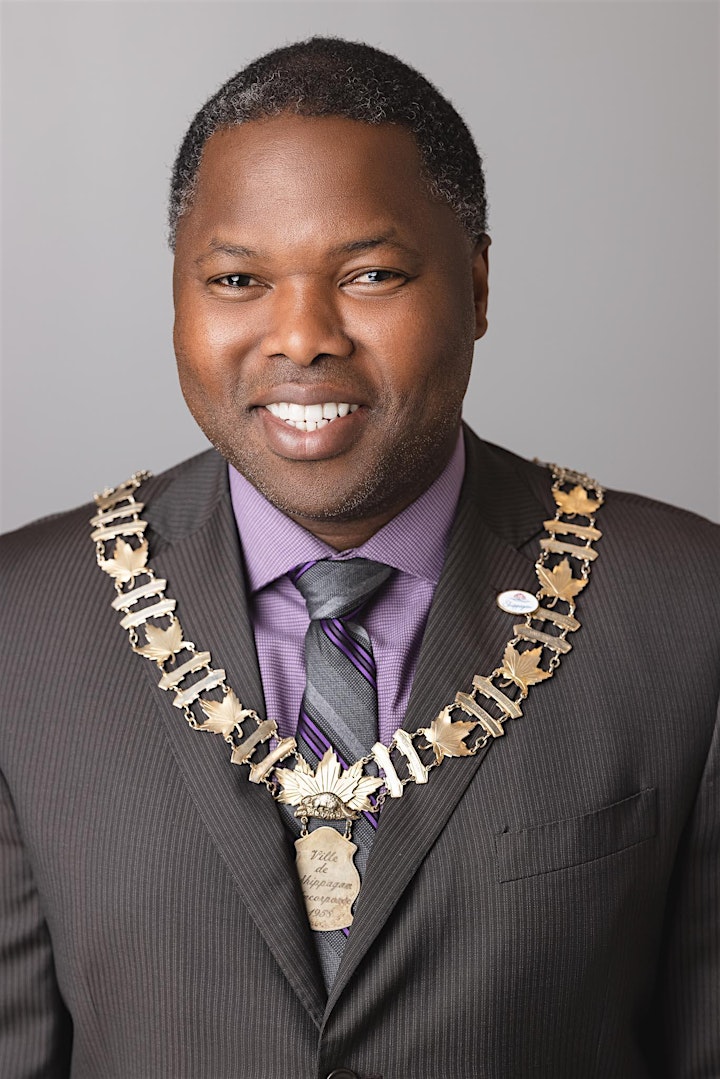 Kassim Doumbia holds the position of Acting Manager of Corporate Services for the Department of Social Development. Originally from the Ivory Coast, he is a proud resident of the City of Shippagan, where he has put down roots. Kassim holds a Master of Business Administration (MBA) and a Bachelor of Applied Computer Science from the Université de Moncton.
Keen to contribute to the development of his community, Kassim puts his knowledge to good use by working with key players to build the Acadia and New Brunswick of today and tomorrow. Elected for the first time in 2012 as a municipal councillor for the City of Shippagan and appointed deputy mayor in 2016, he becomes the first African Canadian mayor of the City of Shippagan following the municipal election of May 25, 2021.
A personable, diplomatic, and inclusive individual, Kassim seeks to foster the development, growth, and revitalization of communities in New Brunswick through dialogue, collaboration, consultation, and action.
Kassim is married to Karine and is the father of two young girls, aged 12 and 10.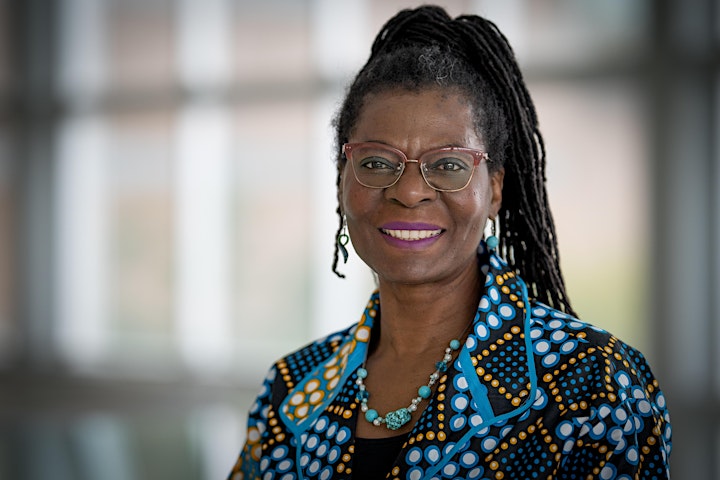 Dr. Mullings is a member of a large extended family, mother of two living Black queens, sister, friend, and second daughter and caregiver of Maddah Mullings, her original feminist and Faddah Mullings.
She is a Professor and Memorial University's inaugural Vice Provost of Equity Diversity Inclusion and Anti-Racism. She has demonstrated extensive content expertise in human rights and equity leadership in community-based organizations and academic institutions. Her community-based experience is in hostels, sexual assault centres and child welfare agencies supporting survivors of intimate partner violence and under-housed people and their children.
Her interdisciplinary scholarship explores decolonizing post-secondary education, mothering, mental health and wellness, LGBTQ+ concerns, the Black Church, elders, migration and community engagement using critical pedagogies, in particular, anti-Black racism, Africentric theory and critical race theory.
Current research includes Promoting Black students' Mental Health: A Pan-Canadian Research and Intervention Project on Social Determinants of Health and Equity in Canadian Universities, Improving COVID-19 vaccine confidence and uptake among Black Canadians, Black youth mental health after COVID-19 and community inclusion in small urban centres, Anti-racist accessibility assessment tools and Health Research Training Platform. She is the lead editor on a recently published text Africentric Social Work (Fernwood) and a forthcoming anthology Black People's Resilience During COVID-19: A Global Perspective (Demeter).
Dr. Mullings currently provides an unpaid expert contribution to various national and provincial associations and institutions including the Canadian Institute of Health Research in the Institute of Aging supporting the work of the Older Adult Advisory Council, YWCA Canada Board of Directors, Black Canadian Studies Association, (Vice President), Halton Children's Aid Society, One Vision One Voice Race Equity Practice Advisory Committee and board member of Opera on the Avalon.
For self-care, and attention to self, she enjoys walking, gardening and writing poetry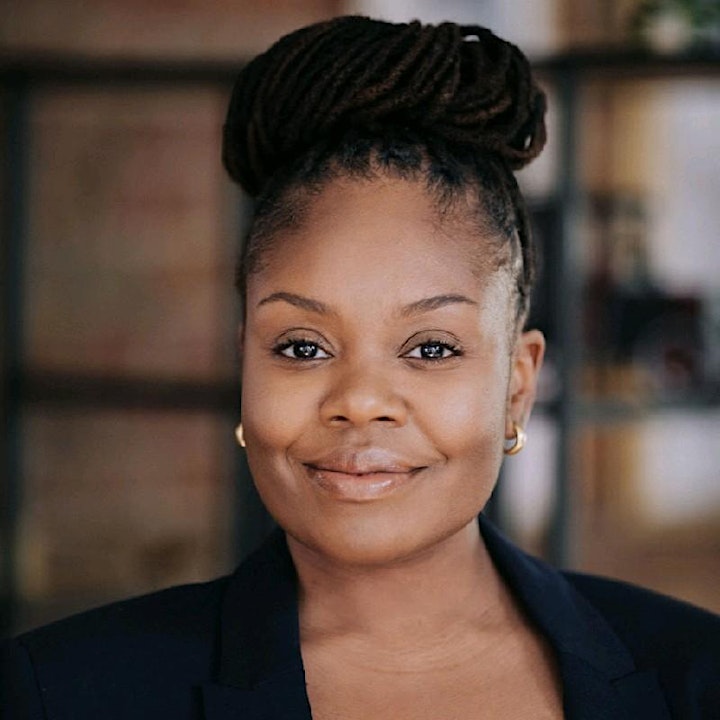 Community developer and social entrepreneur, Tiffany Callender has spent her 16 year career developing and implementing programs to support Montreal's Black community. In addition to being the youngest female Executive Director of one of the oldest Black organizations in Quebec, she was recognized by MIPAD as one of the 100 most influential person of African-descent under 40 in 2020,
In 2021 Tiffany was named the inaugural CEO of the Federation of African Canadian Economics (FACE). FACE is a coalition of Canadian Black business support organizations that worked with the federal government to co-develop and administer the $291.3 million Black Entrepreneurship Loan Fund.
Tiffany has presented recommendations for policy change to public institutions, notably as a signatory for Montreal's consultation on racism and systemic discrimination as well as Quebec's Laurent commission on the overrepresentation of Black children in the Youth Protection. She also regularly presents sensitivity and equity training to private institutions. Her career is inspired by her personal life as she is a proud mother of three.