Join the dialogue on Friday, 21 November as Action Canada Fellows, panel experts and members of the public explore three public policy issues facing Canadian cities. For full details please scroll down

Friday, 21 November 2014 from 7:45 AM to 12:30 PM (PST)
Event Details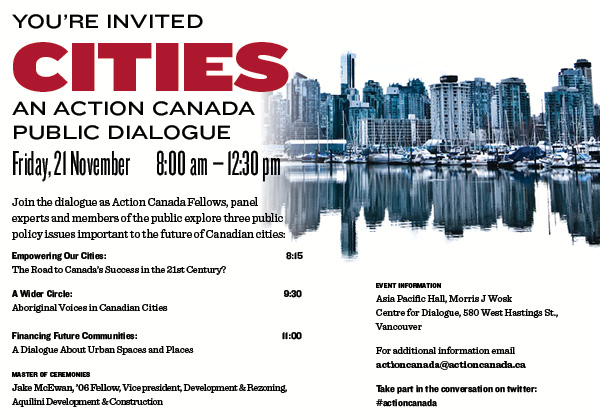 8:15 - 9:30 am Empowering Our Cities: The Road to Canada's Success in the 21st Century?
In 1867, Canada was largely rural. Almost 150 years later, Canadian cities are home to most citizens and drive most of the economy. Their relations with provincial and federal governments, however, are still shaped by 19th century realities. In recent years, the mayors of Canada's major cities have been demanding more collaboration, more powers and more money to address the challenges they have been facing. Do we need to empower Canadian cities? What drives the status quo?
 This interactive public dialogue will paint a comprehensive picture of what's at stake for citizens in these federalism and municipal governance debates, and engage the audience in the search for viable solutions.
 The discussions will contribute to an Action Canada report presented in February 2015, which will put forward recommendations for intergovernmental cooperation and agreements that work for all Canadians.
9:30 - 10:50 am A Wider Circle: Aboriginal Voices in Canadian Cities
 Half of Aboriginal people in Canada live in urban centres. Yet, many urban non-Aboriginal Canadians have little contact with Aboriginal people, and are often unaware of their presence. The Urban Aboriginal Peoples Study has shown that there is a basic tension in the hearts and minds of Canadians in regards to where urban Aboriginal people fit in the Canadian mosaic. This tension touches all sectors of our society and engages all levels of government.
 Our dialogue will explore: Where are the urban Aboriginal voices in our cities? How can our cities be "laboratories" for a dynamic dialogue between non-Aboriginal and Aboriginal citizens?
11:00 am - 12:20 pm Financing Future Communities: a public dialogue about urban spaces and places
Urban public spaces are streets, pathways, parks, recreation space and urban squares – all things that enhance the vibrancy, quality of life and economic potential in a community. Currently, a gap exists between the demand for urban public spaces, and the funding available to finance them.
 Our group is developing a public policy report, that will include a user-friendly 'toolkit' geared towards helping municipalities understand and apply innovative finance tools to fund urban public spaces. To help inform our report we will be holding,a public dialogue at the Wosk Centre on Nov 21 to discuss innovative ideas around urban public space finance and citizen engagement.
 The public dialogue will include key perspectives from Rodrigo Davies and Andrew Pask. Rodrigo is a civic technologist and researcher who designs, builds and analyzes tools that help communities and governments collaborate for social good.  Recently, Rodrigo completed his Master's degree in civic crowdfunding at MIT and is currently continuing his work toward a PhD at Stanford. 
 Andrew is an anthropologist and urban planner who works on creating neighbourhood-scale policy to foster and support compact, liveable communities. Andrew is the founder and director of the Vancouver Public Space Network and an urban planner with the City of Vancouver.
 Come join us to share your voice in a lively and provocative discussion on the future of urban public space!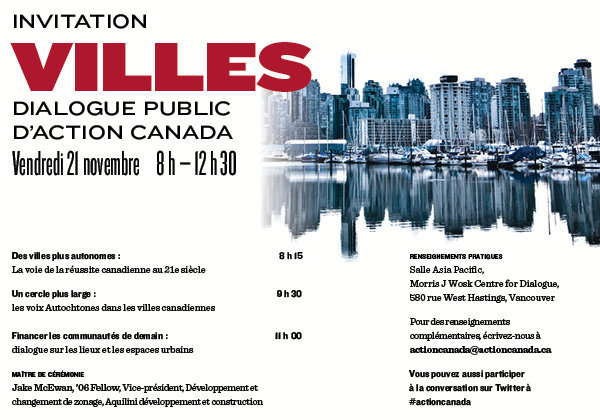 Have questions about Join the dialogue on Friday, 21 November as Action Canada Fellows, panel experts and members of the public explore three public policy issues facing Canadian cities. For full details please scroll down?
Contact Action Canada
When & Where

Asia Pacific Hall
Morris J Wosk Centre for Dialogue
580 West Hastings Street
Vancouver, British Columbia
Canada

Friday, 21 November 2014 from 7:45 AM to 12:30 PM (PST)
Add to my calendar
Organizer
Action Canada is Canada's premier leadership program. A non-partisan multi-sector fellowship, Action Canada is building a valuable network of leaders. Centered around regional conferences and teamwork projects, Fellows examine historical and current issues, hone leadership skills, and produce public policy reports. Upon completing the fellowship year, they join our network of outstanding leaders dedicated to Canada's future.