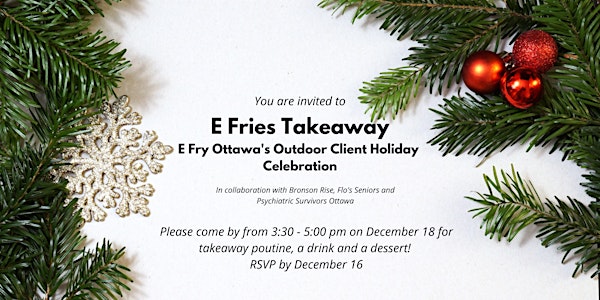 Join us for E Fries! E Fry Ottawa's Client Holiday Celebration!
Please join us on December 18, 2020 for an outdoor takeaway holiday celebration! Poutine, dessert and drinks will be served.
When and where
Location
211 Bronson Ave (front doors) 211 Bronson Avenue Ottawa, ON K1R 6H5 Canada
About this event
E Fry Ottawa is excited to invite you to our holiday celebration on December 18, 2020. E Fry Ottawa is hosting a holiday celebration in collaboration with Bronson Rise, Psychiatric Survivors of Ottawa and Flo's Seniors. Stop by the Bronson Centre on December 18 from 3:30-5:00 pm, where a winter market will be set up for takeaway poutine (regular and vegetarian), a beverage and some sweets to celebrate the season.
Due to COVID-19 your name and phone number will be required for contact tracing. Physical distancing and masks will be required.
Please RSVP by Wednesday December 16 at noon.
WE WILL BE GIVING YOU AN ALLOCATED 30-MINUTE TIME SLOT (BETWEEN 3:30-5:00 PM) TO PICK UP YOUR MEAL. Please watch for an email from efryottawaevents@gmail.com for your time slot. You may also call the E Fry Ottawa office at 613-237-7427 to RSVP.
Please note: by RSVP'ing to this event, you agree that you will follow the following terms of attendance:
To prevent the spread of COVID-19, I WILL wear a mask and maintain a physical distance of at least six (6) feet or more at the event to keep staff and other attendees safe.
I will respect the time slot that I have selected and ONLY attend the event during this time period.
I will NOT attend if at the time of the event I am diagnosed with COVID-19.
I will NOT attend the event if I have been in close contact with anyone who is sick or has tested positive for COVID-19 within two (2) weeks prior to the event.
I will NOT attend the event if I am feeling unwell/have symptoms of COVID-19 (fever, cough, shortness of breath, sore throat, and/or runny nose).
I will NOT attend the event if I have returned from travel outside of Canada in the past 14 days.
If at the time of the event I am waiting for COVID-19 test results, I acknowledge that I will NOT be able to attend the event in order to keep others safe.
If within two (2) weeks after the event I am feeling unwell and have a reason to believe I have been infected with COVID-19 I will call Ottawa Public Health (613-580-6744) immediately and get tested for COVID-19 as soon as possible.
We are following advice from Ottawa Public Health, please note that there could be added restrictions. Please watch your email for updates.
We hope to see you there!
E Fry Ottawa in collaboration with PSO, Flo's Seniors & Bronson Rise