You're invited to celebrate the launch of our new laser spa treatment, Sharplight! Complimentary wine, food, prizes, spa treatments & more.
About this event
You're invited to celebrate the launch of our new laser spa treatment, Sharplight! The latest technology in hair removal, skin resurfacing, body conturing and more!! We did it and love it! You will too!
Complimentary wine tasting, food, prizes, spa treatments, specials and more.
Ladies and gentlemen welcome.
When:Thursday, March 5th, 2020 4:00pm-8:00pm
Where: Spa in the Village, 416 Pearl St, Burlington, ON L7R 2N1
Indulge in our new spa treatments
Sip wine & snack while you spa and schmooze
Win prizes and special discounts.
R.S.V.P. here for your complimentary ticket.
For more info: thewineladies@gmail.com
About Spa In The Village
Tiffany Bourque and Amber Gille are sisters, co-founders and owners of the Spa in the Village, a luxurious upscale Spa founded in 1987. Recognized as an industry leader in cutting edge solutions in beauty and relaxation, the sisters have introduced a new treatment protocol that we experienced first hand! You won't want to miss out on hearing more!
Be sure to join us March 5th for a fabulous wine and food event featuring delicious wines including those of course of Pascual Toso, and a very special new spa treatment, SharpLight!
See you then,
Georgia and Susanne
The Wine Ladies
P.S.
By the way...Last week we had the opportunity to they out this new technology from SharpLight. Susanne gets rid of brown spots and Georgia enjoys some skin tightening! Check out the video of our experience below.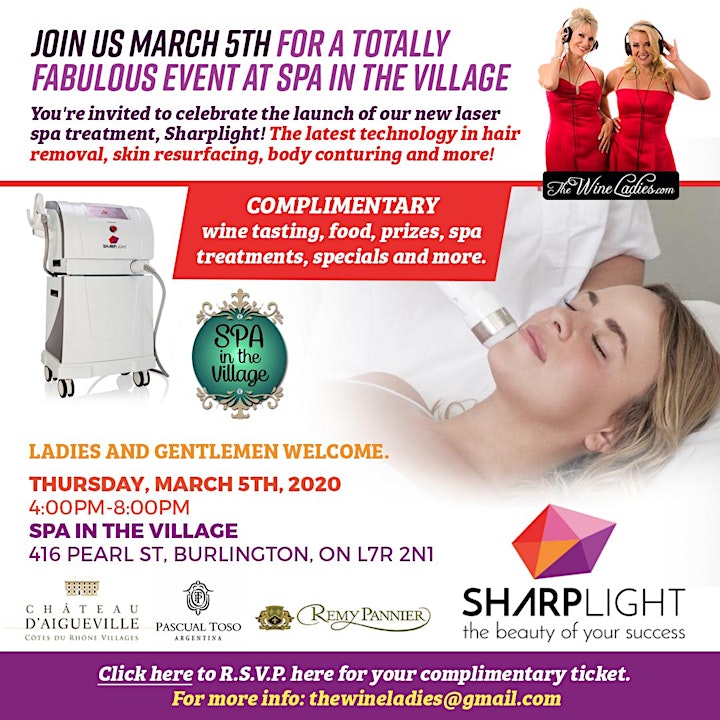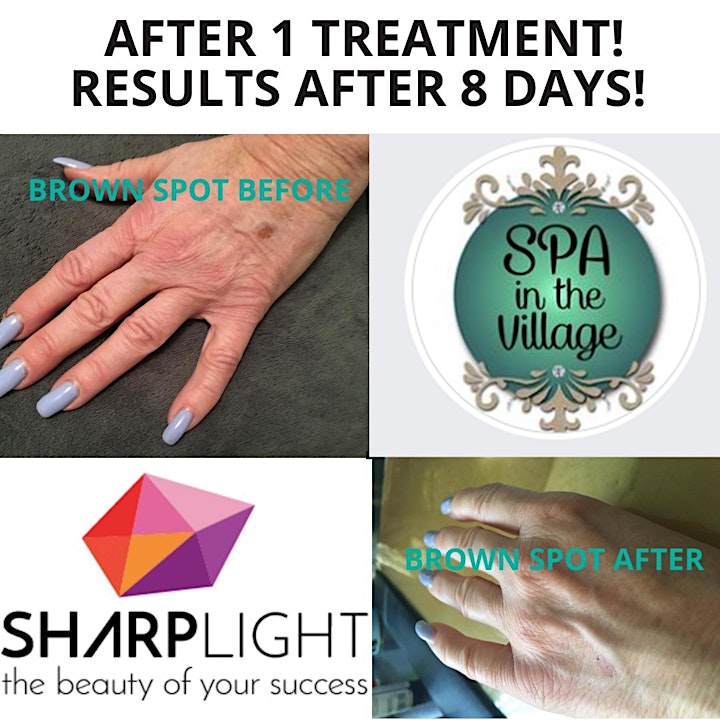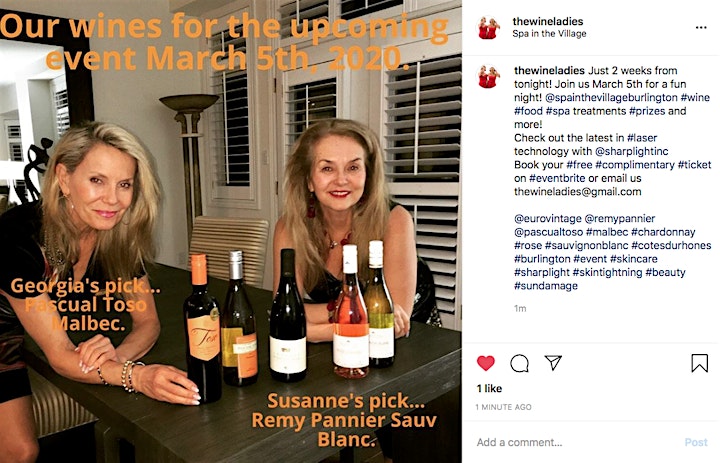 Organizer of Join Us March 5th Spa in the Village
The Wine Ladies, Georgia and Susanne founded by entrepreneur sister team in 2003, take life one sip at a time as they share the splendour of food and wine for all and the wonderful lifestyle it entails.  Regular national TV personalities and hosts of their own weekly TV show about wine, food and lifestyle these ladies share their passion and live life to the fullest and without hesitation. Their motto "everything in life somehow comes back to the vine" keeps their audiences entertained and informed.
Charismatic and entertaining The Wine Ladies enjoy their many live public appearances acting as hosts and emcees at events, fundraisers, galas, on stage presentations, wine tours or wine tastings. They also spread their passion of wine, food and lifestyle  through  their national newspaper columns and their regular food and wine article. The Wine Ladies enjoy a very active social media platform engaging their many followers and fans through their blogging, videos, Facebook, TWITTER, You Tube and more.
The Wine Ladies recently received the prestigious  Entrepreneur of the Year  award  by the Oakville Awards For Business Excellence.