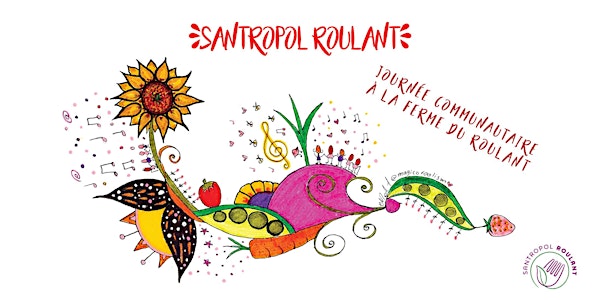 Journée communautaire à la Ferme du Roulant
Date and time
Sat, Aug 24, 2019 11:00 AM - 3:30 PM EDT
Location
Ferme du Roulant 265 chemin Senneville Senneville, Québec H9X 3X4 Canada
Description
Venez découvrir et célébrer la ferme du Roulant! Cette journée familiale et conviviale sera remplie d'activités et de temps en nature. La journée est spécialement pensée pour la communauté du Roulant,ses bénévoles, ses membres des paniers, ses partenaires et l'équipe de la ferme. On vous réserve des surprises et de l'abondance.Veuillez noter que la Ferme du Roulant est à 45 minutes de route et que nous organisons du transport et du covoiturage pour faciliter votre visite!
Quand : le samedi 24 août 2019 (remis au dimanche 25 août en cas de pluie)
Heures : 11h00 à 15h30
Où : à la Ferme du Roulant située au 265 chemin Senneville, Senneville, H9X3X4
Coût : Gratuit!
HORAIRE
11h00 Ouverture de l'événement
11h30 Visite guidée de la Ferme du Roulant
12h30 Potluck
12h50 Musique et activités
15h30 Fin
QUOI APPORTER?
Contribution pour le potluck
Contenant de plastique (pour des restes)
Ustensiles
Bouteille d'eau
Chapeau
Crème solaire
Chasse-moustiques
Souliers fermés ou bottes
Vêtements pour vous salir
Imperméable (au besoin)
Couverture pour pique-niquer
---
Come discover and celebrate the Ferme du Roulant! This warm and friendly day will be filled with fun activities and time in nature. The event is made for the Roulant's community, its volunteers, its basket members, its farmers and partners. Prepare for abundance and surprises! Please note that the farm is a 45 minute drive and that we will be organizing transport and car-pooling.
When: Saturday August 24th 2019 (postponed to August 25th in case of rain)
Time: 11:00 am to 3:30 pm
Where: Ferme du Roulant, 265 chemin Senneville, Senneville, H9X3X4
Cost: Free!
SCHEDULE
11:00 Event starts
11:30 Guided tour of the Ferme du Roulant
12:30 Potluck
12:50 Music and activities
15:30 End of the event
WHAT TO BRING
Contribution to the potluck
Plastic container (for leftovers)
Utensils
Water bottle
Hat
Sunscreen
Bug repellent
Closed shoes or boots
Clothes that can get dirty
Rain jacket
Picnic blanket

About the organizer
Santropol Roulant est un organisme primé fondé et géré par des jeunes sur le Plateau-Mont-Royal. Grâce à une perspective novatrice sur le traditionnel modèle de popote roulante, et en encourageant les jeunes à jouer un rôle actif au sein de leur communauté, le Roulant utilise la nourriture comme véhicule pour créer des ponts entre les générations et les cultures.
---
Santropol Roulant is an award-winning community organization founded and run by young people on the Plateau Mont-Royal. Through our innovative approach to meals-on-wheels, and by engaging youth to take an active role in their community, Santropol Roulant uses food as a vehicle to build bridges across generations and cultures.