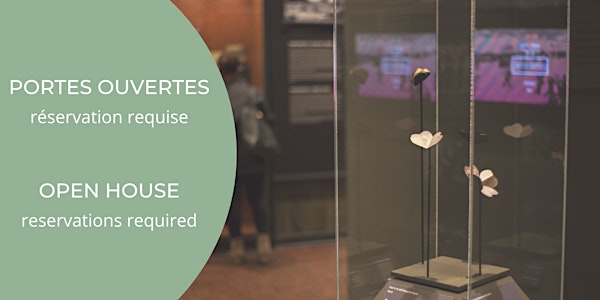 Journée Portes Ouvertes / Open House Event
Event Information
Location
Musée de l'Holocauste Montréal / Montreal Holocaust Museum
5151 Chemin de la Côte-Sainte-Catherine
Montréal, QC H3W 1M6
Canada
Admission au Musée / Museum admission
About this event
ENTRÉE GRATUITE AU MUSÉE (Les billets sont limités et les réservations sont requises)
Le Musée de l'Holocauste Montréal participe à l'initiative du Ministère de la Culture et des Communications qui offre l'accès gratuit au Musée le premier dimanche de chaque mois !
Lors de votre visite au Musée, vous découvrirez des objets et des vidéos de témoignages qui représentent la vie juive avant, pendant et après l'Holocauste.
L'équipe a mis en place plusieurs mesures pour assurer votre sécurité et celle de nos employés. Nous voulons nous assurer de la meilleure des expériences pour tous les visiteurs, et ce, en conformité avec les mesures de la santé publique en ce temps de la COVID-19.
RÉSERVEZ VOTRE BILLET HORODATÉ AVANT VOTRE VISITE
FREE MUSEUM ADMISSION (Tickets are limited, and pre-booking is required)
The Montreal Holocaust Museum is participating in the Ministère de la Culture et des Communications initiative offering free Museum admission on the first Sunday of every month!
During your visit to the Museum, discover artefacts that bring additional significance to survivor accounts, by portraying Jewish life before, during and after the Holocaust.
The team has put new measures in place to ensure the safety of our visitors and staff. We hope to provide you with the most meaningful Museum visit possible while keeping with recent public health measures.
BOOK YOUR TIME-SPECIFIC TICKETS BEFORE YOUR VISIT
Location
Musée de l'Holocauste Montréal / Montreal Holocaust Museum
5151 Chemin de la Côte-Sainte-Catherine
Montréal, QC H3W 1M6
Canada