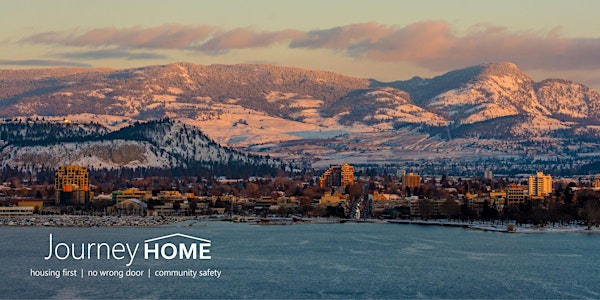 Journey Home Design Labs - Public & Stakeholder Sessions
When and where
Location
Trinity Baptist Church 1905 Springfield Road Kelowna, BC V1Y 7V7 Canada
Description
The work of the Journey Home Task Force to develop Kelowna's long-term strategy to address homelessness is well underway with a goal to present the Journey Home Plan to Council in June 2018. The Journey Home Task Force is committed to ensuring that the entire community has an opportunity to participate in the development of the Strategy.
We invite you to register for sessions that you feel are important to you and/or your organization. All Design Labs will be held in the meeting room adjacent to the main building at the Trinity Baptist Church. Register for one, or several sessions. Attendees are encouraged to actively particpate in the discussions.
Please note: while the majority of the design labs are open to the general public, some sessions are intended for individuals or groups with specific areas of expertise. You have recieved an open invitation to both the public and stakeholder sessions. If you would like to share the information with your networks, please send them the following link to the public session registration page:
How to register:
1. Click the green Register button
2. Use the dropdown to select the number of spots you would like to reserve for Design Labs you are planning to attend
3. Click "Checkout" and follow the instructions
Design Labs:
Funders Forum - Feb 19 | 8-10am: Exploring potential ways of better coordinating government and philanthropy investment in homelessness.
Ending Homelessness & Reconciliation - Feb 19 | 11am-1pm: Looking at homelessness through the lens of Reconciliation and building an approach in Kelowna that advances the Calls to Action.
Early Identification & Prevention Strategies - Feb 19 | 2-4pm: Stopping the flow into homelessness through diversion, targeting prevention and early identification approaches is essential to the Plan's success. We will explore best practices and consider local adaptation in this session.
Regional partnerships - Feb 20 | 9-11am: Working beyond Kelowna proper to understand regional dynamics and develop integrated regional responses to homelessness.
Social Finance Innovation - Feb 20 | noon-2pm: Deep dive into potential application of social impact bonds, housing trusts, enabling tax changes to support Plan implementation.
Integrating Intimate Partner Violence Responses in the Plan - Feb 20 | 3-5pm: The community summits brought forward a number of concerns regarding the need to ensure an integrated approach to intimate partner violence and homelessness initiatives. This session will delve into this intersection and propose solutions.
Linking Poverty Reduction & Homelessness Initiatives | 1-3pm: This session will explore the ways to enhance the coordination of poverty and homelessness initiatives in practice.
Housing First & Supportive Housing for Chronic & Episodic Homelessness - Feb 22 | 9-11am: Housing First (moving people into housing quickly, without any sobriety requirements) is a proven best practice to address chronic and episodic homelessness. This session will explore ways to enhance such programs in Kelowna leveraging market and non-market housing across communities.
Landlords, Developers & Builders: Roles in Plan Implementation - Feb 22 | 1-3pm: What roles can landlords, developers and builders play in the Plan.
Coordinated Access & Assessment - Feb 23 | 9-11am: Scoping diverse approaches to coordinated access and assessment to better match people to existing services.
Red Zone Review - Feb 23 | 12:30-2:30 pm: People with lived experience of homelessness and service providers have raised concerns about the effectiveness of the current application of the Red Zone. We will review as part of a broader discussion on the intersection of homelessness and the justice system with a focus on decriminalizing homelessness.
Youth Housing First - Mar 5 | 9-11am: Housing First for Youth adopts the principles of Housing First acknowledging the unique needs of youth when accessing housing. The focus of this lab is on the development and implementation of a Housing First for Youth program model in Kelowna.
Youth Supportive Housing - Mar 5 | 1-3pm: Innovative models to address youth homelessness need to be developed to meet the unique housing environment in Kelowna, whether this is in the form of host homes or other new initiatives. Ensuring a youth focused lens is applied with an emphasis on supportive housing is key to successfully developing operating models for youth.
Developing Mental Health & Addictions Supports for People Experiencing Homelessness - Mar 6 | 9-11am: Harm reduction approaches to service delivery emerged during consultations and lived experience input; we will explore how current approaches can be enhanced to best support the Plan.
Upstream Kelowna - Mar 6 | 1-3pm: The Upstream Project is an early identification and intervention model that shifts the community focus upstream to early identification and prevention of youth homelessness. Kelowna has the opportunity to be the first pilot community for The Upstream Project in BC. Through this design lab you will have the ability to contribute to the design and implementation of The Upstream Project in Kelowna.
Community Dialogue - Mar 6 | 6:30-8:30pm: This Design Lab will allow for a deeper dive into some of the complex issues surrounding homelessness from a Kelowna local context; including support services, meeting priority population needs, public education & understanding and housing.
Research Agenda to Support the Plan - Mar 7 | 9-11am: Embedding research and evidence-based practices in Plan rollout will enhance impact and continuous improvement. This session will explore the role of researchers and identify key research priorities to support implementation.
Public Education & Understanding - Mar 7 | 1-3pm: Innovative strategies to dispel myths and misconceptions about homelessness and enhance community understanding.
Affordable (rent-geared-to-income) Housing Development - Mar 8 | 9-11am: Explore ways to bring housing stock online that is truly affordable for those on very low incomes.




Minority Populations - Mar 8 | 1-3pm: Discussion on homelessness through the lens of minority populations (racial minorities, sexual minorities, and immigrant populations) to inform a deeper understanding of local context.
Technology-Based Solutions - Mar 9 | 9-11am: Exploring the potential contributions of the tech sector to Plan implementation actions on integrated information management, research needs, etc.
Engaging the Faith Community - Mar 9 | 1-3pm: Kelowna's faith community has made considerable investments in addressing social issues; we will explore areas where this role can be enhanced in advancing the Plan.