About this Event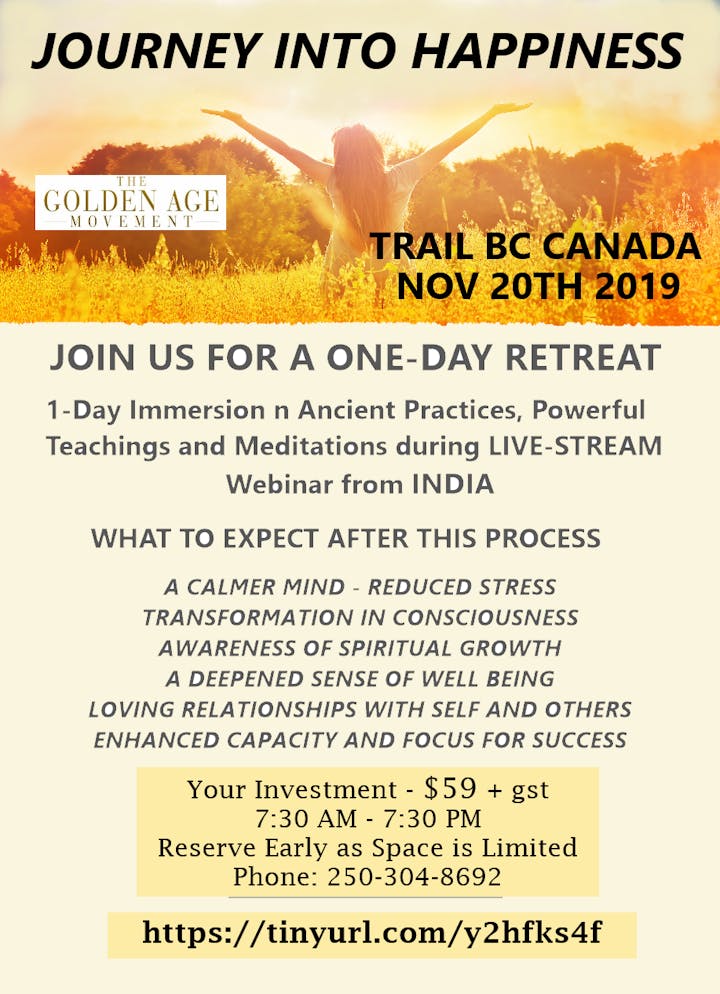 JOURNEY INTO HAPPINESS and Wealth is an all-day immersion retreat for Deep Personal Transformation, Personal Happiness and Abundance.
We are so very excited to be able to offer this in TRAIL BC! Until recently one was required to go to India to attend these type of events. Now India is coming to us!!! Please note finish time change: Now 5:30 PM ...
ONE DAY DEEP IMMERSION RETREAT LIVE-STREAMED FROM INDIA
The course will be taught LIVE from India, streamed simultaneously to more than 40 USA/Canada locations, by enlightened teachers and monks. Many of us who have previously attended this course have had huge breakthroughs in our lives.
Ancient Sacred Practices, Powerful Teachings, and Meditations by Enlightened Teachers are imbued with "mystical processes" which will absolutely impact and transform your Consciousness.
If you can imagine stepping into an evolutionary shift in consciousness, having a calm and quiet mind, and receiving a happier, more peaceful and more fulfilling life…this is for you.
You'll receive teachings, practical tools for inner exploration & activations for awakening - these lead to profound shifts in consciousness....
For us to experience awakening and have a Transformational shift in life we must perceive life differently. To perceive life differently we must have a change in how the brain functions. We must have a shift in perception from separation and division to connectedness and oneness. Awakening is an on-going journey. The One-Day courses facilitate progressive shifts in consciousness that lead us towards a profound and rich experience of life.
See Event Further Details and Phone below
Take a Leap of Faith - Gift yourself this day for you! It is an incredible opportunity!
Join us to move beyond the Mind's daydream and survival strategies to actualizing the highest reaches of your potential by plugging into the heart intelligence of your true nature. Be ready to experience a life-altering realignment.
As we make the shift and/or deepen in our embodiment of awakening, we become catalysts for others to also shift and together we build the momentum for the New Humanity known as the Golden Age.
A CALMER MIND... without habitual stories, fears, chatter and resistance
STUDENTS... say they have an enhanced clarity, focus and success with their studies and exams.
Profound INNER PEACE... Stillness... connecting to ones's Sacred Higher Self
AWARENESS of ego self and True Self... Spiritual Growth... Transformation in Consciousness
LOVING RELATIONSHIPS... with oneself, one's divine & others... COMPASSSION... CONNECTION
TRUE HAPPINESS... True Well-Being... Contentment... Inner Joy
Enhanced Capacity for Worldly SUCCESS... improved health... financial stability... INNER & OUTER WEALTH... FULFILLMENT
Powerful Changes in living a fulfilled life... WELL-BEING
Investment in OneSelf helps the entire Planet!
Give yourself this Gift!Take the day off. Trade hours with a co-worker. Do what you must, but don't miss this incredible opportunity!
AS WE AWAKEN TO OUR INNATE NATURE, WE REALIZE OUR TRUE STATE IS HAPPINESS!
JOIN US FOR A JOURNEY INTO HAPPINESS AND EXPERIENCE THIS POWERFUL GIFT OF GROWTH.
What if you were HAPPY for NO REASON?
Right now you are only happy when something happens to you.  You are happy when you get what you want.  You are happy when someone praises you.  You are happy when you achieve something.  
 But does this happiness last?  Very soon you are back into a suffering state.  You want something new.   You fail at something.  You look in the mirror and don't like what you see.  Someone says something that you don't agree with.   Any number of things destroy your happiness.   You consider this to be normal.
 But  what if you were HAPPY for NO REASON?  This is CAUSELESS HAPPINESS.   There is no reason for it.  You are just HAPPY.  No matter what is going on.  
 You don't get what you want and you are HAPPY.  Your expectations are not met and you are HAPPY.  Someone says something hurtful and you are HAPPY.
NOTHING can destroy this HAPPINESS.  Happiness becomes your PERMANENT STATE.  Close your eyes, smile and feel what this would be like.  Heaven on Earth.
 What would the world look like with these HAPPY individuals?  HAPPY individuals create a HAPPY world.  This happiness spreads to all those around you.   People start to feel HAPPY in your presence.  You smile more and others smile back.  You connect with people on a deeper level.
I want you to experience this state of CAUSELESS HAPPINESS and start to nurture it and expand this HAPPINESS into your PERMANENT STATE OF BEING.
 What a PRICELESS gift!
 Come to the Journey into Happiness & Wealth Immersion Retreat Wednesday November 20th and start to experience CAUSELESS HAPPINESS. 
A Beautiful Gift for You, Your Family, Your Friends…
So look forward to seeing you with us.......Blessings Deanna (Organizer)
If you prefer you many also register thru PayPal (thru family and friends section) $61.95 ($59 + gst) DLV3000@gmail.com. Students can register for free by emailing Dhyana Ma @ DLV3000@gmail.com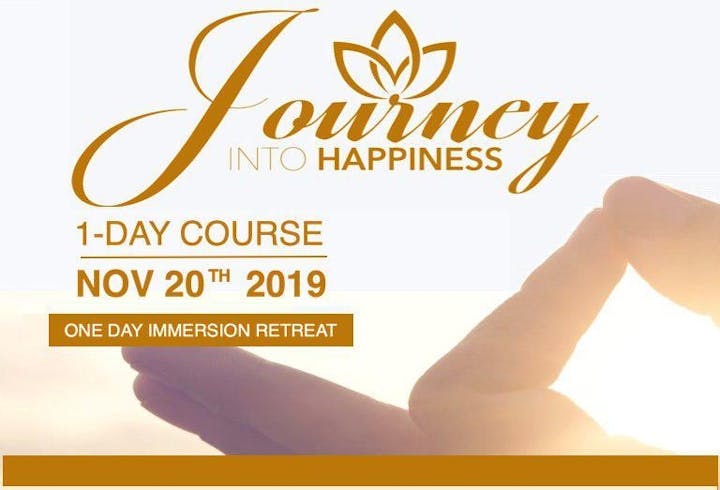 Take the day off! Trade hours with a co-worker!
Do what you must, but don't miss this awesome opportunity!
Blessings Galore!
Over 40 locations participating simultaneously across North America.
Location: TBA An Email with location and any further instructions will be sent to you closer to the start date.
Time: 7:30 am - 5:30 pm Please arrive promptly for registration and to settle in.
What Should I Bring?
It is suggested that you wear loose fitting cool comfortable clothing that includes light jacket, socks, and shawl so you'll be more comfortable to adjust for temperature fluctuations. Please bring a notebook and pen, a water bottle and snacks.
We will have breaks throughout the day, as well as a 90-minute lunch break. Light Snacks and refreshments will be offered. Please bring a lunch and whatever other special snacks you might need.
We will not be lying down. We have some cushions available but feel welcome to bring your own cushion or backjack if you would like to sit on the floor.
And Your amazing SELF of course!
Minimum Age Requirement: Recommended 13 and above. Please contact Organizer if you have questions.
Testimonials From Recent 1-Day Participants
"It's a different world! My interaction with life has changed into something almost unbelievable - it is joy-based. When a challenge arises I immediately go for a solution with no story or interference from the mind."
"I can see now how stories want to arise within me out of habit… But they don't have a continuation because of the meaninglessness of the process… It's a very interesting state – I keep observing." – Larissa
"I remained totally calm at work when I was asked to do 5 things at once. This has always sent my body into stress and my mind into a panic. Instead, everything seemed to flow effortlessly and I even enjoyed the prioritizing required. I was obviously calmer, but energized too."
"I over came my greatest fear and feel the presence of the divine so strongly. I had so many miracles after the course, it truly changed my life. The shift in consciousness I felt was like no other I felt before after years of spiritual work and retreats. If you seriously want enlightenment, you should not miss this. After 20 years I finally got the job, salary, and benefits I wanted. I feel truly blessed "
"After yesterday's process, I feel some kind of detachment from the games of life, there is calmness inside, I'm listening to the mind, getting involved but much less than before. I'm observing inner spaciousness and joy; all external things happen on their own …and everything is good!" – Eve
Please Contact for further information or with any Questions you may have:
GOLDEN AGE MOVEMENT CANADA
Organizer: Deanna L. Vosper ....Dhyana Ma has studied and lived in India with various enlightened Teachers as well as here in Canada. A World traveler she now calls Trail BC Home and is honored to share these events with you. Celebrating with you all!
Phone: 250-304-8692
Email: DLV3000@gmail.com
The Golden Age Movement is a path of Awakening through experiential teachings. Beautiful as a stand-alone path, yet All faiths and philosophies are welcomed and en-couraged to participate in these lovely upgrades to the Journey Home.
To see all participating cities in North America use this link and scroll down: https://www.journeyintoawakening.events/