Event Information
Refund Policy
Contact the organizer to request a refund.
Eventbrite's fee is nonrefundable.
This is an inward journey towards developing a deeper more intimate relationship with yourself through experiencing the chakras.
About this Event
𝐉𝐨𝐮𝐫𝐧𝐞𝐲 𝐓𝐡𝐫𝐨𝐮𝐠𝐡 𝐘𝐨𝐮𝐫 𝐂𝐡𝐚𝐤𝐫𝐚'𝐬 𝟖 𝐖𝐞𝐞𝐤 𝐏𝐫𝐨𝐠𝐫𝐚𝐦 𝐎𝐯𝐞𝐫𝐯𝐢𝐞𝐰
This is an inward journey towards developing a deeper more intimate relationship with yourself. You will be supported to develop a daily self awareness practice related to experiencing the chakras, an inner under and overstanding of the 7 main chakras & your Aura, a space to process and transform beliefs and emotional states not rooted in love and the accountability to ensure your success.
::: 𝐓𝐡𝐢𝐬 𝐏𝐫𝐨𝐠𝐫𝐚𝐦 𝐖𝐢𝐥𝐥 𝐇𝐞𝐥𝐩 𝐘𝐨𝐮 𝐂𝐮𝐥𝐭𝐢𝐯𝐚𝐭𝐞 :::
* Balancing & Calming of the Nervous System ·
* A Quieter & Clearer Mind
* Experiencing More Peace, Joy, Bliss & Well-Being ·
* Deeper Understanding of Anxiety, Anger, Stress & Depression
* Building Inner Strength, Resilience & Confidence ·
* Strengthening the body, Correcting Posture, Alleviating Back Pain
* Ability to Communicate & Connect More Deeply in Relationships, Especially Intimate Relationships. ··
* Deeper Connection With Your Body & Emotions ·
* Experience & Understanding of Each Chakra, including the Aura ·
* Deeper Understanding of Your Spiritual Nature & Source Connection ·
: : : 𝐏 𝐑 𝐎 𝐆 𝐑 𝐀 𝐌 𝐓 𝐈 𝐌 𝐄 𝐅 𝐑 𝐀 𝐌 𝐄 : : :
Start Date: Nov 2nd @ 7:00 PM
Classes are every Monday from Nov 2nd - Dec 21st
End Date: Dec 28th (No Yoga Class This Day)
"Recording of Each Class will be available"
This is Designed to be an Online Program "In-Person Yoga Classes are Optional to Attend". You will have access to all materials online.
𝗝𝗼𝘂𝗿𝗻𝗲𝘆 𝗧𝗵𝗿𝗼𝘂𝗴𝗵 𝗬𝗼𝘂𝗿 𝗖𝗵𝗮𝗸𝗿𝗮𝘀 𝟴 𝗪𝗲𝗲𝗸 𝗜𝗻𝘁𝗲𝗻𝘀𝗶𝘃𝗲 𝗣𝗿𝗼𝗴𝗿𝗮𝗺
**** Here is what is included ****
- 8 Kundalini Yoga classes For Each Chakra (The Root Chakra, Sacral Chakra, Solar Plexus Chakra, Heart Chakra, Throat Chakra, Third Eye Chakra, Crown Chakra & The Aura)
- 8 In-Depth Workbooks into Each Chakra
- 8 Sadhana Practices w/ Video Tutorial
- 8 (2 Hour) Group Calls (Chakra Overview, Sharing Circle, Wisdom Sharing)
- 5 (30 Minute) 1 to 1 calls or 8 (45 min) 1 to 1 calls for Individual Program
- Group Forum w/ Support, Knowledge & Inspiration
- Custom Mantra "It Will Relate to What You Are Looking to Cultivate More of In Your Life (You Will Chant This Mantra Everyday for 10 minutes)
- Invitation to E-Mail me to get clarity on the homework, material being delivered & what is coming up in your experience
- Accountability Buddies
- Occasional Live Online Meditation Practices w/ Q & A
- Celebration Gathering on Completion
- Bonds that will last a lifetime
. : : 𝐄 𝐍 𝐄 𝐑 𝐆 𝐘 𝐄 𝐗 𝐂 𝐇 𝐀 𝐍 𝐆 𝐄 : : .
𝗜𝗻𝘁𝗲𝗻𝘀𝗶𝘃𝗲 𝗚𝗿𝗼𝘂𝗽 𝗣𝗿𝗼𝗴𝗿𝗮𝗺
"Group Calls, 1 on 1 Calls, Customize Your Daily Sadhana & Accountability Partner"
or
𝗜𝗻𝘁𝗲𝗻𝘀𝗶𝘃𝗲 𝗜𝗻𝗱𝗶𝘃𝗶𝗱𝘂𝗮𝗹 𝗣𝗿𝗼𝗴𝗿𝗮𝗺
" More 1 on 1 Calls, Customize Your Daily Sadhana "
𝗘𝗻𝗲𝗿𝗴𝘆 𝗘𝘅𝗰𝗵𝗮𝗻𝗴𝗲 = $1111 plus tax "For Group or Individual Program"
or Installments of 5 Payments of $244 Every 2 Weeks = $1220 plus tax
𝐋𝐢𝐭𝐞 𝐈𝐧𝐝𝐢𝐯𝐢𝐝𝐮𝐚𝐥 𝐏𝐫𝐨𝐠𝐫𝐚𝐦
- 8 Live Online or In-Person Classes Every Monday "Classes Recorded as Well"
- 8 In-Depth Workbooks into Each Chakra
- 8 Kundalini Yoga Sadhana Practices w/ Video Tutorial
𝗘𝗻𝗲𝗿𝗴𝘆 𝗘𝘅𝗰𝗵𝗮𝗻𝗴𝗲 = $600 plus tax
(Or 4 Bi-Weekly Payments of $160, Total = $640 plus tax)
𝐀𝐥𝐥 𝟖 𝐂𝐥𝐚𝐬𝐬𝐞𝐬 𝐎𝐧𝐥𝐲 = $175 or $25 Per Class (In Person Classes Will Likely Sell Out & First Priority Will Be Given to Those Who Sign Up For the Program)
E-Transfer Full Amount or First Bi-Weekly Payment To Save Your Spot to chrisdubkundalini@gmail.com or purchase via eventbrite.
𝙋𝙡𝙚𝙖𝙨𝙚 𝙀-𝙈𝙖𝙞𝙡 "𝙘𝙝𝙧𝙞𝙨𝙙𝙪𝙗𝙠𝙪𝙣𝙙𝙖𝙡𝙞𝙣𝙞@𝙜𝙢𝙖𝙞𝙡.𝙘𝙤𝙢" 𝙤𝙧 𝙋𝙈 𝙞𝙛 𝙮𝙤𝙪 𝙝𝙖𝙫𝙚 𝙖𝙣𝙮 𝙦𝙪𝙚𝙨𝙩𝙞𝙤𝙣𝙨 𝙤𝙧 𝙩𝙤 𝙨𝙚𝙩 𝙪𝙥 𝙖 𝙘𝙖𝙡𝙡 𝙩𝙤 𝙡𝙚𝙖𝙧𝙣 𝙢𝙤𝙧𝙚 𝙖𝙗𝙤𝙪𝙩 𝙩𝙝𝙚 𝙥𝙧𝙤𝙜𝙧𝙖𝙢 𝙖𝙣𝙙 𝙞𝙛 𝙞𝙩 𝙞𝙨 𝙧𝙞𝙜𝙝𝙩 𝙛𝙤𝙧 𝙮𝙤𝙪.
..::: 𝐖𝐡𝐚𝐭 𝐘𝐨𝐮 𝐖𝐢𝐥𝐥 𝐑𝐞𝐜𝐞𝐢𝐯𝐞 :::..
* In-Depth information about each chakra, from how to balance, how imbalances manifest, how the chakra's work in congruency with eachother and much more.
* Develop a Highly Effective Daily Sadhana Practice. "Sadhana = to discipline oneself in a tradition (in this case Kundalini Yoga) that is followed in order to achieve various spiritual or ritual objectives. Sādhana is a discipline undertaken in the pursuit of a goal. Abhyāsa is repeated practice performed with observation and reflection. Kriyā, or action, also implies perfect execution with study and investigation."
* Therefore, sādhanā, abhyāsa, and kriyā all mean one and the same thing. A sādhaka, or practitioner, is one who skillfully applies...mind and intelligence in practice towards a spiritual goal
Your Sadhana will involve yoga poses (with great detail on how to master the exercises), mantra chanting, kundalini yoga kriyas, breathwork exercises & specific meditations including ones to balance, strengthen and connect to each chakra, including your Aura.
..::: 𝐏 𝐔 𝐑 𝐏 𝐎 𝐒 𝐄 𝐎 𝐅 𝐓 𝐇 𝐄 𝐏 𝐑 𝐎 𝐆 𝐑 𝐀 𝐌 :::..
The purpose of this 8 week series is to develop a strong disciplined spiritual practice that will tune you into the vibration of truth daily so you can consciously and consistently navigate your life in a heart centered and graceful way.
You will get clear on your goals/purpose/dreams/visions and build the discipline and confidence to fully follow through in the areas that most deeply resonate with you. The support and accountability will be there to ensure you grow in this program.
Throughout this experience we will explore, experience, balance, strengthen and learn more about the 7 main chakras in your body plus the Aura and how they work in unity with each other.
Chakras are energetic channels (or nadis) that carry the energy of life (prana, chi or life-force). The 7 main Chakra's run along the spine from the base to the top of the head. Each of the main Chakras govern the physical region in which they lie, and are responsible for certain emotional and personality traits. As they are properly activated and energized by a graceful flow of prana, the corresponding physical regions are rejuvenated and emotions of a higher quality are embraced.
Kundalini Yoga is known as the yoga of awareness and in many ways is the science of Chakra Activation. Kundalini Yoga is designed to systematically dissolve the debris that collects and blocks the flow of energy through the nadis. When the flow increases, the Chakras are opened and, over time, become optimally balanced. This leads to higher levels of awareness and consciousness, which in turn leads to a human being achieving their highest potential.
Through this program you will develop the habit of an in-depth practice of Kundalini Yoga, along with Mantra Chanting, Self Inquiry, Prayer, Breathwork & Specific Meditations to bring in more prosperity, develop intuition, open your heart, tune into universal intelligence and much more. From this you will strengthen your consciousness, which will help bring any chakra imbalances closer to an optimum state of operation.
..:: 𝐖𝐡𝐚𝐭 𝐘𝐨𝐮 𝐖𝐢𝐥𝐥 𝐂𝐨𝐦𝐞 𝐓𝐨 𝐊𝐧𝐨𝐰 ::..
* An understanding of the Kundalini Rising Experience
* Indepth knowledge and experience of the 7 main Chakra's & your Aura.
* The experience of Mantras shifting your consciousness and raising your vibrational frequency
* How to detect and resolve Chakra Imbalances
* How to increase energy flow, slow down the mind & ground yourself in a short period of time
* Your subconscious blocks & how to consciously reprogram your subconscious mind
* What to do when you are struggling with anxiousness, saddness, depression, anger or overwhelm
* Your connection with the Infinite & the divine wisdom within you
::: 𝐀𝐁𝐎𝐔𝐓 𝐘𝐎𝐔𝐑 𝐅𝐀𝐂𝐈𝐋𝐈𝐓𝐀𝐓𝐎𝐑 :::
☼ 𝐂𝐡𝐫𝐢𝐬 𝐃𝐮𝐛 ☼
Emotional Intuitive Healer, Kundalini Yogi, Breath-Work Practitioner & Social Worker
Chris is devoted to cultivating and holding space for you to become more aware of your mental blocks and repressed emotions, which allows this energy to transform into a higher understanding of one's self and your interconnectedness to all of nature. The result is a high degree of self love which leads to a letting go of past pain, hurt and trauma. Experience increased energy flow and creativity, zest for life, calmed nervous system, amplified self worth and deeper, more meaningful relationships.
Chris is a Certified Kundalini Yoga Teacher, Yoga Alliance Certified & holds a Degree in Social Work. He teaches Kundalini Yoga, Meditation, Mantra, Sound-Healing and Breath-Work classes, he also hosts the Sacred Brotherhood Men's Group and Women's & Men's Love Circles. Chris has undergone intensive breath work, bodily cleansing, meditation and self-inquiry to move through chronic pain and find deeper depths of self love since 2010.
Chris is passionate about supporting you to bring self awareness and energy flow practices to your daily life so you're internal GPS can always be online, guiding you to the most heart nourishing and fulfilling experiences.
𝐂𝐡𝐞𝐜𝐤 𝐨𝐮𝐭 "𝐂𝐡𝐫𝐢𝐬 𝐃𝐮𝐛 𝐊𝐮𝐧𝐝𝐚𝐥𝐢𝐧𝐢" 𝐨𝐧 𝐅𝐁 𝐟𝐨𝐫 𝐦𝐨𝐫𝐞 𝐨𝐟 𝐇𝐢𝐬 𝐎𝐟𝐟𝐞𝐫𝐢𝐧𝐠𝐬. 𝐂𝐡𝐫𝐢𝐬 𝐨𝐟𝐟𝐞𝐫'𝐬 𝟏 𝐨𝐧 𝟏 𝐄𝐦𝐨𝐭𝐢𝐨𝐧𝐚𝐥 𝐈𝐧𝐭𝐮𝐢𝐭𝐢𝐯𝐞 𝐇𝐞𝐚𝐥𝐢𝐧𝐠, 𝐘𝐨𝐠𝐚, 𝐁𝐫𝐞𝐚𝐭𝐡 𝐖𝐨𝐫𝐤 & 𝐌𝐞𝐝𝐢𝐭𝐚𝐭𝐢𝐨𝐧 𝐒𝐞𝐬𝐬𝐢𝐨𝐧𝐬. 𝐏𝐌 𝐂𝐡𝐫𝐢𝐬 𝐓𝐨𝐝𝐚𝐲 𝐟𝐨𝐫 𝐚 𝐅𝐫𝐞𝐞 𝟒𝟓 𝐌𝐢𝐧 𝐂𝐨𝐧𝐬𝐮𝐥𝐭𝐚𝐭𝐢𝐨𝐧 & 𝐌𝐢𝐧𝐢-𝐒𝐞𝐬𝐬𝐢𝐨𝐧 𝐈𝐧-𝐏𝐞𝐫𝐬𝐨𝐧 𝐨𝐫 𝐕𝐢𝐚 𝐙𝐨𝐨𝐦 𝐕𝐢𝐝𝐞𝐨 𝐂𝐚𝐥𝐥.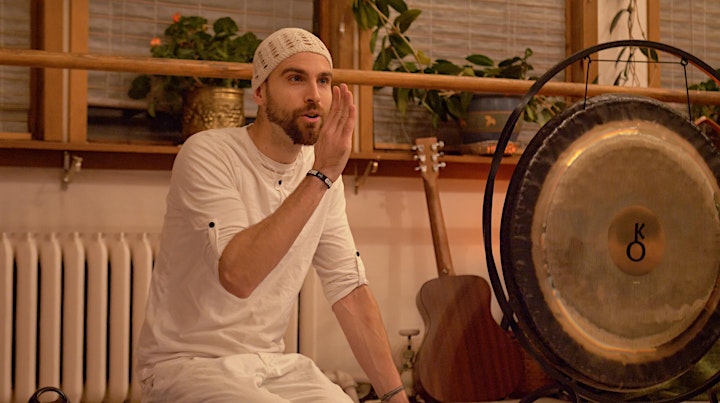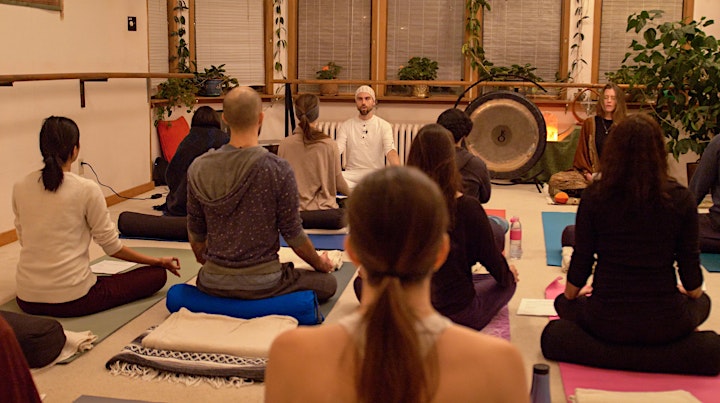 Date and Time
Location
Refund Policy
Contact the organizer to request a refund.
Eventbrite's fee is nonrefundable.