Multiple Dates
Journey To Wellness - Diabetes & Hypertension Learning Series
Start your year off healthy with our Journey To Wellness Learning Series with topics of Diabetes & Hypertension!
About this event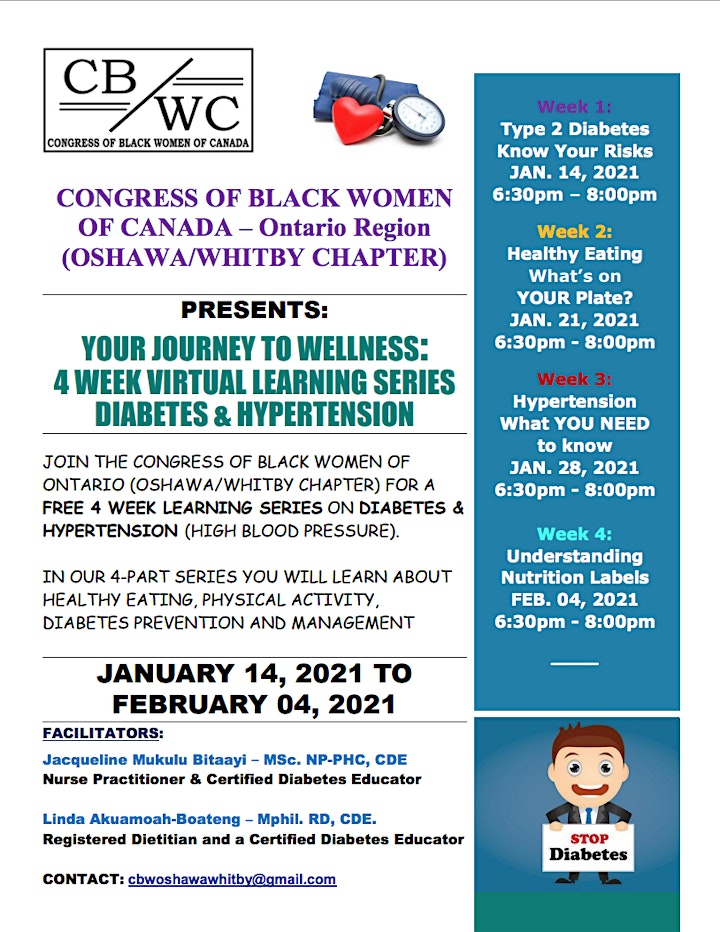 Hosted by the Congress of Black Women of Ontario - Oshawa/Whitby Chapter, this 4 -part wellness learning series will be taught by Nurse Practitioner Jacqueline Mukulu Bitaayi and Dietitcian Linda Akuamoah-Boateng!
Jacqueline Mukulu Bitaayi is a Nurse Practitioner who provides primary health care services to individuals and families. She has been in the nursing profession for eleven years, working for seven of those years in the community, as a certified diabetes nurse educator. Jacqueline is passionate about health education, and empowering individuals to live their best lives.
Linda Akuamoah-Boateng, MPhil, RD, CDE, is a Registered Dietitian and a Certified Diabetes Educator who has been providing diabetes and nutritional education/counselling for over a decade supporting clients with the management of Type 2 diabetes, Gestational Diabetes, hypertension, high cholesterol, PCOS and other chronic diseases. She has conducted numerous nutrition and diabetes prevention/management for different population groups in the community. She has also received training in working with clients who struggle with emotional eating, cravings and disordered eating habits. In her Private Practice, she provides nutrition consultancy services for several Multinational Corporations in the field of research and patient education.
Week 1: Thursday, January 14, 2021 - Type 2 Diabetes - Know Your Risk!
Pre-diabetes & type 2 diabetes
Testing and diagnosis
Signs and symptoms
Take home resource piece
Week 2: Thursday, January 21, 2021 - Healthy Eating - What's on YOUR Plate?
Focusing on Afro-Caribbean diets.
Portion controls.
Meal balance – what's on your plate?
Week 3: Thursday, January 28, 2021 - Hypertension - What you NEED to know!
How is blood pressure measured?
Risk factors for developing blood pressure.
Managing hypertension.
Week 4: Thursday, February 4, 2021 - Understanding Nutrition Labels.
Key points on labels – How to read and understand them.
Virtual grocery shopping (PowerPoint Slides)