What can the children teach us?
About this Event
This week our guest will take us into the magical realm of Forest Schools and other places of joyful learning, where we'll hear stories of curiosity, connection and wonder. Through the recorded voices of children, parents, and educators, as well as our own stories, we'll imagine alternatives to dominant education narratives. We'll also reflect on simple ways we can inspire a lifelong love of learning in ourselves and others.
Guest
Krista Phelan
Krista is passionate about education and the environment. She has an Education degree from the University of Victoria, where she explored many forms of alternative education and ways of learning. This experience inspired a move back home to St. John's, Newfoundland, where she started an alternative preschool with her business partner. Little Nest Children's Community is an alternative nature-based preschool program dedicated to strengthening children's relationship to nature. The program is guided by Waldorf, Reggio Emilia, Montessori and Forest School philosophies. Krista feels grateful everyday to connect with nature and the children in her community. When she's not at Little Nest, Krista can be found adventuring by way of hiking, skiing, surfing or spending downtime in her garden.
Hosts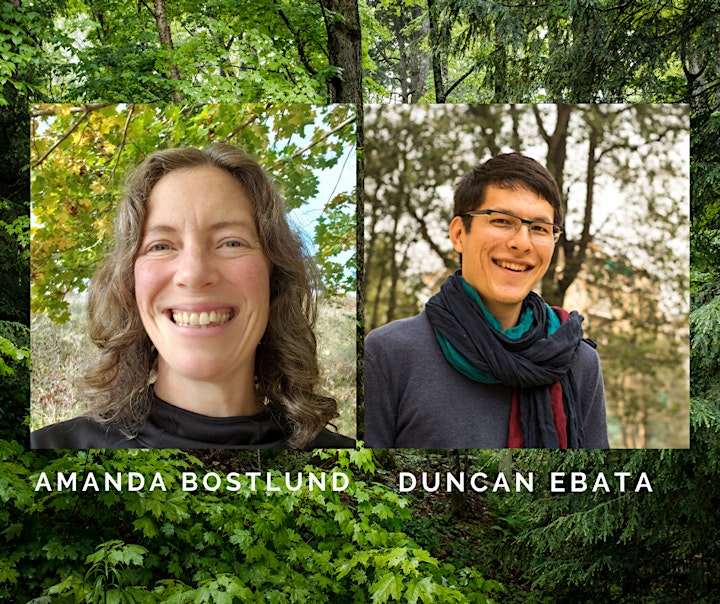 Amanda Bostlund
Residing in a small village near the Atlantic shore, Amanda is living into questions around regenerative design and how we together create a more thriving world. At the core of her fairly eclectic life is a love and curiosity for permaculture and systems thinking, nature connection and mentoring, finding and growing food, whole foods and plant-based cooking, supportive and inspiring conversations and the processes and structures that make these possible, creating "audio harvests," and being playful.
Duncan Ebata
Duncan is passionate about creating thriving community models and spaces that work for humans and our planet. His background is in marketing, food community development, and food-based social enterprise development. Recently, Duncan co-founded Front Street Community Oven in Wolfville, NS, where his current role is managing staff, supporting intercultural programming and community building. He currently works as a coach and facilitator, working on projects like Regenerative Tourism in the Annapolis Valley, the Narrative Project, and supporting clients moving through work and life transitions.
What to expect
The Narrative series gives us a chance to witness stories about topics that matter and engage with new friends. Come with an open curiosity, ready to learn, share and be surprised.
About Us
The Narrative Project invites stories we want more of—stories that spark our imagination about what is possible and what is already here, often hidden in plain sight. The Project is a collaboration between How We Thrive and WeavEast, with story, music and film contributions from many communities in our region. We are based in Nova Scotia, the ancestral, unceded territory of the Mi'kmaq. Find out more.