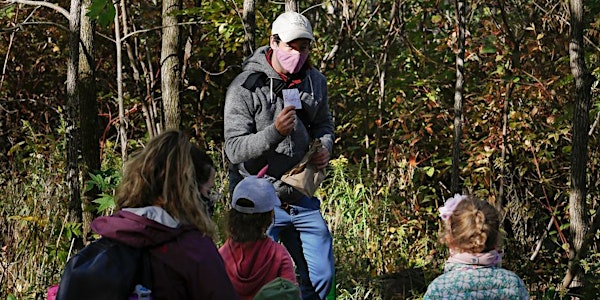 Jr. Forest Explorers // Explorateurs Forestiers Juniors
A nature program for toddlers and their guardians. Un programme de nature destiné aux bambins et leurs tuteurs.
When and where
Location
Downsview Park 70 Canuck Avenue behind the building next to the greenhouse Toronto, ON M3K 2C5 Canada
About this event
Join us at Downsview Park for a FREE caregiver and toddler nature program. Connect with the natural world through hands-on outdoor activities. Registration is required for all attendees.
May 30 - Numbers and Letters
Explore numbers and letters through a variety of exciting activities.
You must register to each session separately. Please request tickets for total number of people attending. The registration form will allow you to specify number of children and adults. Please do not bring more people than you signed up for without checking with our team first.
Please bring a water bottle (recommended).
Caregiver is required to stay for the duration of the program.
This program is entirely outdoors.
Sibling policy: This program is for children 18 months to three-and-a-half years old. Children up to age four are welcome if they have not started school (i.e. those entering JK in fall 2022 who are four-years-old are welcome). Please contact us directly for specific inquiries about bringing a child outside the age range. Thank you for your cooperation.
Participants under the age of 16 must be accompanied by an adult.
Pets are not permitted at this program. Service animals are always welcome.
Our Education programs are proudly supported by TD Friends of the Environment Foundation.
Downsview Park has and will continue to follow all public guidelines related to COVID-19. The health and safety of our staff and participants is our top priority. Please note that as guidelines change, we may need to adapt our programming. Any changes will be communicated as early as possible.
------------------------------------------------------------------------------
Joignez-vous à nous au Parc Downsview, afin de participer à un programme nature destiné aux tout-petits et aux aides familiales. Entrez en contact avec le monde naturel dans le cadre d'activités pratiques à l'extérieur.
Mai 30- Nombres et Lettres
Explorez les nombres et les lettres grâce à diverses activités amusantes.
Il faut s'inscrire séparément à chacune des séances. Veuillez demander des billets pour le nombre total de personnes présentes. Le formulaire d'inscription vous permettra de préciser le nombre d'enfants et d'adultes. Veuillez ne pas vous présenter en plus grand nombre que prévu sans d'abord en faire part à notre équipe.
Les programmes communautaires axés sur la nature prévus à l'horaire sont offerts en Anglais. Toutefois, nous sommes en mesure de proposer la même activité en Français sur demande. Veuillez nous envoyer un courriel à downsvieweducation@clc.ca pour demander une séance en français. Dans votre courriel, veuillez indiquer le nom du programme qui vous intéresse.
Politique relative aux frères et sœurs : ce programme est destiné aux enfants de dix-huit mois à trois ans et demi. Les enfants de quatre ans et moins sont les bienvenus, s'ils n'ont pas commencé l'école (c'est-à-dire que les enfants de quatre ans qui commenceront la maternelle à l'automne 2022 sont les bienvenus). Veuillez communiquer directement avec nous pour toute question particulière qui concerne la présence d'un enfant en dehors de cette tranche d'âge. Merci de votre collaboration.
Les participants de moins de 16 ans doivent être accompagnés d'un adulte.
Les animaux domestiques ne sont pas autorisés dans le cadre de ce programme. Les animaux d'assistance sont toujours bienvenus.
La Fondation TD des amis de l'environnement est fière de commanditer nos programmes éducatifs.
Le Parc Downsview a suivi et continuera de suivre toutes les directives de la santé publique relatives à la COVID-19. La santé et la sécurité de notre personnel et de nos participants sont notre plus grande priorité. Veuillez noter qu'au fur et à mesure que les directives évolueront, nous devrons peut-être adapter notre programmation. Nous nous assurerons cependant de toujours vous communiquer tout changement dans les plus brefs délais.