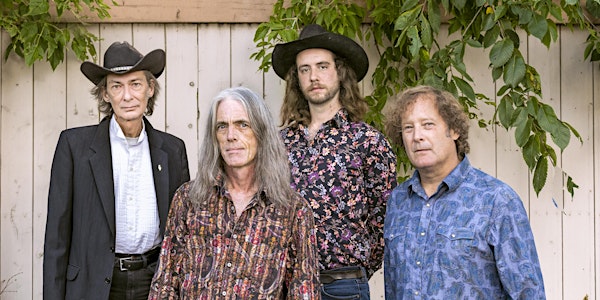 Jr Gone Wild with guests The Graham Brown Band
Presented by the Rickshaw
Performers
Jr. Gone Wild
The Graham Brown Band
Location
LanaLou's
362 Powell Street
Vancouver, BC V6A 1G4
Canada
Edmonton's alt-country four piece Jr Gone Wild are headin' to Vancouver this July with guests The Graham Brown Band.
About this event
The Rickshaw presents Jr Gone Wild
With guests, The Graham Brown Band
Thursday, July 7th, 2022
NEW VENUE: LanaLou's
19+
Doors: 7:00pm
New Venue
Jr. Gone Wild with The Graham Brown Band on July 7th has moved to LanaLou's. Tickets purchased for the Rickshaw Theatre will be honoured at LanaLou's. Get ready for a night of pedal steel heavy country-smoked cow-punk!
Jr Gone Wild
Like a glacier scraping over Alberta's musical scenery rearranging punk, pop and pre-alt country, Jr. Gone Wild churned a wide, wild path. They picked up and lost members with stunning regularity during their uncountable blurry tours, eventually tallying up nearly 30 alumni, each of whom left their mark on the band's country-punk sound.
Formed in Edmonton in 1983, the band's one constant has been singer/songwriter Mike McDonald. Their then-novel practice of touring in a van on the young Trans-Canada Highway worked to build Jr. Gone Wild's legend — McDonald speaks of days of drinking, fighting, being robbed, being sick and cold, all while playing in dives. That touring helped to create songs that range from period pieces that nail coming of age in the '80s to subtle heartbreakers capturing fragments of the eternal human condition. The band's penchant for pedal steel and country-smoked moments set them apart from other bar bands of the day and elevated the songs from simple pop choruses and tongue-in-cheek perspectives into something meaningful and enduring.
By the time they broke up in 1995, Jr. Gone Wild just missed the alt-country craze. In 2013 the band reunited, proving that instead of being ahead of their time, Jr. Gone Wild are timeless.
The Graham Brown Band
Graham Brown doesn't do labels. His style is a mix of rock-n-roll, country, roots, and everything in between. Graham began his professional career over 30 years ago as a band member of Jr. Gone Wild and has since honed his craft, marked by hundreds of songs and thousands of miles.
Graham is a songwriter first. As he puts it, "I create songs because it's in my DNA – it's a release – an understanding of the world around me."
Vancouver-based Brown and his band makes, guitarist/keyboardist Rob Blackburn, Bassist John Werner, and drummer Mark Gruft are keeping their remarkably consistent winning streak intact with their latest effort 'Spirit And Soul', 11 nre original songs that once gain carry on the high energy, melodic, no-frills spirit of Tom Petty & The Heartbreakers and Uncle Tupelo.
Refund Policy
No refunds - unless event is cancelled.