Sales Have Ended
Registrations are closed
This event has now ended. Please register for our next hackathon!
Sales Have Ended
Registrations are closed
This event has now ended. Please register for our next hackathon!
Mintbean is an online collective of software developers interested in perfecting their craft.
About this Event
The term synthesizer was first used to describe an instrument in 1956, with the RCA Electronic Music Synthesizer Mark I.
It was developed by Americans Harry F. Olson and Herbert Belar and it generated sound with 12 tuning forks that were stimulated electromagnetically.
Synthesizers are used to create Electronic music. Using Web Facing Technologies we challenge you to create a web based Synthesizer and see how Code can create music. 🎶🎹
Mintbean Hackathons
Are you a software developer? Looking for a new project?
Come join us and code together in a week long hackathon with a very active community of growth oriented developers gathered in one virtual place to help each other learn.
We kickoff with an orientation followed by challenge release on Fridays at 1PM EST.
Submissions are due on Thursday at 12PM EST.
Don't want to code alone? You can hack along with up to 3 people!
We even have a channel in our Discord for you to find a partner/group to hack with!
Join our Discord and find a partner or team in the #find-a-team channel!
Come join a fun and challenging coding competition, learn new skills, and meet new people from the comfort of your own home with Mintbean Hackathons.
Who Can Attend?
Front End Developers
Full Stack Developers
Self Learners
Job Seekers
Anyone who wants to code!
Event Details
Team Size: 1-3
Date: Friday, February 19, 2021
Start Time: 1:00PM EST / 10:00AM PST / 12:00PM CST
Where: Zoom*
*Zoom link in the Online Event Page (found in confirmation email)
Schedule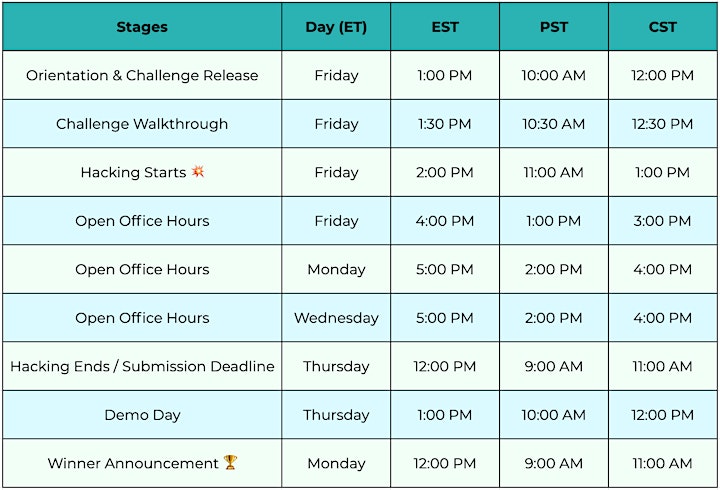 LEARN academy is a coding bootcamp in San Diego focused on teaching modern programming languages for websites and applications. LEARN provides a collaborative environment for its students to build skills needed to jumpstart a development career in languages such as Ruby on Rails, Javascript, HTML, and CSS. Students spend three months in intensive classes before being placed in a one-month internship. LEARN academy has produced over four-hundred graduates working in high-tech jobs in all corners of the United States.