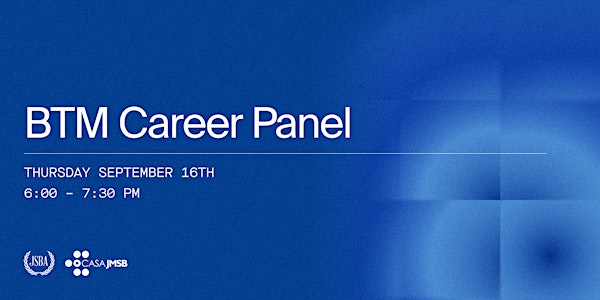 JSBA's BTM Career Panel
JSBA's Business Technology Management Career Panel 2021
By John Molson Supply Chain and Business Technology Association
Date and time
Thu, Sep 16, 2021 3:00 PM - 4:30 PM PDT
About this event
⭐️JSBA presents you the BTM Career Panel for Fall 2021⭐️
Technology uplifts companies. Firms beat the competition because they continuously improve, enhance, and adapt their operations, processes & tools. If you're interested in a career path that provides you an opportunity for:
✅ Job diversity,
✅ Job growth,
✅ Transferable skill development,
✅ Travel, and much more ... thus Business Technology Management the right choice for you.
Come join our BTM panelist to learn from their journeys in the Business Technology Management field, ask them questions, build connections and have a clearer image of your future!
Reserve your ticket soon before they sell out!
Follow us on social media to not miss out on any events:
Facebook: https://www.facebook.com/jsbajmsb
Instagram: https://www.instagram.com/jsbajmsb/
LinkedIn: Linkedin.com/company/jsbajmsb/
About the organizer
JSBA executives dedicate their time towards hosting an array of networking and community events to enrich the learning experience here at the John Molson School of Business and help to bridge the gap between students, professors, and employers.
These events include company tours, workshops, recruitment cocktails, speaker conferences, and competitions. The JSBA mission is to encourage students to consider Supply Chain Operations Management and/or Business Technology Management as a core discipline of study. With the support from our sponsors, partners and faculty, we strive to improve the quality of our education.