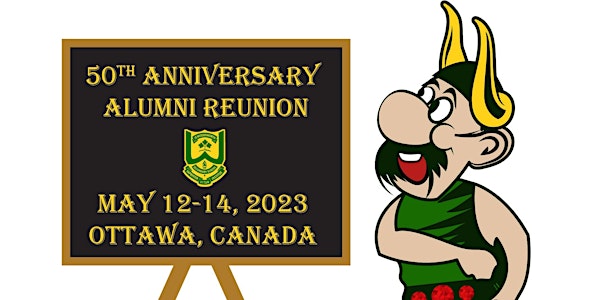 JSW 50th Reunion
J.S. Woodsworth Secondary School 50th Anniversary Alumni Celebration
When and where
Location
Ottawa Conference and Event Centre 200 Coventry Road Ottawa, ON K1K 4S3 Canada
Refund Policy
Contact the organizer to request a refund.
Eventbrite's fee is nonrefundable.
About this event
1 day 22 hours

Mobile eTicket
WELCOME !
• A JSW50 Cocktail Social Event Ticket is REQUIRED to attend the Saturday night event. The Cocktail Social Event ticket includes:
Entry to the Friday Evening Meet & Greet at the JSW School
The Cocktail Social Event on Saturday at the Ottawa Event Center, and
The Sports Afternoon on Sunday around JSW grounds
A maximum of 750 tickets are available for the Cocktail Social Event
• Other event tickets include:
1) Saturday Roller Skating Extravaganza - $20
2) Saturday Art & Crafts 12A Workshop - $25
3) Sunday Pancake Breakfast - $15
Please purchase an additional ticket for any of these awesome events.
For the Friday night Meet and Greet, please Register for it on the ticket page.
For the Sunday Sports Afternoon please register for it on the ticket page by selecting your desired sport to participate in.
• If you are bringing a spouse/partner, or friend of JSW who did not attend the school, enter their information as requested when you purchase their ticket.
• Eventbrite accepts all major credit cards. We do not have a PayPal account.
REFUNDS - If an event has to be cancelled by the Organizing Committee, Refunds will be issued less any non-refundable Eventbrite fees.
____________________________________________________________________________
MEET & GREET - Friday May 12, 2023, 7:00pm to 10:00pm
159 Chesterton Drive, Ottawa
Dress Code: Casual Access to the Friday Meet & Greet is included with the purchase of a Cocktail Social Event Ticket. You must purchase a Cocktail Social Event Ticket to attend the Friday night event AND then Register for it.
Start the reunion weekend off on the right foot. Join us at the old JSW school building where it all began.
 mingle, enjoy some drinks and snacks and take in the old atmosphere in the JS Cafeteria with some Radio Woodsworth background music,
 take a tour of the old school building, the gym, classrooms the library and see how it's all changed or maybe not so much?
 enjoy the video presentation on the big screen of "JSW Reeling In The Years" and reminisce with friends new and old about your time at JSW,
 check out the JSW50 reunion merchandise on display, and place your order if you haven't already,
 browse the memorabilia of JSW days gone by and have a look at the photo exhibit on display of some of the classic Woodsworth images.
 gather with us for a group-photo in front of "warrior colours" before joining the "after parties" that will surely spring-up in nearby pubs.
_____________________________________________________________________________
ROLLER SKATING EXTRAVAGANZA - Saturday, May 13, 2023 11:00am to 2:00pm $20 incl skate rental
4 Wheelies Roller Skate Center, 1101 Baxter Road, Ottawa
Dress Code: Comfortable Clothing Brought to you by "The Tower of Power", Radio Woodsworth, this unique activity is an Additional Cost Event of $20.00. A JSW50 Cocktail Social ticket is not required to attend the roller skating.
o the Roller-Skating ticket gains you entry to the 4 Wheelies Skating Center on Baxter Rd and roller skate rental. You may bring your own roller-skates if you have them,
o In-line skates are unfortunately not permitted,
o food and drinks are paid by the individual,
o separate Party Room for the JSW50 guests,
o families welcome with individual ticket purchase,
o an initial supply of 150 tickets are available for this event,
o Radio Woodsworth is back after several years in hibernation to spin your favorite songs and albums in the wonderful backdrop of the 4 Wheelies Skating Center,
You won't want to miss this classic event.
_____________________________________________________________________________
ART & CRAFT WORKSHOP 12A - Saturday, May 13, 2023 3:00pm to 5:00pm $20 includes all materials
Ottawa Event Centre at 200 Coventry Road, Ottawa
Dress Code: Casual The Art Workshop will be held at the Event Centre before the Cocktail Social Event at the same location. A JSW50 Cocktail Social Event Ticket ($100.00) is required in addition to purchasing an Art & Craft Workshop Ticket for $25.00. Hosted at the Ottawa Conference and Event Centre
o you will be guided by our enthusiastic instructor to create your masterpiece,
o will it be a Bob Ross landscape or a classic Rembrandt portrait?
o perhaps some classic crafts in keeping with the Ottawa Tulip Festival?
o ticket cost includes materials and instructor fees,
o the finished masterpieces will be displayed at the JSW50 Cocktail Social event later in the evening for your contemporaries to observe.
This will be a lot of fun. Limited tickets are available, likely about 50. Sign up early.
_____________________________________________________________________________
COCKTAIL SOCIAL EVENT TICKET - Saturday, May 13, 2023 6:00pm to 1:00am $100 includes Friday Meet & Greet, Saturday night Main Event & Sunday Sports Afternoon
Ottawa Conference & Event Centre, 200 Coventry Road, Ottawa
Dress Code: Dressy Casual. JSW50 Cocktail Social Event Ticket ($100pp) is required to attend this event.
The Cocktail Social Event is intended to provide alumni, former teachers and friends of JSW with a "mingling & socializing evening". We aim to create in informal atmosphere, filled with plenty of familiar colours, textures, sounds and sights of our time at JSW and in the community.
Join us for a trip down memory-lane, the music of the day, find out "where are they now" and pause a thought for those who have left us. Fun and Interactive activities will occur during the event.
o BLUESBERRY PIE – REHEATED our live band will lead us into the evening with a few warm-up numbers. Bluesberry Pie being a popular JSW student band from the 90's,
o Jamie C from Midnight Music is one of Ottawa's premier DJ/VJs and will provide the music backdrop and lighting atmosphere for the JSW50 Cocktail Social,
o the JSW50 Cocktail Social is all about socializing and mingling so we believe music levels for most the evening will be a level to support good conversation,
o there will be wonder selection of delightful hor d'oeuvres & canapés including diet-sensitive varieties in lieu of a sit-down dinner.
o a range of drinks and beverages will be available for purchase via cards at several bars in the decorated event hall,
o there will be plenty of seating and tables available to relax at in an informal setting,
o the Master of Ceremonies will help guide us through a number of video presentations and interactive activities that will take us down memory lane,
o there will be a digital photobooth set up for you and your friends to capture the moments of the evening
o we expect to have a Live-Steaming capability as well for those not able to attend, and a Roving Reporter will be on-hand to have impromptu video interviews with those who would like to share their favourite memories of JSW,
o we will close the evening with our DJ/VJ revealing the final 25 songs of the Top 500 JSW songs-of-all-time as voted by the alumni.
o Oh, remember don't leave before we take the final group photo.
The JSW50 Cocktail Social event will be a wonderful evening with many former teachers on hand to socialize with the alumni. The success of the evening and the weekend in general will be guaranteed with the participation of as many alumni as possible.
_____________________________________________________________________________
PANCAKE BRUNCH - Sunday, May 14, 2023 11:00am to 2:00pm $15 per person
Location either 159 Chesterton or General Burns Lodge
Dress Code: Casual Please join us for a lovely pancake brunch served in the old JSW cafeteria. This is an Additional Cost Event of $15.00. A JSW50 Cocktail Social ticket is not required to attend the pancake brunch. Just like the old school days in the "caf" we offer familiar and enjoyable surroundings to enjoy a nourishing pancake brunch with all the trimmings prior to joining the Sports Afternoon. Limited tickets are available, likely about 150. Sign up early.
_____________________________________________________________________________
INTRAMURAL SPORTS AFTERNOON - Sunday, May 14, 2023 1:00pm to 4:00pm included with Main Event Ticket purchase
Location: 159 Chesterton and General Burns Lodge & Park
Dress Code: Warrior Sporty ! A JSW50 Cocktail Social event ticket ($100pp) is required to attend this event. Hosted at the old JSW sports fields and at General Burns Park, we will reignite those old sports flames in each of us that was so prominent in high school. We envision soccer, softball and possibly basketball featuring on the sports afternoon program. Register for the sports afternoon and select your sport of choice on the JSW50 Eventbrite website. Bring your own sports gear if you have it. Others will likely have spare kit if you don't. We'll make it work.