Event Information
Refund policy
Contact the organizer to request a refund.
Eventbrite's fee is nonrefundable.
Jully Black and 100 Strong & Sexy presents.....
About this event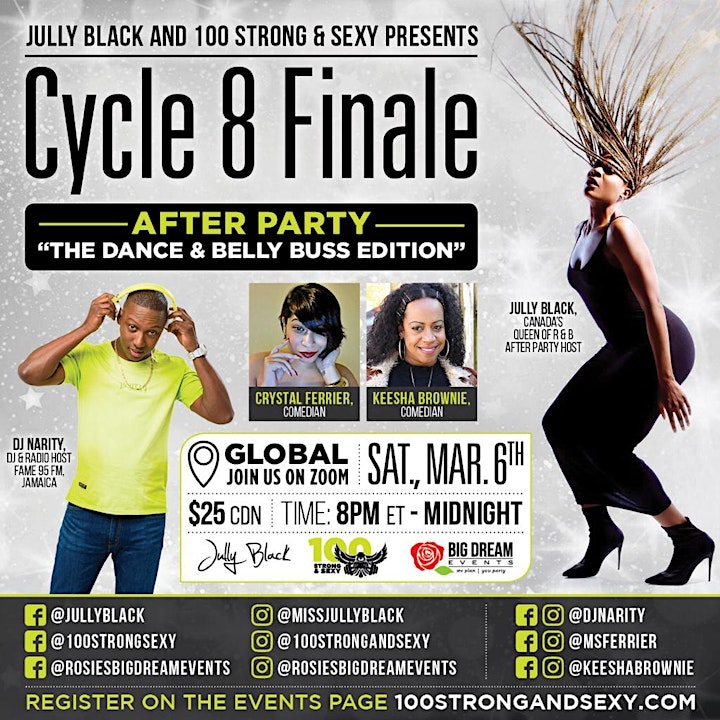 THE AFTER PARTY!!
Raise a glass, turn up the volume, and get ready to let loose. Part II of the finale will bring you belly laughs and wicked music as we celebrate 800 days of Unity.
Time: 8:00 pm to 11:59 pm EST (evening session)
Location: ** Virtual - Global Zoom Cloud **
Cost: $ 25
Featuring:
** Jully Black - Founder, President & SheEO of 100 SAS | Host **
DJ Narity
DJ Narity has become an entity to be reckoned with locally and overseas: playing in every parish in Jamaica, the Cayman Islands, South Florida many times, Atlanta Georgia, Columbus & Cleveland Ohio, Indiana, California, Oregon and more venues in Jamaica weekly, there is literally no limit to where patrons can (and will) hear the musical stylings of DJ Narity. Having concluded his first tour with veteran singer Nadine Sutherland & upcoming sensation Denyque, he returned to Jamaica for a full summer of dates locally & worldwide. During that summer, Narity also travelled to Gabon, West Africa to be a part of their 50th Independence Celebrations, co-hosting a Jamaican carnival truck with reggae/soul singer Farenheit. In between overseas dates, he has been busy in clubs, at corporate, national, private and public events all over Jamaica. DJ Narity has further added to his resume' by being recruited to be a tour DJ for Grammy award-winning "King of the Dancehall" Beenie Man. He was also chosen as the Resident DJ for Jamaica House at the 2016 Olympics, held in Rio De Janeiro Brazil (Also whenever the Next Olympics will be held). Narity has also been a DJ and Co-presenter on the popular afternoon show "Miss Kitty Live" on Nationwide 90fm alongside well-known hostess and personality Miss Kitty. He then moved on to his childhood dream of joining Fame 95 FM. He is the current host of Ovadrive 1-5pm Mondays to Thursdays, Elevate on Saturdays 1-5pm and Vitalogy on Sundays 9am - 1pm. He is also a recurring cast member on Jamaica's #1 Virtual Weekly Event - Fame Frequency. A certified project manager and DJ Academy graduate.
Keesha Brownie
Keesha Brownie is one of North America's candid comedians to watch. This Montreal born Canadian with Jamaican Roots has graced comedy clubs across the country. Performing Arts would become Keesha's stomping grounds, a former Humber and Second City theatre graduate, but Stand Up Comedy is the cream of her crop. Her likable approach has been enjoyed in clubs, colleges, festivals, and theatres nationwide. Credits include; 2019 SiriusXM Top Comic competition, 2017 Just For Laughs Festival(Montreal), Live Taping for Kevin Hart LOL Network, a regular of Best of Absolute Comedy at Toronto's annual comedy festival JFL42, 2015 Canadian Comedy Award Nominee for Best Female Stand Up Comedian, NXNE Festival (Toronto), She Devil Comedy Festival (New York), Edinburgh Festival (Scotland) City of Brampton 2012 Arts Acclaimed Award and most recently, performed at the official Pre Show for the 2019, "100% Fresher Tour" with Adam Sandler and Rob Schneider. Brownie, ever the working women in 2010 founded and produced her own comedy series in hometown Brampton, entitled Jokers Corner. Other Producing Credits include: 2012 Canada's 1st All Black Canadian Comedy Tour, The Underground Comedy Railroad, 2013 One Women Show, Ingredients of a Brownie and in 2020 Stand-up Stitches', a virtual comedy show at The Rose Brampton. She has also headlined, and is a regular at Kenny Robinson's monthly Nubian Disciples of Pryor Comedy Review. Whether sharing the stage with the top comics in the comedy world or travelling across North America and the Caribbean Keesha makes you feel as though you been a part of her journey the whole time.
Crystal Ferrier
Crystal Ferrier has performed all over the world from Canada, to New York, to India. The first Indian woman to headline Kenny Robinson's Nubian Disciples of Pryor and the newest addition to Kevin Hart's LOL network, she is one to watch out for. By day, this Super Woman is a Behavioural Therapist. By night, she is an actress, comedian, writer and producer. Also a mother of 2, this funny mummy's real-life, raw comedic personality is unforgettable and will captivate anyone who falls in her company.
The evening event is brought to you by:

Legal stuff:
By purchasing a ticket to the Event, I agree to the following:
1. Waiver and Release: I release and forever discharge and hold harmless the Host and its directors, staff, volunteers, other participants, and sponsors from any and all liability, claims, and demands of whatever kind or nature, which may arise in connection with my participation in the Virtual Event including, but not limited to, injury or illness that may result from the services provided by the Host or occurring while I am participating in the Virtual Event or any Workout Event.
2. Photographic Release: I grant and convey to the Host all right, title, and interest in any and all photographs, video, images, writings, and audio recordings of me, my likeness, and my voice made by the Host in connection with my participation in the Virtual Event. It is my understanding that I will receive no compensation for use of my likeness or testimonial. I hereby waive any right I may have to inspect and/or approve any finished product that may be used in connection with my likeness or testimonial or the use to which it may be I hereby release, discharge, and agree to hold harmless the Host from any liability relating to the publication of my likeness or testimonial, including and without limitation, claims for libel or invasion of privacy.
3. Email Marketing: I consent to receive marketing emails from the Host. I understand that this consent may be revoked at any time by contacting the Host via info@100strongandsexy.com
Date and time
Location
Refund policy
Contact the organizer to request a refund.
Eventbrite's fee is nonrefundable.