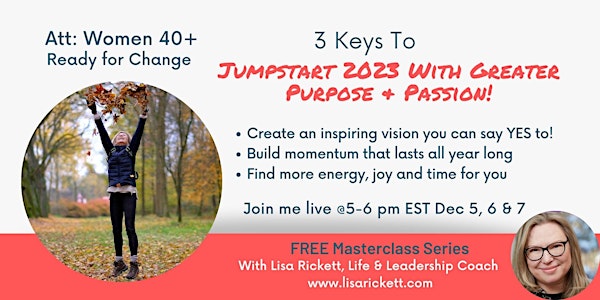 Jumpstart 2023 with Greater Purpose and Passion
Create an inspiring vision for 2023 that truly matters to you and live with more purpose and passion while taking care of your wellbeing!
When and where
Date and time
Mon, Dec 5, 2022 2:00 PM - Wed, Dec 7, 2022 3:00 PM PST
About this event
Are you a women over 40 longing for change or in the midst of a big life transition? Need a little breathing room?
Now is the perfect time to jumpstart 2023 to gain clarity, confidence, and create momentum that will last all year long!
It is possible to live on purpose, with passion while taking care of your well-being!
It starts with with you taking small steps to honour your truth and change your mindset so you have the energy and passion to take action.
Join me for a one hour training from 5:00 -6:00 pm ET from December 5 -7 and do just that!
Together, we will support you to:
Slow down and tap into your inner wisdom
Get clear on what really matters to you
Create an inspired vision for 2023 you can say "yes" to
Identify your top priorities for 2023
Discover what held you back in 2022 and learn to shift your mindset
Learn practical strategies to keep your momentum, focus and resilience
Honour your mind, body, and spirit as you step into this new year
You'll leave this training with a clear understanding of your vision for next year, top priorities and a strategy to confidently make choices that will move you forward on your ideal life path.
You are meant to live a life of fulfillment, purpose and happiness!
No more New Year's resolutions based on "shoulds" that get forgotten by February!😄
Say yes to what's truly meaningful to you with more intention and purpose.
Sounds good right?
I know it's so easy to get sidetracked by demands of life, taking care of others and unreasonable expectations of this 24/7 world.
Add "longing" for change or a life transition into the mix and it's doubly easy to feel overwhelmed, unfocused and like you're spinning your wheels while chasing time for yourself.
So it's not surprising we often find our needs and deeper desires put on the back burner, and lose steam for fulfilling our dreams.
Do you need a little breathing room?
Feeling crowded by all the demands of life and your desire to support others? Then this training is the perfect gift to give yourself.
Refocus on what you want, regain momentum.
You are invited to this important, life changing training, where you will have permission to slow down in a safe and supportive environment with likeminded women.
YOU are absolutely worth it!
Lisa
About Me
I'm an ICF certified coach and a narrative coach practitioner. I also have a Bachelor's degree in Psychology, a Masters Certificate in Organizational Development and Change, and over 20 years in senior roles in adult training, children's education and community and social services. I have worked with clients in Canada, U.S. and the U.K, on both the life and leadership sides.
My methodology draws from a range of psychology-grounded coaching frameworks, philosophies and techniques. I bring the latest thinking and research integrating evidence-based practice from neuroscience, narrative coaching, attachment theory, positive intelligence, human development and change.
Outside of my passion for coaching, I spend time with my husband, two dogs -- Juno and Aussie, family and friends. Raised in Nova Scotia, I take the East Coast with me through my love of the outdoors, sailing, traveling, music and dance.