Sales Have Ended
Ticket sales have ended
We are looking forward to having you at the B101 or Bust Event. Registration and Start times are as follows: Friday 6:30pm ride launch 7:30pm Saturday 8:30am ride launch 10:00am Sunday 10:30am ride launch 11:00am If you have any questions about the ride, location, terrain please do not hesitate to contact the club at info@renfrewcountyatv.ca Renfrew County ATV Club B101 or Bust! Poker Run & Rally June 9-11, 2017 Friday June 9, evening run 7:30pm – 11:30 pm Light up your Ride! TRAIL: From Trailhead East on Hwy 60 east to Golden Lake, following Island View Drive, then back onto Hwy 60 to Golden Lake. RIGHT on Kokomis Rd at the gas station, RIGHT on Ininatig Inamo (at Pikwakanagan Fuels) through Pikwakanagan Algonquin Reserve along the B102 to Killaloe and return same way. MEALS: Midway break (bring $) COST: No cost, no trail pass required, signed liability required at registration TRAIL TECHNICALITY RATING: Green: easy ride, mostly flat, wide trail, suitable for new/non-confident rider. Road traffic able to meet MTO guidelines, SXS friendly REGISTRATION: 6:30pm VOLUNTEER/WARDEN MEETING: Registration Table 6:15 if you are able to help out Saturday June 10, B101 Poker Run & Rally 10am – 4pm GUIDED RIDE: Trails of B101, B102 in a figure 8 to Warm-up Shack and return back a different route. MEALS: Lunch provided at Warm-up Shack (Chilli in a mug and ice-cream) Supper (Fish Fry or Pulled Pork) provided at trail head COST: $35 per person, trail pass required at registration (includes Sunday) TRAIL TECHNICALITY RATING: Green/Blue: easy ride, mostly flat, wide trail, suitable for new/medium rider, some rock and steep incline, some rougher terrain, some narrow trails, some water under 16", Road traffic able to meet MTO guidelines, SXS friendly REGISTRATION: 8:30am VOLUNTEER/WARDEN MEETING: Registration Table 8:30am Sunday June 11, Feature Run 11am – 4pm TRAIL: From trailhead, north on B101A to 142 to Look Out over Golden Lake returning to the B101A north on B101A trail to the second half of 142 trail. Trail to Roesler Road, back road to Springer Road Trail, to Lake Dore Road, to Hwy 60, to Paketina Trail to trail head MEALS: Pre-Rally Breakfast Buffet available at $5 discount for rally participants at Sands on Golden Lake. BYO Lunch. COST: $10 plus trail pass for Sunday only participants TRAIL TECHNICALITY RATING: 142 BLUE: technical ride, difficult terrain, steep inclines/descents, obstacles (rock, trees), experienced rider, trail widening scheduled to ensure SXS friendly. Road traffic able to meet MTO guidelines. Springer Trail/Paketina Trail Green. REGISTRATION 10:30 VOLUNTEER/WARDEN MEETING: Registration Table 10:15am if you are able to help out
Sales Have Ended
Ticket sales have ended
We are looking forward to having you at the B101 or Bust Event. Registration and Start times are as follows: Friday 6:30pm ride launch 7:30pm Saturday 8:30am ride launch 10:00am Sunday 10:30am ride launch 11:00am If you have any questions about the ride, location, terrain please do not hesitate to contact the club at info@renfrewcountyatv.ca Renfrew County ATV Club B101 or Bust! Poker Run & Rally June 9-11, 2017 Friday June 9, evening run 7:30pm – 11:30 pm Light up your Ride! TRAIL: From Trailhead East on Hwy 60 east to Golden Lake, following Island View Drive, then back onto Hwy 60 to Golden Lake. RIGHT on Kokomis Rd at the gas station, RIGHT on Ininatig Inamo (at Pikwakanagan Fuels) through Pikwakanagan Algonquin Reserve along the B102 to Killaloe and return same way. MEALS: Midway break (bring $) COST: No cost, no trail pass required, signed liability required at registration TRAIL TECHNICALITY RATING: Green: easy ride, mostly flat, wide trail, suitable for new/non-confident rider. Road traffic able to meet MTO guidelines, SXS friendly REGISTRATION: 6:30pm VOLUNTEER/WARDEN MEETING: Registration Table 6:15 if you are able to help out Saturday June 10, B101 Poker Run & Rally 10am – 4pm GUIDED RIDE: Trails of B101, B102 in a figure 8 to Warm-up Shack and return back a different route. MEALS: Lunch provided at Warm-up Shack (Chilli in a mug and ice-cream) Supper (Fish Fry or Pulled Pork) provided at trail head COST: $35 per person, trail pass required at registration (includes Sunday) TRAIL TECHNICALITY RATING: Green/Blue: easy ride, mostly flat, wide trail, suitable for new/medium rider, some rock and steep incline, some rougher terrain, some narrow trails, some water under 16", Road traffic able to meet MTO guidelines, SXS friendly REGISTRATION: 8:30am VOLUNTEER/WARDEN MEETING: Registration Table 8:30am Sunday June 11, Feature Run 11am – 4pm TRAIL: From trailhead, north on B101A to 142 to Look Out over Golden Lake returning to the B101A north on B101A trail to the second half of 142 trail. Trail to Roesler Road, back road to Springer Road Trail, to Lake Dore Road, to Hwy 60, to Paketina Trail to trail head MEALS: Pre-Rally Breakfast Buffet available at $5 discount for rally participants at Sands on Golden Lake. BYO Lunch. COST: $10 plus trail pass for Sunday only participants TRAIL TECHNICALITY RATING: 142 BLUE: technical ride, difficult terrain, steep inclines/descents, obstacles (rock, trees), experienced rider, trail widening scheduled to ensure SXS friendly. Road traffic able to meet MTO guidelines. Springer Trail/Paketina Trail Green. REGISTRATION 10:30 VOLUNTEER/WARDEN MEETING: Registration Table 10:15am if you are able to help out
Description
JUNE 14-16, 2019

B101 OR BUST!

Pakkotinna Trail Event
Renfrew County ATV Club, 4th Annual Event.
Ride new trails. Meet new riders.
Trail head across from THE SANDS ON GOLDEN LAKE RESORT, Deacon, HWY 60.
COST: $40/person for a full-weekend bracelet includes BBQ lunch and supper on Saturday, brunch discount on Sunday and 3 days of riding.
FRI NIGHT run - stay tuned for route. Registration 6:00pm. Departs at 7:00.

SAT all-day on the trails with 5 different trail options and lengths of trail for the new rider to most adventerous, sausage on a bun, salad, kettle chips @ Warm-up Shack,

dinner back at the trail head.

SUN feature run taking the trail less traveled: NEW 104 trail to the lookout over Golden Lake, then 108 to Roesler Road and back road trails.
**Once registered, you do not have to print off your confirmation sheet.
TRAIL PASSES:
FRIDAY night: "BE OUR GUEST", come for free, no trail pass required.

SATURDAY/SUNDAY: OFATV annual pass holders or $20/day trail pass required and available on-site.


Trail Pass Trade-Up in effect. If you enjoy the weekend with us and want to become a full member, when purchased before leaving Sunday, we will credit your day pass towards the cost of an annual pass.
WWW.RENFREWCOUNTYATV.CA or find us on Facebook for times and details and to subscribe to the event so you get all the updates.
Need a place to stay:
Rough camping available on-site or vicinity $20 donation to the re-gravel project
Sands on Golden Lake Resort & Spa for a full restaurant and hotel experience www.sandsongoldenlake.com
Deacon Escarpment Cabins and Cottages for a true valley experience complete with wood cottages and located directly on the trail. www.deaconescarpment.ca
email us at info@renfrewcountyatv.ca or contact OVTA tourism for some of the other great campgrounds, B&B's, cottages in the area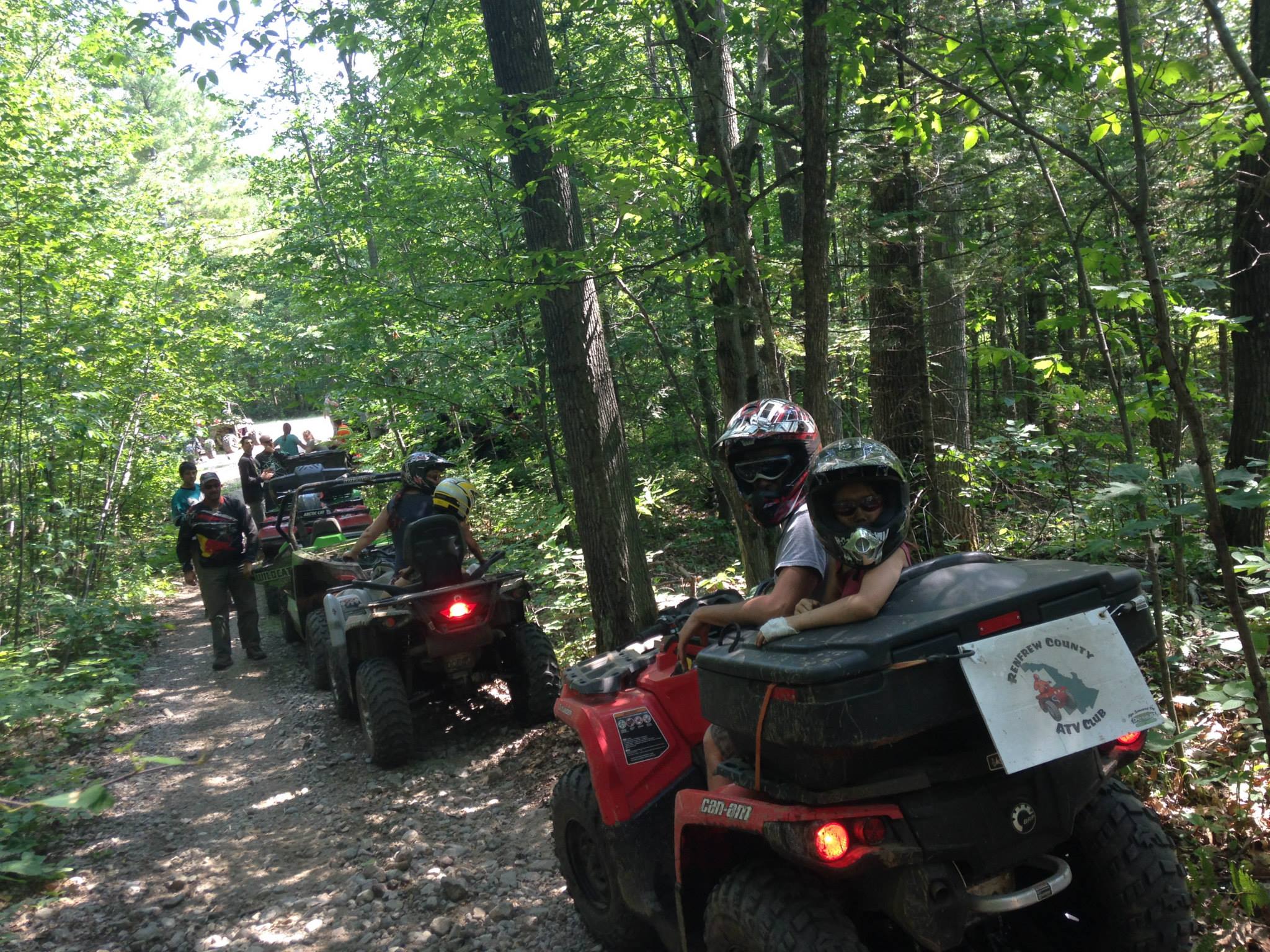 FAQs
What are my transportation/parking options for getting to and from the event?
You can click on the View Map link below the location information on the left to get directions. There is parking and camping at the trail head which is located directly across from The Sands on Golden Lake Resort, Deacon Ontario.

Are dirt bikes allowed on the trail and event?
Yes, RCATV trails are multi-use trails, therefore with a trail pass, insurance and plates you are welcome to join in the fun.
Are there trail passes available at the event?

Yes, annual and daily passes are available for those without an EOTA/OFATV trail pass. Friday night, there is a liability waiver in exchange of a trail pass purchase. Day passes are $20/machine. Annual passes are $150/machine. We can take cash or credit card at the event, or you can use debit at the Sands on Golden Lake Resort. Not sure if you want an annual trail pass, spend the $40 for a few days, and if on Sunday before you leave you choose to become a full member, we will happily contribute the $40 towards your annual membership.
Do I have to bring my printed ticket to the event?
No we will have you registered. If you don't get an email confirmation from the event however, please contact info@renfrewcountyatv.ca

If I am not staying for Sunday is it still $35/person?

Yes the bulk of our expense for the weekend is on the Saturday and therefore there is no refund if you are coming for the Friday only. Our suggestion is to come for the Free Friday Night and stay until Sunday, enjoy the whole weekend with us. If you are coming for Sunday only, the event cost is $10/person.
Is there camping and accommodations available?

Yes, there may be accommodations still available at the Sands on Golden Lake Resort our host partner, and the Deacon Escarpment Cabins and Cottages both right on the trail. There is also rough camping (no amenities) at the trail head for a $20 donation.
We will also provide a list of local B&B, campgrounds, cottages. info@renfrewcountyatv.ca
Thank you to our local Corporate Members and event partners:
The Sands on Golden Lake Resort, Deacon Escarpment Cottages and Cabins, Pikwakanagan Fuels, Backyard Gourmet BBQ Company