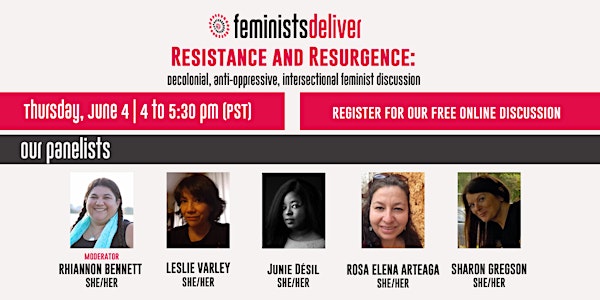 June 4 - Resistance and Resurgence
We will deconstruct what COVID-19 has presented us and compare and contrast what was, what's now and what's to come.
About this event
Join us and our brilliant panelists for an online round table on Thursday, June 4 "Resistance and Resurgence" on decolonial, anti-oppressive, intersectional feminist leading edge discussions on learnings from COVID 19. We will deconstruct what COVID-19 has presented us and compare and contrast what was, what's now and what's to come.
We will have the following folks joining us:
Rhiannon Bennett (she/her) – moderator
Leslie Varley (she/her)
Junie Désil (she/her)
Rosa Elena Arteaga (she/her)
Sharon Gregson (she/her)
Feminists Deliver is a coalition based in unceded territories in what colonially borders British Columbia, where the genocidal impacts of European colonizers span centuries and continue to haunt the realities of Indigenous peoples today including residential schools, the Sixties Scoop, as well as the governmental, religious and police authorities' control of family systems, resources, and access to services. More than 200 distinct First Nations as well as Métis people, with at least 30 different languages and approximately 60 spoken dialects reflect the diversity of the peoples, cultures, and spaces we currently occupy.
Collectively, we also acknowledge the Indigenous peoples from the rest of colonial Canada as well as other nations, as we continue to struggle and rise together for the liberation of peoples that proponents of colonialism (including its effects of patriarchy, capitalism, heteronormativity, ableism to name a few) continue to oppress.
We will have Active Listeners for this event. You may contact them during the event for support. More information will be provided at the event.
❓What are some accessibility considerations?
We will be providing CART (Communication Access Realtime Translation) service (real time closed captioning). We acknowledge that this event will be conducted in a colonial and trade language, English. We aspire to host these webinars in various languages as language should not be a barrier to accessing information, however at this time, we are faced with limitations as a grassroots organization that make it challenging to provide accurate and good information in other languages. We also acknowledge that internet and tools to tune in are privileged; we're doing the best that we can in the situation that we're in. Internet should be a utility, not a luxury item. Thank you for joining us in our journey as we work towards more equitable spaces.
❓ How can you tune in?
➡️ Zoom – a link will be provided to registrants
➡️ Facebook Live – You will have to tune in via Feminists Deliver's Facebook page
➡️ Teleconferencing – numbers will be provided to registrants
❓ Who are the panelists?➡️MODERATOR: Rhiannon Bennett (she/her) 
Rhiannon Bennett is Musqueam and a much-sought-after speaker who is well known for asking tough questions in a manner that encourages engagement and dialogue. She is actively working to create a more equitable world for all.  
 She has been working with children, youth and families for over 20 years in a variety of roles. Professionally, she has worked with Indigenous youth and families with overarching themes of her work being  Decolonization and Reconciliation.  
In 2014, she was the first Indigenous person elected to the Delta Board of Education. While not successfully re-elected, she was inspired to launch a consulting firm—Hummingbirds Rising Consulting— with her running-mate, Andrea Hilder, to continue to do the important work. 
➡️Leslie Varley (she/her)
Leslie, a member of the Killer Whale clan of the Nisga'a Nation, is a committed social justice advocate working for Indigenous peoples. She is the Executive Director of British Columbia Association of Aboriginal Friendship Centres, an umbrella agency supporting 25 Friendship Centres. Previously Leslie held the Indigenous health portfolio for 9 years at Provincial Health Services Authority where she led the development of San'yas Indigenous Cultural Safety, a cutting edge decolonizing anti-racism training program offered to the health, social and justice sectors in Canada.
Leslie's community work focuses on ending racism and violence against Indigenous people, particularly towards women and girls. She is a proud board member of Central City Foundation which invests in social impact real estate in Vancouver.
Leslie holds an MBA from Simon Fraser University. She resides as a guest at Musqueam nation in Vancouver.
➡️Junie Désil (she/her)
Junie currently works in Vancouver's Downtown Eastside, on the unceded and Ancestral Lands of the xʷməθkʷəy̓əm, Sḵwx̱wú7mesh, and səl̓ílwətaʔɬ (Musqueam, Squamish, and Tsleil-Waututh) and lives on Qayqayt Territory (New Westminster), juggling writing and life.
➡️Rosa Elena Arteaga (she/her)
Rosa Elena Arteaga has been working in the anti-violence field for over twenty years delivering workshops on violence against self-identified girls and women, and providing training to service providers at national and international level. In her role as Manager of Direct Services and Clinical Practice, she oversees a number of programs within Battered Women's Support Services. Since 2008, Rosa Elena has researched and addressed the issue of battered women being wrongfully arrested, and has been successful with a number of police complaints. Rosa Elena holds a Master's degree on Narrative Therapy and Community Work and she works from a decolonizing, feminist, anti-oppression, practice.
➡️Sharon Gregson (she/her)
Sharon Gregson is the provincial spokesperson for the successful $10aDay Child Care campaign working with the Coalition of Child Care Advocates of BC. She was twice elected as a Trustee to the Vancouver Board of Education. She represents British Columbia on the Board of the Child Care Advocacy Association of Canada (Child Care Now), and previously on the Child Care Human Resource Sector Council and Canadian Child Care Federation. Sharon is a feminist with a demonstrated history of working across sectors with stakeholders, including non-traditional allies, in child care public policy. She is skilled in campaign strategy and campaigning, government and stakeholder relations.
___________________
What is Feminists Deliver?
Feminists Deliver is a grassroots collaboration of BC-based Two-Spirit people, non-binary folks, Indigiqueer, trans women, lesbian women, and cis women and girls, and the organizations that support them. Membership of Feminists Deliver is diverse and inclusive of all people experiencing marginalization on the basis of gender. Stay connected on Facebook, Instagram, and Twitter.