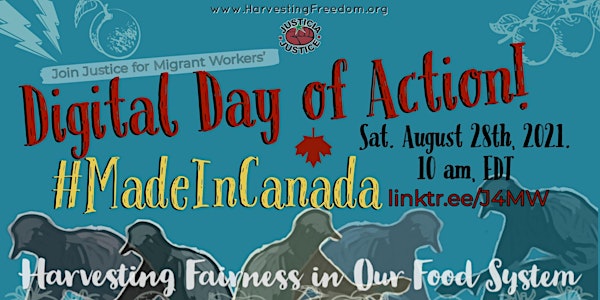 Justice for Migrant Workers' Digital Day of Action
Join us at 10AM ET on Zoom for an hour of facilitated online actions to pressure all levels of government for migrant workers' rights.
About this event
A facilitated hour of digital actions on Zoom. In breakout rooms, facilitators will walk participants through actions like petition-signing, emails to MPs, phone calls to local reps, and tweeting to pressure the government to make changes to support migrant workers.
Join us by registering here to receive the Zoom link via email. Please be sure to check your junk mail in the days leading up to the event in case the invite gets marked as spam.
Learn more about Justice for Migrant Workers at https://linktr.ee/j4mw
For more information on the #HarvestingFairness campaign, check us out our Instagram @HarvestingFreedom, Twitter @J4MW and Facebook @justice4mw
*This DDA was inspired by Teabase in Toronto, Canada.