Description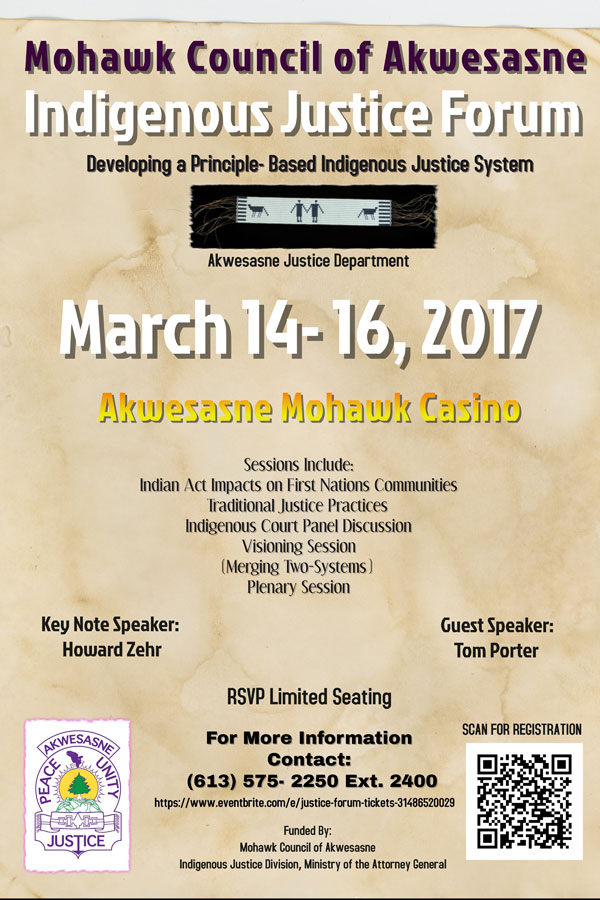 The Mohawk Council of Akwesasne (MCA) is a First Nation elected government. The Territory of Akwesasne is on international border of Canada and United States. Akwesasne is further dissected by the provinces of Ontario and Quebec and by the State of New York. The MCA has been running a Court since 1965 through section 107 of the Indian Act. In 2002, MCA signed a Crown Protocol to offer diversion for certain criminal matters for the Akwesasne Community. The diversion services and the Akwesasne Court are engaged in restorative justice practices to promote healing and rebalancing within Akwesasne Community.
In August 2016, MCA passed the Akwesasne Court Law. The law bridged the two legal systems together, the mainstream Canadian legal system and the Indigenous legal system based on restorative justice practices. MCA is in a position to assist First Nations who are establishing their own justice system utilizing restoratives justice principles.
The Mohawk Council of Akwesasne will hold a Restorative Justice Forum entitled "Developing a Principled- Base Indigenous Justice System". The Restorative Justice Forum will bring First Nations together to discuss the design of an Indigenous Justice System that fits the needs of their communities, with the end result of justice being understandable, affordable and more convenient for First Nations People. The forum will engage other First Nations to look at restorative justice principles, circle sentencing and bridging mainstream courts with First Nations traditional dispute resolution practices that are practical, affordable and attainable.
This conference will be recorded and a report will be developed for attendees. Conference materials and final report will be provided to each First Nation attendee.
---
Guest will be responsible for own accommodations.

To guarantee your accommodations at the Akwesasne Mohawk Casino Resort call 1-877-99-CASINO, book your room before March 10, 2017.

Room Rate: $91.00 US
*48 Hour Cancellation Policy
If you do not present a valid Tribal card or INAC Status card at front desk registration, a $10.00 occupancy fee will be added to the cost of room.

Alternative Accommodations:

Comfort Inn
865 State Rt 37
Akwesasne, NY 13655
(518) 358- 1000
Rate:$125.00 per night
(Average Exchange Rate 30%)

Ramada Inn Cornwall
805 Brookdale Ave.
Cornwall, ON K6J 4P3
(613) 933-8000
Rate:$124.99 plus tax per night
(Government Discount offered)

Best Western Parkway Inn & Conference Center
1515 Vincent Massey Dr.
Cornwall, ON K6H 5R6
(613) 932- 0451
Rate:$109.00 plus tax per night
(Government Discount offered & Breakfast Buffet)

Howard Johnson
1142 Brookdale Ave
Cornwall, ON K6J 4P4
(613) 936-1996
Rate:$69.00 plus tax per night
(Government Discount offered)

Travel supplement available for Guests from Remote Communities who registered.

Limited Seating/ Waiting list will be created.

Passports strongly suggested.


---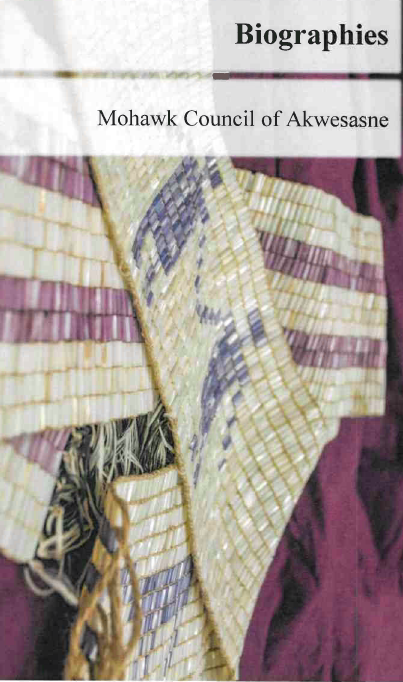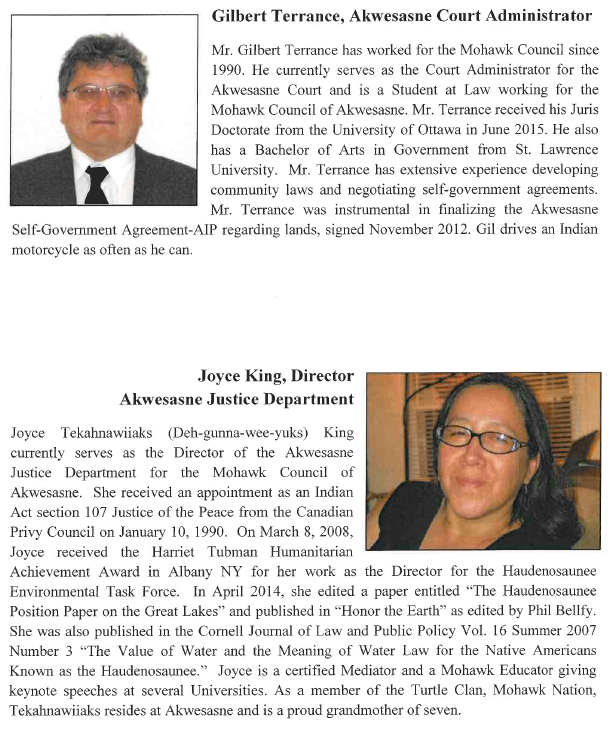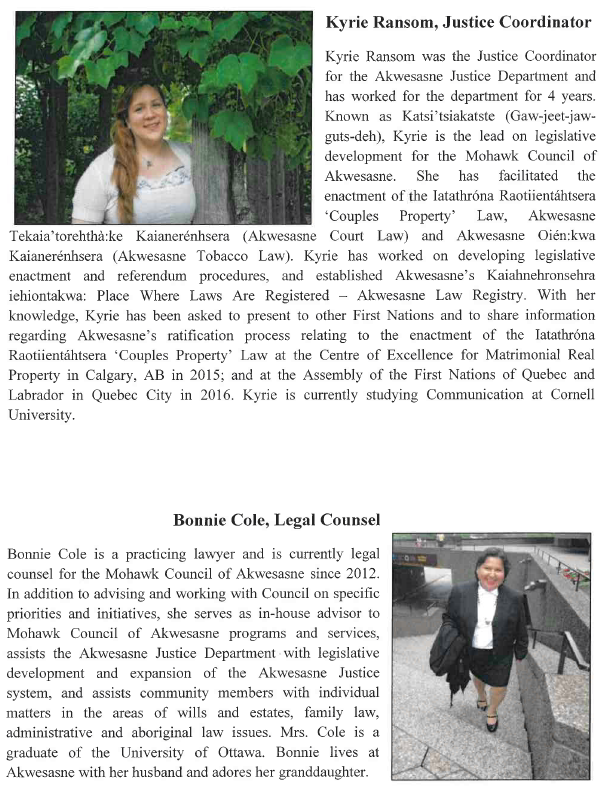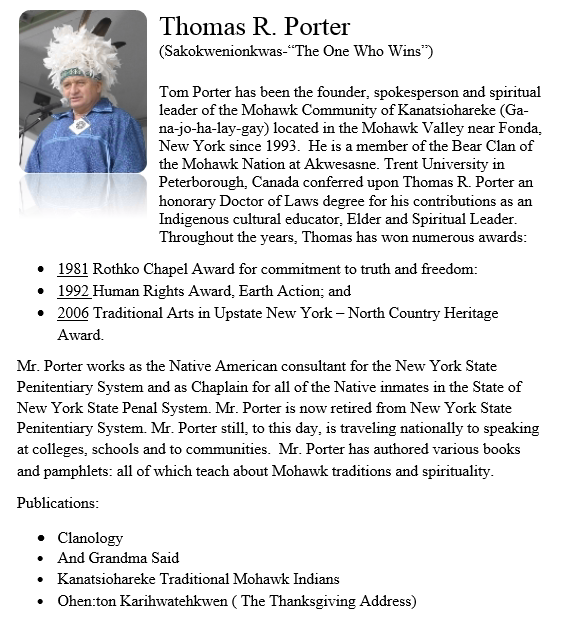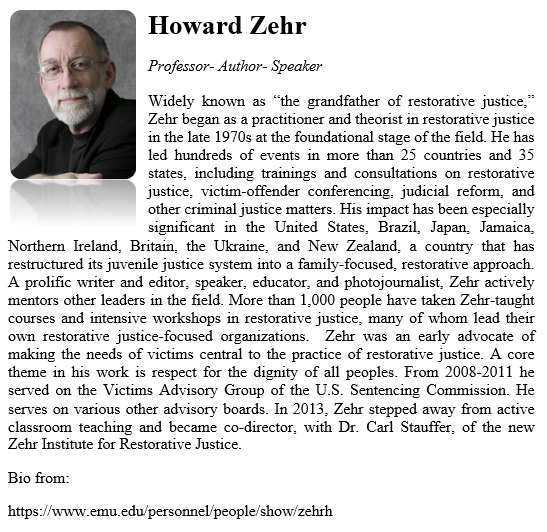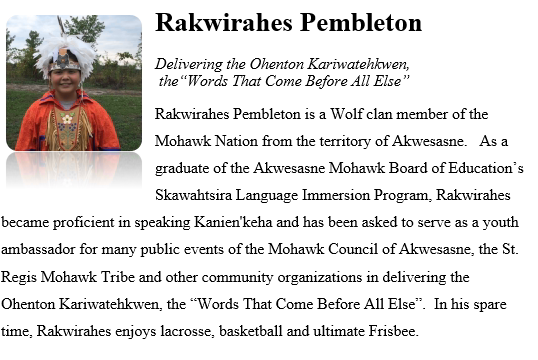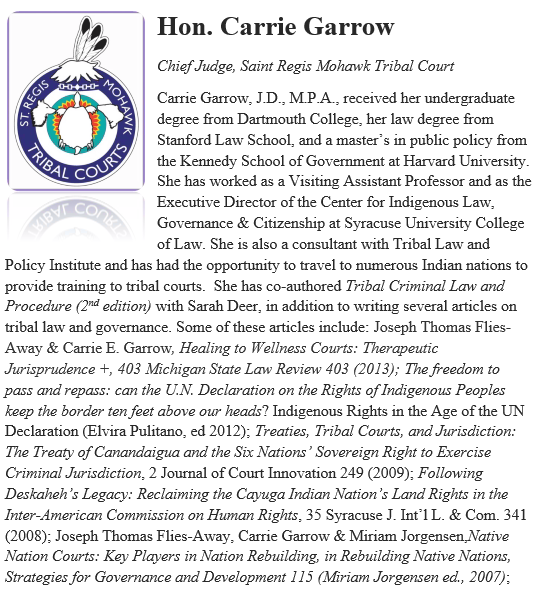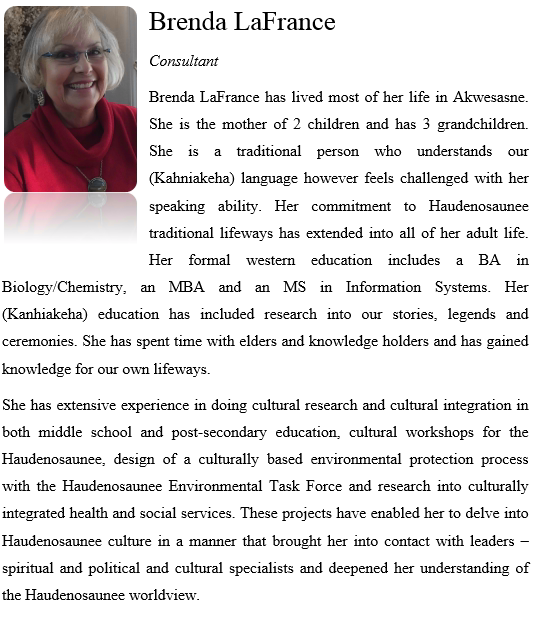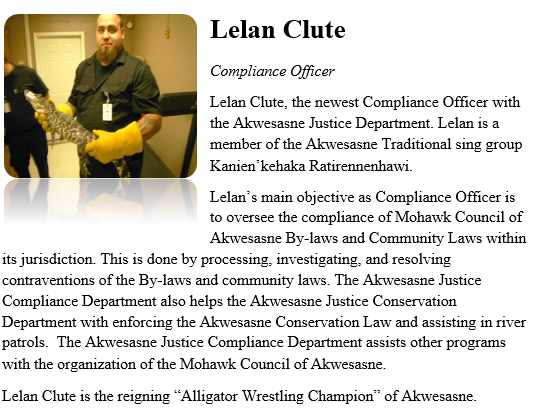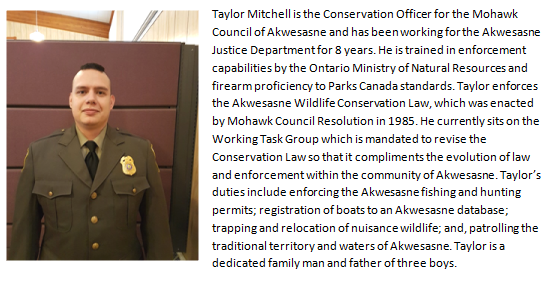 ---
Agenda
Day 1: Tuesday March 14, 2017 - The Akwesasne Experience
9 am to Noon: Open house -- Akwesasne Court (Akwesasne ON)
101 Tewasateni Road, Akwesasne (Cornwall Island) ON K6H 5R7
613 575 2250 extension 1025 (Gil Terrance, Court Administrator) or
ext 1026 (Kim Loran, Court Clerk)

1:00pm Registration – Akwesasne Mohawk Casino (Akwesasne NY)
2:00pm Hotel Check-In
2:30pm Akwesasne Community Tour
4:00pm End Community Tour
5:30pm Shuttle to Dinner and Social
6:00pm Dinner & Social: St. Regis Recreation Centre (Akwesasne Que)
Day 2: Wednesday March 15, 2017 - Akwesasne Mohawk Casino
Traditional Practices and the Justice System
9:00am Opening Address - Welcoming Remarks - Housekeeping
9:15am Indian Act Impacts on First Nation Communities - Nathan Richards
10:15am Break
10:30am Traditional Justice Practices – Aronhiateka Richard Mitchell
12:00pm Lunch
12:45pm Keynote: Restorative Justice Practices– Howard Zehr
2:00pm Court Panel: Judge Carrie Garrow and Micaelee Horn - St. Regis Mohawk
Tribal Court; Stephanie Cross, Justice of the Peace and Kevin Fleischer, Director of Justice Services - Mohawk Court of Kahnawake; Bonnie Cole,
Legal Counsel, and Gilbert Terrance, Court Administrator – Akwesasne Court.
3:00pm Break
3:15pm Overview of Toolkits/Q&A – Kyrie Ransom (Justice Coordinator on leave)
4:15pm Wrap up
6:00 pm Dinner – Akwesasne Mohawk Casino
Guest Speaker – Tom Porter, Bear Clan and Author/Speaker
Day 3: March 16, 2017
Best Practices – Merging of Two Systems
9:00am Housekeeping – Summary of Day 1
9:30am Enforcement Panel: Lee Ann O'Brien, Acting Chief of Police - Akwesasne
Mohawk Police Services; Representative of the St. Regis Mohawk Tribal
Police; Lelan Clute, Rohahiio Jacobs, Taylor Mitchell, Compliance &
Conservation Officers, Akwesasne Justice Department; Brian David, Native
Inmate Liaison Officer, Akwesasne Justice Department.
10:30am Break
10:45am Visioning Session: Merging Two Systems - Brenda Lafrance
12:00pm Lunch
1:00pm Breakout Sessions – 5 groups facilitated by Joyce King, Bonnie Cole,
Gilbert Terrance, Brenda LaFrance and Kyrie Ransom
2:30pm Break
2:45pm Plenary Session: Meeting the Needs of your community – an Indigenous
Justice System
3:45pm Closing/Evaluation