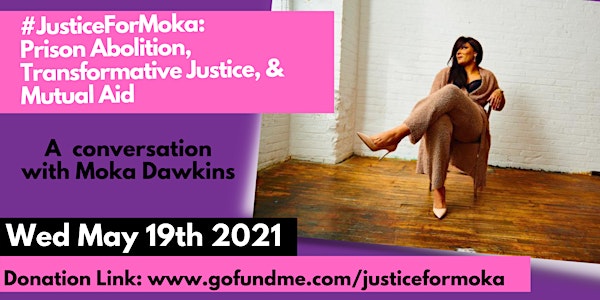 #JusticeForMoka: A Conversation on Prison Abolition, Transformative Justice
A conversation on prison abolition, transformative justice, and mutual aid featuring abolition activist Moka Dawkins.
About this event
Join us for an intimate conversation with abolition activist, Moka Dawkins (she/her), speaking to her timely film, Surviving The Block, on OUT TV and her crucial initiative, #JusticeForMoka. Moka will speak to the film which depicts her courageous survival journey through the carceral system as she navigated both anti-Black & anti-Trans discrimination at every turn as a Black Trans woman, and her continued fight towards marvellous grounds of QTBIPoC-led modes of transformative justice.
Moka's story centers narratives of Black, Queer/Trans/Non-binary communities situated against the backdrop of the prison industrial complex. Moka has been, and continues to be, an incredible inspiration and testament to the human spirit. Her leadership and perseverance has brought overwhelming support and collaboration from QTBIPoC communities, and beyond.
This event will be emceed with care by tender queers of colour & activist BBs, Jaye Garcia (they/them) & Kafia Abulkader (she/her), following some words of solidarity by Marvellous Grounds extraordinaire, Jin Haritaworn.
Don't miss this opportunity to be part of the conversation!
Free registration includes:
- OUT TV Link to view Moka's film, Surviving The Block on your own time, with the additional opportunity to join our Screening Party the evening prior to our event on Tuesday May 18th at 8pm EST
- Access to our online event on Wednesday May 19th from 9:30am-11:30am
- Recording of our live event featuring Moka
This event is hosted by a grassroots collaboration of activist scholar students in the Faculties of Environmental and Urban Change & Social Work of York University in the ENVS 5073 New Social Movements, Activism, and Social Change 2021 Spring course taught by Associate Professor, Jin Haritaworn (they/them).
Please Donate to #JusticeForMoka: https://www.gofundme.com/f/justiceformoka
About Moka Dawkins
Moka is a Black Trans Freedom Fighter, who was racially and discriminatively victimized by the Toronto police and Ontario's provincial and federal judicial systems back in 2015. After nearly 5 years of incarcerated activism, Moka in her regained freedom continues to fight against tragic realities of injustices faced by Black Trans/Queer/Non-Binary communities. With current societal issues of gender base and identity expressonal violence against minoritive trans peoples of colour on the rise. Moka has made her mission to get recognition and awareness to these realities of black discrimination and racial predjudice and the influencing association of the progression of Black Genetic Generational Trauma. Moka's accomplishments in her advocacy for Trans prison reforms lead her into a life of humanitarian community activism. Moka now currently works for the University of Toronto and Ryerson University as a Research and Development Specialist alongside her community work. You can also watch Moka's documentary "Surviving The Block" now on OUT T.V.
Surviving The Block on Out Tv:
Surviving The Block is a hour and thrity-two minute documentary that depicts the dangerous and violent survival of Moka Dawkins as she was attacked to be murdered working as a Black Trans sex worker by a client. This documentary also exposes the systemic racial discrimination towards Black Trans individuals by police and the handling of racialized trans persons in highly vulnerable situations. After a 8 year sentence Moka is out of incarceration custody and sits with Yapp Films and OutTv to talk about the horrific experience.