About this Event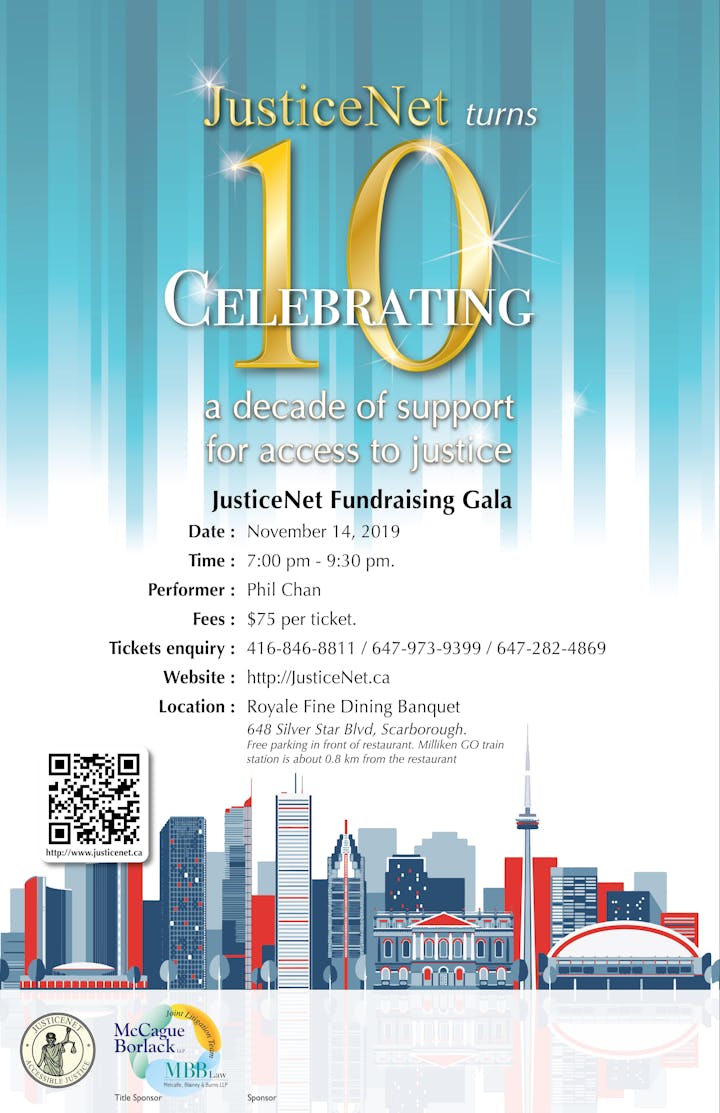 As the President of JusticeNet, I am forever thankful to the pioneers who have devoted time and efforts to create and maintain this meaningful cause, and to the many legal professionals, who have agreed to devote a portion of their practice to qualifying clients at reduced fees.
It is JusticeNet's firm belief that legal services and the right to Justice shall be accessible to the public. However, professional legal services remain inaccessible to many in our community - While government-funded legal aids and resources are well-established to serve low-income families, legal services are still out-of-reach for many Canadians whose income do not qualify for the government programs.
Therefore, as a not-for-profit organization, JusticeNet operates in concert with legal aid and pro bono program under the principles of fairness and flexibility. We have a Patrons Council which includes among others, the Rt. Hon. Adrienne Clarkson, the Rt. Hon. Paul Martin, the Rt. Hon. Michaëlle Jean, the Hon. Roy McMurtry, the Hon. Irwin Cotler, the Hon. Frank Iacobucci, and the Hon. Mr. Justice Lome Sossin.
As Former Minister of Justice and Attorney General Canada, the Hon. Rob Nicholson captured precisely, the JusticeNet program exists to strengthen the Canadian justice system. We serve to complement existing access to justice programs intended for people who do not qualify for legal aid.
To date, we have served over tens of thousands of Canadians in seeking Justice, an entitled right for everyone despite financial affordability.
As we celebrate our 10th Anniversary, we are committed to continue bringing accessible quality services to the Canadian community. This includes a major plan in providing the necessary technology to serve remote communities where access to justice is limited, and re-developing our website. We will improve the degree of sophistication of our website into a matching site, such that the profile of our listed lawyers will be carefully compared to the prospect's request, and the enquirer will be assigned to the most appropriate lawyer.
We are pleased to announce that we shall be hosting a Fundraising Gala in November 2019. We wish to take this opportunity to appeal to all our guests and supporters, so that we can reach a targeted fund of $100,000.00 to undertake these meaningful projects and to recruit more lawyers for JusticeNet.
Alongside with a sponsorship form that is attached, you will find a compilation of testimonies from our patrons and volunteers. With your generous support, JusticeNet will continue to be a platform to promote accessible legal services.
We are grateful to Mr. James Wong and Ms. Cynthia Chiu of In Club Inc. who have agreed to organize the upcoming event including sponsorship for JusticeNet.
There will be more touching live testimonies at the Gala, as well have various types of entertainment. It will be a fun-filled night with delicious Chinese cuisine, and we shall bring you a lasting memory of your contribution to our society.
For further information about the Gala, please contact Ms. Cynthia Chiu at cynthia226.chiu@gmail.com.
For further information about JusticeNet, please contact Heidi Mottahedin at heidi@justicenet.ca.
Sammy Lee
President of JusticeNet
MBBLaw
Metcalfe,Blainey & Burns LLP
Unit 202, 18 Crown Steel Drive Markham, Ontario
L3R 9X8
Email: sammylee@mbb.ca Office: 905-475-7676 Ext. 327
Fax: 905-475-6226
http://www.mbb.ca