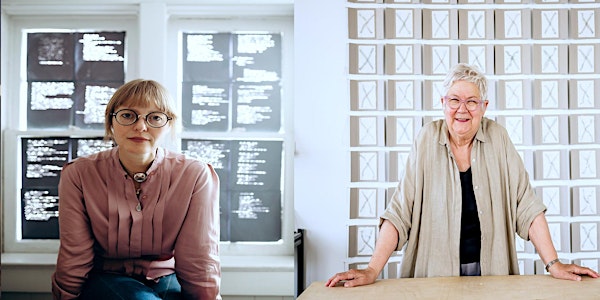 Kaffeeklatsch: Elvira Finnigan and Jennifer Still in Conversation
Join artist Elvira Finnigan and poet Jennifer Still for the second addition of Kaffeeklatsch.
About this event
Kaffeeklatsch: Elvira Finnigan and Jennifer Still in conversation
Friday, January 14th, 12:00-1:30 pm CST
Presented by the University of Manitoba School of Art Gallery. This program is generously supported by the Age Friendly University Initiative Fund, through the University of Manitoba Centre on Aging.
This event will be facilitated on Zoom, with ASL interpretation and recorded and uploaded to YouTube. Live captioning will be available.
Artist Elvira Finnigan and poet Jennifer Still are brought together for the second addition of Kaffeeklatsch. Finnigan and Still will discuss the ways in which their relationships, practices, conceptual frameworks and meditations on materials intersect and diverge. Memory, family origins, the ephemeral conditions of time, life and grief are present in both Finnigan and Still's practices. Their relationship, shared processes and ties to the Winnipeg art community lay the ground for a surely intimate and in-depth discussion.
About the Presentors:
Elvira Finnigan is a multimedia artist whose work encompasses, sculpture, video, and site specific installations. Gripped by the terror of 9/11, she began working with salt brine crystallization to replicate the paradoxically beautiful images of New York City covered with white ash published in newspapers in 2001. Immediately following this event, she began exploring the possibilities of salt brine to obscure and transform objects and surfaces as it crystallizes over time.
Her work reflects the time in which she lives, the affects of the aging process, the events that influence her life and her desire to talk about the human condition. Her most recent work plots the passage of time throughout the COVID 19 pandemic when all of Manitoba experienced one of the longest, most strict periods of continuous lock down in Canada.
Jennifer Still (she/her) is a self-taught poet, mentor and editor exploring intersections of language and material forms from her home in Treaty 1 territory. She is the author of several handmade chapbooks and three poetry books including COMMA (Book*hug 2017), winner of the Lansdowne Prize for Poetry and Girlwood (Brick 2012).
Still is the 2021 co-winner of The Malahat Review's Long Poem Prize for her poem "Legs". She is currently completing an illuminated manuscript composed with pinholes, a light table, electric typewriter and carbon sheets.
Kaffeeklatsch is a free artist talk and workshop series centering older voices. It invites older artists and those who work with inter-generational cohorts to talk about their work and experiences in a friendly atmosphere, akin to visiting over coffee or a crafting bee. Presenters will offer intersectional and interdisciplinary perspectives on art, community, identity, and aging.
The University of Manitoba School of Art Gallery is physically located on Treaty 1 territory, the original lands of Anishinaabeg, Cree, Oji-Cree, Dakota, and Dene peoples, and on the homeland of the Métis Nation.
The University of Manitoba School of Art Gallery's Adjunct programming's objective is to create an accessible, anti-oppressive safer space to learn, explore, take risks, and connect through art. Within this framework we ask participants to engage respectfully and mindfully with each other and the facilitators. If there is anything we can do to make your visit—onsite, offsite, or online—more accessible/safe, we welcome your feedback. Please contact Jean Borbridge the Education Coordinator at the School of Art Gallery at soageducator@umanitoba.ca if you have questions, concerns, or access needs.
School of Art Gallery
255 ARTlab, 180 Dafoe Road, Winnipeg, MB, R3T2N2
umanitoba.ca/schools/art/gallery