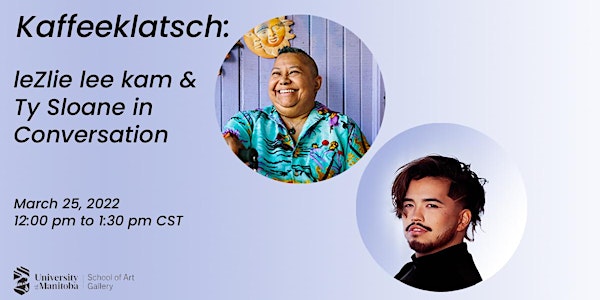 Kaffeeklatsch: leZlie lee kam and Ty Sloane in Conversation
Join queer activist leZlie lee kam and multidisciplinary performance artist Ty Sloane for a conversation
About this event
This project is supported in part by a Centre on Aging University of Manitoba Age-Friendly University Initiative Fund 2021-2022
Kaffeeklatsch: leZlie lee kam and Ty Sloane in conversation
Friday, March 25 12:00-1:30 pm CST
Facilitated on Zoom and live-streaming on the School of Art Gallery, University of Manitoba YouTube channel
ASL interpretation and closed captioning available
Join queer activist leZlie lee kam and multidisciplinary performance artist Ty Sloane for conversation centered within the intersections of aging, queerness, race and community. kam and Sloane are both dedicated to the queer community of Toronto, bringing unrepresented voices to the forefront of the conversation. They have been friends and collaborators since their time co-facilitating for Buddies' Youth/Elders Projects community conversations at Buddies in Bad Times Theatre, the largest and longest running queer theatre in the world. Look forward to a conversation rich with story, advocacy, laughter, heart, and a heaping spoonful of tenacity.
leZlie lee kam writes: I am a world majority, Brown, Carib, Trini, Indo, Chinese, callaloo, differently-abled, queer DYKE, Elder/senior. I sit on the City of Toronto's 2S-LGBTQI+ community advisory board, the board of Pride Toronto, the core team of Bricks and Glitter, the Toronto Senior Pride Network, and the board of ODLAN (Ontario Digital Literacy Access Network). I am a volunteer trainer with The 519, and I am on the Liaison Committee of the Ministry of Seniors and Accessibility, the VHA (Visiting Homemaker's Association) Pride Working Group, the Sinai Health System's "Pride is good for your health" Committee. I am a co-facilitator for the Youth/Elders Project of Buddies in Bad Times theatre, the co-host of Lumacare's Rainbow Space, a volunteer at Bridgepoint Active Healthcare rehab hospital and a co-author of the 2SLGBTQI Best Practice Guidelines of the Registered Nurses Association of Ontario. I am the humble and privileged recipient of the 2019 Inspire Lifetime Achievement Award and the 2021 Community One Foundation Steinert & Ferreiro Award.I live and work from an anti-oppression, anti-racism, anti-colonial, intergenerational and intersectional perspective. I advocate for 2 Spirit, Indigenous, queer, and transgender seniors and youth of colour. I enjoy doubles, dancing, dim sum, a cold beverage and a "trini lime" anytime.
Ty Sloane (they/them) is a multidisciplinary performance artist. Their art emphasizes marginalized voices that intersect mixed-race and queer identity. Exploring these themes through various projects: Photography, Burlesque, Visual Art, Community Arts, and Theatre. When not making art directly, Tyler is a Producer of Queer Nightlife Performance and works with businesses around Anti-Oppression–Anti-Racist training around Trans Solidarity. They're the Education and Mentorship Director for Elevate Equity and are the In-Conversation Series co-facilitator with leZlie lee kam at Buddies In Bad Times Theatre Company.
Kaffeeklatsch is a free artist talk and workshop series centering older voices. It invites older artists and those who work with inter-generational cohorts to talk about their work and experiences in a friendly atmosphere, akin to visiting over coffee or a crafting bee. Presenters will offer intersectional and interdisciplinary perspectives on art, community, identity, and aging.
The University of Manitoba School of Art Gallery is physically located on Treaty 1 territory, the original lands of Anishinaabeg, Cree, Oji-Cree, Dakota, and Dene peoples, and on the homeland of the Métis Nation.
The University of Manitoba School of Art Gallery's Adjunct programming's objective is to create an accessible, anti-oppressive safer space to learn, explore, take risks, and connect through art. Within this framework we ask participants to engage respectfully and mindfully with each other and the facilitators. If there is anything we can do to make your visit—onsite, offsite, or online—more accessible/safe, we welcome your feedback. Please contact Jean Borbridge the Education Coordinator at the School of Art Gallery at soageducator@umanitoba.ca if you have questions, concerns, or access needs.
School of Art Gallery
255 ARTlab, 180 Dafoe Road, Winnipeg, MB, R3T2N2