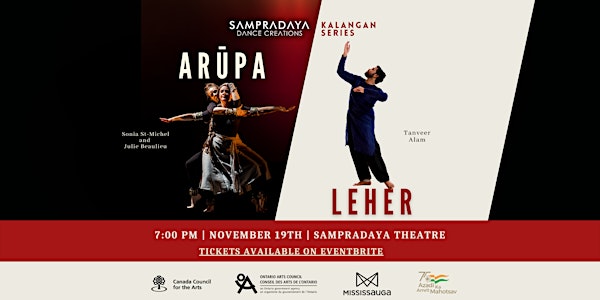 Kalangan Series | ARŪPA ft. Sonia and Julie & LEHER ft. Tanveer Alam
Sampradaya Dance Creations presents two fascinating productions, ARŪPA and Leher as part of the Kalangan Series
When and where
Location
Sampradaya Dance Creations 3250 Ridgeway Dr Mississauga, ON L5L5Y6 Canada
Refund Policy
Contact the organizer to request a refund.
Eventbrite's fee is nonrefundable.
About this event
Sampradaya Dance Creations presents two fascinating productions, ARŪPA and Leher as part of their Kalangan Series
About ARŪPA in Julie and Sonia's words
ARŪPA is a journey into the antechamber of forms exploring the imprints left by our respective practices of Odissi and Bharatanāṭyam, revealing a sensitive experience hiding behind the forms. The shapeshifting dance progresses around and inside an imaginary temple where the notions of paths, passages and gates intersect. A musical and choreographic architecture where fragments of transparency appear; where memory, thought and intuition exist somewhere between form and formlessness. Our artistic approach was driven by a desire to create bridges between our sensory experience and our imaginary. In this sense, it is about renewing the way in which we resonate with the traces, memories and sensations. An approach allowing us to explore new choreographic paths deploying in time and space new possibilities in terms of gestures, rhythms and interactions. We approach the subtle energetic qualities of the forms differently to revisit them, that is to say reinterpret them in a new choreographic territory. From the creative process this story appeared and accompanied our journey. A story created by Jonathan Voyer, Julie Beaulieu and Sonia St-Michel and inspired by La Loba, Clarissa Pinkola Estés (1996) in Femmes qui courent avec les loups.
Choreography and performance : Sonia St-Michel and Julie Beaulieu
Music : Jonathan Voyer
Rehearsal director : Natasha Bakht
Costumes : Roxane Beaulieu
Lighting design : Chantal Labonté and Guillaume Houët
About the Artists
Sonia St-Michel is a dancer, choreographer and artistic director of Sonia St-Michel Creations, an organization dedicated to research, creation and dissemination of works involving collaborations across diverse mediums and artistic practices. Initiated to western classical singing by Stephanie Piercey and Jonathan Voyer, Sonia considers herself a dancer-musician; through body percussion and voice, movement goes hand in hand with sound as an all-encompassing form of expression.
Dancer, scholar and teacher, Julie Beaulieu holds a Bachelor's degree (1996) and a Master's degree in dance (2015) from Université du Québec à Montréal. A disciple of Vidushi Smt. Rohini Imarati since 2003, she periodically stays in India to perfect the art of Bharatanāṭyam, to offer performances and to create new choreographies. Her past collaborations and creations brought her to work in Canada, Italy, Germany and France. As a contemporary dancer, Julie has collaborated with choreographers Marie-Julie Asselin, Emmanuel Jouthe, Louise Bédard and Roger Sinha to name a few. She also worked as choreographer-dancer with Les Demi-Lunes Violentes from 1996 to 2006. In 2010, she cofounded Saṃskāra : les artisans du passage with the musician and scholar Jonathan Voyer. The collective's mission is to promote transcultural dialogue through the arts.
About Leher in Tanveer Alam's words
Leher, is a work-in-progress choreographed by Tanveer Alam which examines Kathak aesthetic and techniques, in relation to the anatomical structure of the spine. Through this work, the dancer dances solely in Vilambit Laya, the slow tempo within Kathak, and explores the density, elasticity, and fluidity that can be achieved from this choice. The work is anchored by the Kathak repertoire structure of Thaat in which the dancer uses transitional movements to establish a variety of poses. Choreographically, Leher proposes waves of thinking on the Kathak vocabulary, and considers the spine as an outlet for subtle movement expressions of the waves themselves - flowing, expansive, and contained.
Supported by the Sadhana Project Residency (Anandam Dancetheatre), Canada Council for the Arts, Ontario Arts Council, Toronto Arts Council.
Choreography and performance: Tanveer Alam
Music: Gurumurthy Vaidya
Mixing: Roshin Shabu
Dramaturgy: Harikishan S. Nair, Brandy Leary
About the Artist
Toronto-based Tanveer Alam started his Kathak training with Sudeshna Maulik and pursued further nuanced learning with the Late guru Sandhya Desai. Alam is a 2019 graduate of The School of Toronto Dance Theatre.
Alam has performed in the works of Rina Singha, Lata Pada, Padmini Chettur, Brandy Leary, Harikishan S. Nair, Sashar Zarif, Lucy Rupert, and Peter Chin. As an emerging choreographer, he has presented work at SummerWorks Festival, Battery Dance Festival +, MAI - Montréal, arts, interculturels, CanAsian Dance Festival: Grit Short Dances, and Tangente. Alam has been supported by Toronto Arts Council, The Ontario Arts Council, and The Canada Council for the Arts.